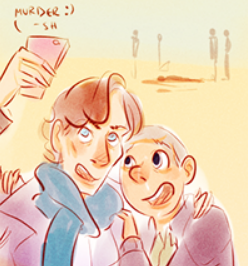 Sherlock fans, come on get happy! Genius super-fan Voodooling has whipped up a series of imagined Sherlock Snapchats! Complete with a totally convincing backstory:
Sherlock hated apps. Why would he waste his precious time on some stupid game like Flappy Bird or download an app made by Anderson and his idiotic fan club? (Alright, so maybe he did download that one… and promptly beat the game in less than 20 minutes. The Network? Really? Elementary.) John pestered him to get Snapchat for the longest time before Sherlock finally caved in. Grumbling, he signed up (THEREALDETECTIVE) and tentatively gave the app a try.
They're fun and fantastic and pretty dead on to Sherlock's spastic and mischievous personality, if you ask us. Alas, Mr. Holmes can't really Snap you selfies, but this is the next best thing. And even though John Watson is def number one on his Bestie list, we can still dream of the day we're curled up in Baker Street too, right?