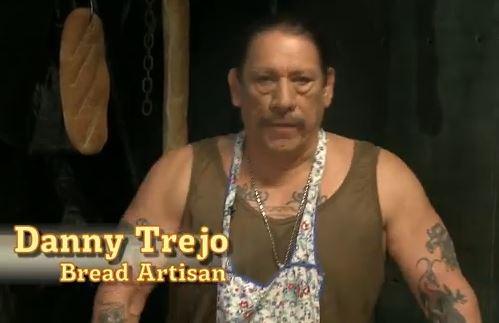 Action Star Danny Trejo Makes Adorable Bread Animals!
There is blessed little in this world that makes us happier than a macho man with a soft side. So naturally, we were just pickled to learn about this new video starring Danny Trejo, star of the uber-violent Machete, making adorable bread animals while explaining their cuteness in his trademark gruff voice. He can chop people up and make a cute tortoise named "Tortula"? A true Renaissance man! Watch below.
Oops! Gun Tattoo Gets Mistaken For the Real Thing
PSA of the day: if you've been considering getting a life-sized tattoo of a gun on your stomache, don't do it! A Maine man learned this the hard way when a tree-cleaning crew saw him shirtless and mistook a gun tattoo for an actual weapon. Police officers armed with actual assault rifles showed up, then quickly learned the truth. Side note: how cool would it be if the gun tattoo shot tattoo bullets? Wild.
Serial Urinator Illustrated in Most Ridiculous Police Sketch Ever
There are two parts of this story that warrant head-scratching wonder. 1) There's a dude who's been serially peeing on women in Florida (oh Sunshine State, you never disappoint!) 2) Said dude looks like a flat-faced eight-year-old who's also a cartoon character, according to the bizarre sketch released of him. And as a bonus third point, The Huffington Post decided to kick off the story about this with "Look at this sketch pee-fore you take any trips to Gainesville, Fla." Pease, stop, HuffPo. Pee can't take it anymore.
Cat Escape Artist Schools Houdini
Talk about a cool cat. A feline named Chamallow at a vet clinic in France has been re-christened "the king of escape" thanks to his impressive ability to unlock his way out of his cage every night. This cat honestly seems craftier than most humans. Break free, little guy! Break free! Behold below.
Image: YouTube