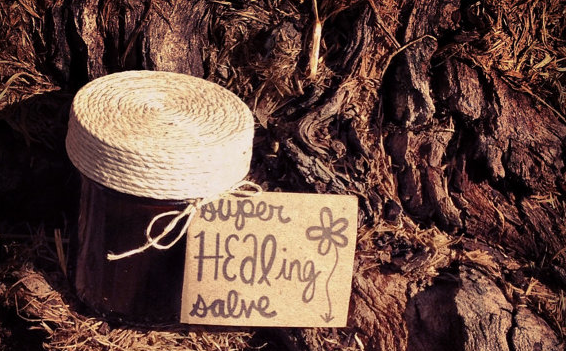 The only way for us to describe Herbalish? 'Herb-art.' Between the packaging that's so pretty you almost don't want to open it, the straight-from-the-earth ingredients, and the tiny droplets of l-o-v-e that go into each product makes us swoon. Herbalish founder—Meghan Hornstrom—has created a company that showcases her passion for health, happiness and the beauty of a hand-crafted product. And we're pleased as punch about it.
Hornstrom is a master herbalist with an undeniable penchant for perfection—it's easy to see her keen eye in the useable art that comes from Herbalish. Meghan hand-draws each and every one of the images for her packaging and uses a typewriter to create labels. Each of her organic products are also specially formulated for the task at hand—whether it's keeping clean, smelling good, or scrubbing your space, Herbalish has a delectable concoction that is both affordable (!) and easy to use.
Our favorite part? Meghan really knows her stuff. She uses products that most people don't know about—like zeolite for example—to set herself apart! We sat down with Meghan to talk about Herbalish, how it all started and of course, where to get our hands on the goods!
Have you always been into Organics? What got you started?
I was into them pretty early on because of a combination of things. I have always been a picky eater because I had a lot of digestive issues so I started eating organic, healthy ingredients and it made me feel better. Between that and realizing that what we put on our skin is absorbed into our bodies, I just started looking into herbs and took a year-long herbology class—I am a Certified Clinical Master Herbalist—I can put CCMH after my name if I want to!
What made you start making your own products?
Really it was the desire for them to exist. I wanted to heal myself, smell good and be able to clean my space without having to use any of the crazy chemicals commonly found in household and beauty products today. I like knowing that I create, use, and share effective, Earth-conscious products, with as little waste as possible.
What is the true vision?
My goal in life is to help people live happier, healthier, more beautiful lives. I make detoxifying products for your skin and your teeth, products you can use to clean your house and your yoga mat. Herbalish is how I share my vision with people but I also teach yoga and grow succulent plants. And I am very excited to begin offering handmade jewelry and plant hangers that incorporate macrame, crochet and beadwork as well.
Do you have a favorite product? To make and to use?
The facial scrub is great to use for daily exfoliation—or you can mix it with honey for a nourishing facial mask! It's my current obsession!
Choosing a favorite one to make is a little bit more difficult—I'd have to say the deodorant because there is a certain degree of witchcraft and wizardry to it that makes it special. Really though, I get to play with big bowls of herbs, and that's really fun.

What was Herbalish's first product?
The detoxifying deodorant. The goal with this product was to create a real alternative to the deodorants out there that use heavy metals or that contain natural ingredients but don't work very well. I wanted to come up with a gender neutral option that smells fresh and works whether you shave your armpits or not. There isn't a better place for cleansing than our underarms because that's where many toxins are released. You use your fingers to apply it, which is purposeful because it forces users to give their lymph nodes a little massage every day, which also helps to purify our bodies!
Are all your ingredients organic? Why?
Yep, all of the ingredients are organic. Organic herbs just work better: They are more potent and more effective.
Do you use the same base for all of your products?
Each product has a completely different recipe for the optimal use. Some things show up more than once, like tea tree or almond oil, but for the most part, every recipe is very different.
What is your best selling product?
The deodorant once people start using it, they can't get enough of it! And the digestion tea blend, it's really delicious and it works so well for all sorts of digestive ailments.
What about Herbalish products sets them apart from other organic products? Why should we Ravish It?
Herbalish is a locally-made labor of love featuring unique, handmade products crafted from high-quality materials and offered at a reasonable price. Each recipe is perfectly crafted for effectiveness and ease of use, even the packaging is optimal (amber glass diffuses the light and prevents the breakdown of the essential oils).
You're so clever! Any cool stories about your products that readers should know about?
One of my favorite parts of this experience has been hearing from people who use my products. A friend of mine applied the healing salve to her daughter's chicken pox to help relieve itching. Someone on Etsy shared that the salve had helped to heal an incision following surgery. Stories like these make me excited to know that there's a real opportunity to help people!
How can people stay up to date on you, your products and snag some Herbalish for themselves?
You can check out my website and blog, connect with me on Twitter and sign up for my email newsletter. I am also participating in Homestead Apothecary's Herbal Medicine and Then Some Fair in Temescal Alley on June 14th. Herbalish products are available for purchase at my Etsy shop as well as at Barefoot Movement in Oakland—I hope to expand to more retail locations soon!