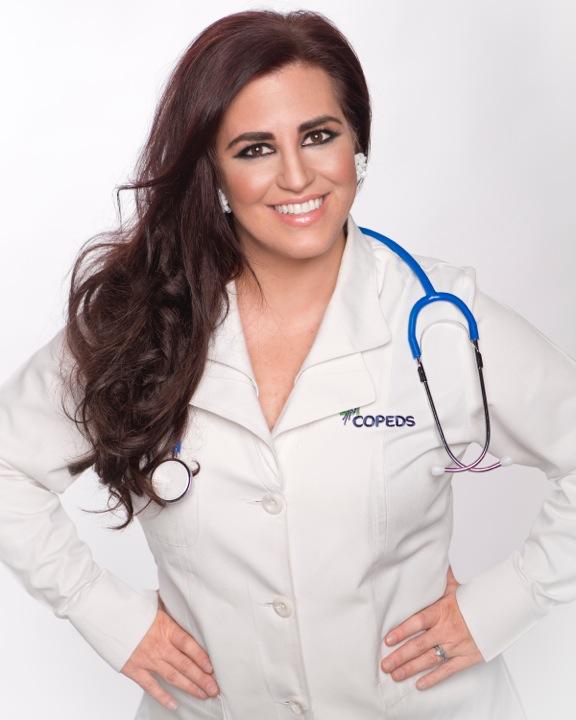 Dr. Jen Dyer  is a pediatric endocrinologist, and while that would be impressive enough, she doesn't stop there. She has a Masters in Public Health, is an accomplished behavioral researcher, and is a tech entrepreneur at the intersection of mobile health, gaming and social media. And she has killer style, too. 
Dyer created the start-up EndoGoddess in 2011, which in turn led to the development of EndoGoal, a diabetes reward app. The app reminds diabetics (specifically the younger set) to check their blood glucose levels and positive behavior—i.e. consistently checking levels—earning points which can be used to feed and care for a virtual golden retriever named Cooper. It's like a Nano pet—if a Nano pet helped to keep you healthy.
Dr. Dyer has shared her  innovative approach to medicine at the White House,  TEDx, the Stanford Mayo Clinic  and, most recently, with us. After chatting with the supremely talented—and multitasking—doctor, it's clear that she has more hours in the day than I do. Phew! 
You can learn more about EndoGoal here and can also follow the good doctor as she wages war on diabetes and raves about the latest Manolo Blahniks on her personal Twitter page.
How did you get into medicine, specifically pediatric endocrinology?
I was originally planning to be a science journalist, but I added premed classes to my journalism major so that I could also give it my best shot to get into medical school—and it worked! I got accepted on my first try. During medical school, I was naturally drawn to physiology and loved learning the science of how things work. Endocrinology requires a good understanding of physiological systems and their inter-relationships in the body. Pediatric endocrinology was especially interesting to me. It's like everything on the TLC channel—shows that involve people that are too big, too small, mysteries and intersex, which of course is just naturally intriguing.
Not only are you a physician, but you're also an entrepreneur. Tell us about your app, EndoGoddess, and your social media outreach.
I began developing apps in 2009 to automate the SMS texting protocol that I used with my teen diabetic patients to improve their insulin adherence. I then created the startup EndoGoddess in 2011, which entered into partnership with a larger Ohio mobile software startup, Duet Health, shortly thereafter. Using seed funding, together we developed the EndoGoddess App in 2011 and the  EndoGoal App in 2012 for patients with diabetes who require insulin therapy and need motivation for glucose and insulin tracking. The EndoGoddess App was designed to provide iTunes rewards to motivate teenagers. The EndoGoal App was then developed to reach a larger demographic base by offering broader rewards such as prepaid visa cards and/or retail gift cards with retail partners. 
I also speak nationally about healthcare social media. I am known to many on twitter as @EndoGoddess and have a YouTube channel that I use primarily for advocacy. For me, social media connects me with the reason that I became a doctor: patients. Helping patients empower themselves with knowledge and live their best lives is an absolute honor that gives me great happiness. As with all things, balance is key, so I do take periodic 'digital vacations.'
How did you come up with the name?
Actually, the name came from a patient of mine that I used to call 'pink lady' when she would come to the clinic with tons of sparkle and wonderful pink sassiness. In turn, she called me her 'endo,' (a common term for endocrinologists) and 'goddess' because she liked my necklace bling. I thought it was cute and memorable so I just went with it.
As you know, there are very few female business-owners out there. Any  words to the wise for other women hoping to start their own businesses? 
A lack of female entrepreneurs really troubles me. I hope to inspire other women to achieve their dreams by being an example of doing just that. I LOVE to support any female-focused organizations—like Ravishly! 
You're steeped in tech and social media—are other doctors following your lead?
I am happy to say that other doctors are starting to join the social media movement as well as the technology movement in medicine because these tools are really helpful for patients. Most doctors are all really good people that went into medicine to help people. And now that the data is demonstrating how these technological tools benefit patients, the doctors are starting to follow.
How do you incorporate your personal style into the white-coat world of medicine? Any tips for women who want to break out of the dress code traditionally associated with what they do?
I've always been adamant about expressing my style from a very young age. In fact, when I was five and my parents recommended that I enroll in an athletic team, I chose soccer because they had the best outfits. My fashion idols are Audrey Hepburn, Jackie O, and Brigitte Bardot; all strong women with intelligence and style.  My advice to other women looking to combine fashion and career would be to find the common point between your sense of self and your career's sense of purpose.
You're clearly a woman with a strong sense of self. How do you juggle the different parts of your identity?
The commonality between my wife-self, doctor-self, patient-self, friend-self, sister-self, daughter-self, etc. is that I try to lead an authentic and full life as is appropriate for each relationship. I always try to keep learning, too.
Your work life is so rich and multifaceted. I'd love to know how you spend your free time. Does a pediatric endocrinologist have time for hobbies?
I spend most of my free time reading Vogue, vintage shopping, watching Bravo, cooking and spending time with my husband and friends. I'm also always trying to achieve my personal bucket list. I started checking off items on that list after I had the amazing opportunity to be featured on the Oprah Winfrey Show on a Dr. Oz healthcare segment. Shortly thereafter, I attended fashion week in 2009 for the first time which had always been a dream of mine. Next? I'm hoping for The Today Show and Food Network!