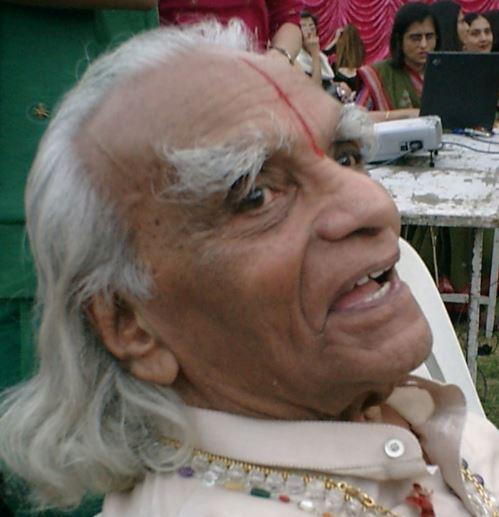 B.K.S. Iyengar (Credit: Wikimedia Commons)
Yoga icon B.K.S. Iyengar has died at the age of 95 of heart failure, leaving his millions of devotees feeling bittersweet—saddened by his passing, yet inspired by his dedication to the craft well into his final years.
Credited with bringing yoga to the Western world, Iyengar's focus on static posture, combined with his innovative techniques to create positions accessible to every level of experience, made his teachings universally appealing to the widest range of followers. He saw no restrictions as to who could participate in the practice of yoga, and thus earned worldwide acclaim, eventually opening institutes on six continents. A significant number of students regard Iyengar as a god, who transcended the physical and mental limitations of body and spirit. How did a poor and sickly child (one of his parents' 13 offspring) make the journey from the streets of India to star-studded worldwide fame?
The Start of a Movement
In 1952, Pandit Jawaharlal Nehru, the first Prime Minister of India, invited American-born master violinist Yehudi Menuhin to perform for the first time in his country. The year prior, Menuhin spotted a book on yoga in the waiting room of his osteopath (a form of medicine focused on the moving and massaging of muscles and joints). The history-making musician was suffering from the common aches and pains associated with the craft, which he knew would worsen until he eventually retired, following the well-trodden path of his predecessors. His interest in yoga as an alternative healing method grew over the following months, and soon after greeting the Prime Minister, he challenged his new friend to a headstand competition. Both successfully held the position, and the media relished the photo-op.

While in India, Menuhin soaked in the knowledge of a number of yogis—but it wasn't until his meeting with Iyengar that a pivotal moment occurred. The 7 a.m. appointment was initially meant to last five minutes, but lingered for over three hours as the artist marveled at Iyengar's incredible skill. He soon arranged for this obscure teacher to conduct classes in London, Switzerland, Paris and beyond, setting in motion the West's first-ever significant exposure to yoga.
What Is Iyengar Yoga?
As a broad generalization, there are two main types of yoga: one that focuses on fluid motion, and one that centers around static posture. Iyengar mastered the second, and also created a method that opened doors to a much broader range of participants. This made his teachings accessible, and by default widely popular. 
Iyengar even inspired the widespread use of props in many yoga classes. The yoga block, now a staple in every studio, originated from Iyengar's use of a cement block in his garden to aid in physical support while working on new postures. This was but one of many props Iyengar employed; others included chairs, belts and horizontal bars. To maintain accessibility, he focused on accessories that would be available in many students' homes. Another signature aspect of Iyengar's work is diversity in posture sequences, which reduces injury and makes his techniques particularly therapeutic.

Even though B.K.S. Iyengar is no longer here to share his yogi talent with the world, his wisdom lives on through his teachings, family and students. Check out some of Iyengar's best quotes on living through yoga here. Then do a headstand in his honor.