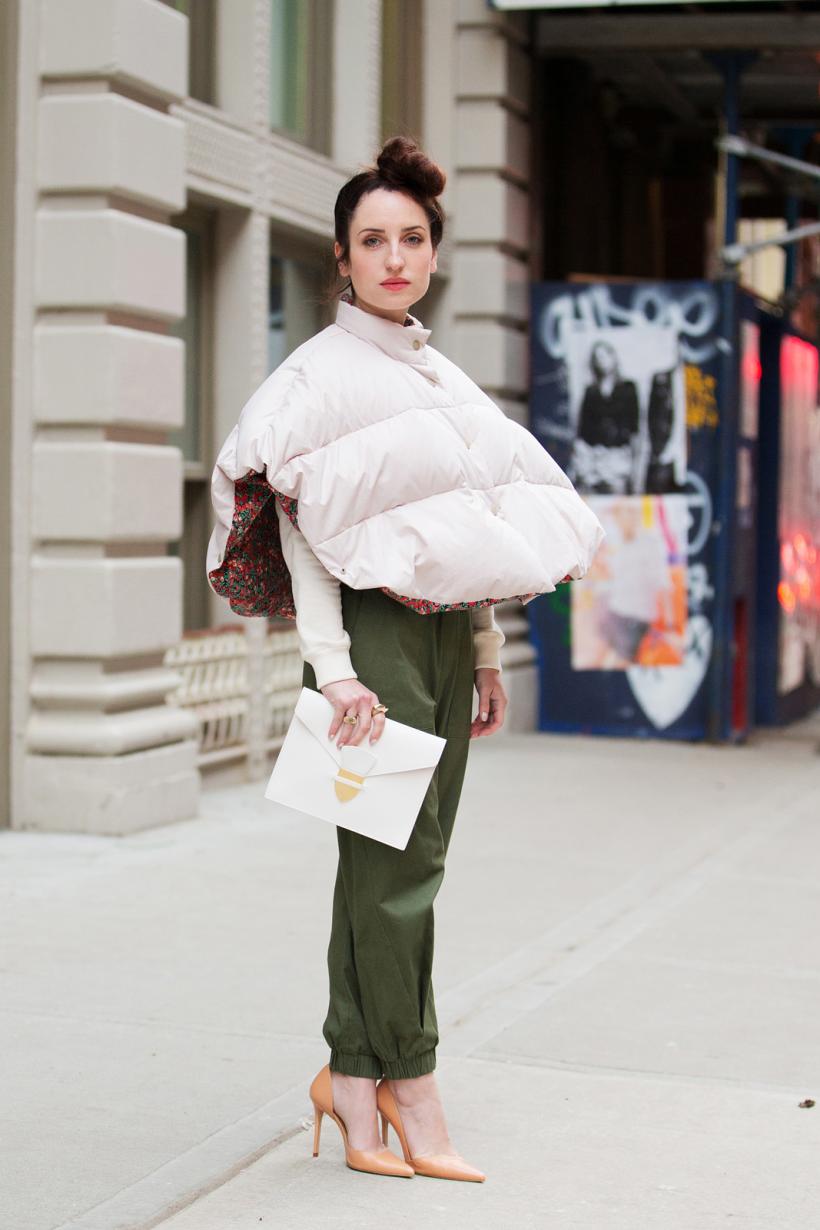 Oh, Fashion Weeks—we can't live without you, yet you remain so very out of reach. Indeed, a typical Fashion Week circuit is best experienced with a propensity for blowing budgets and landing in debt. Not only are flights and tickets exorbitant, but to do it up right, you're expected to stay in a comfortably located hotel rather than a mucky Airbnb room and catch cabs rather than take the stenching subway. What's a non-1% girl to do?
Fret not, because Fashion Week style can be easily achieved without having to jet-set to Milan with a cadre of soon-to-be-maxed-out credit cards. And because the current "in" looks favor the casual over the fancy, you need not break the bank to mimic the most chic style stars.
Adopt the following tricks, and you'll have pseudo-It Girl status in no time.
1. Go big or go home
A common look at Fashion Week, be it London, Paris or Melbourne, is voluminous skirts or huge, tent-like tops. These high-impact separates indicate that you'll gladly sacrifice your body shape in the name of fashion. Just never pair them together, because then you'll indicate that you're also willing to sacrifice good sense.
2. Don't be afraid of see-through
Tulle, lace, perforated fabrics, nylon and sheer chiffon are big hits among Fashion Week ladies, because being highly un-wearable and too complicated to pull off in everyday life signals real style. Wear a sheer skirt with a long sweater and show them how it's done.
3. Get messy with your hair
Anna Wintour may be an exception, but a big Fashion Week trend is I-don't-care hair, often tucked into a collar. Sure, this look is mostly advocated by models or angelic creatures like Miroslava Duma, but you can try it out, too. For best results, pair your uncombed mane with massive sunglasses.
4. Carry a clutch
Comfy messenger bags? Not at Fashion Week! The most stylish guests prefer clutches, preferably if they're big and heavily decorated. Yes, they're uncomfortable, but they look so very sophisticated when paired with matching nail polish. A runner-up is the backpack, but unless you have a Chanel one, let it go.
5. Embrace comfort with (sophisticated) sneakers
Stilettos are out, sneakers (yes sneakers) are in. The funkier the better, and the best shoes boast high platforms (just avoid wedge sneakers, as they are beyond over). For summer, try Birkenstocks—they're ugly-cute, comfy and undeniably still trendy.
Other Fashion Week faves include grey sweatshirts, denim dungarees, jackets as capes and round sunglasses in bright frames. Combine all or some of the above to achieve a ranging degree of It-ness. We believe in you! 
Images: Facebook