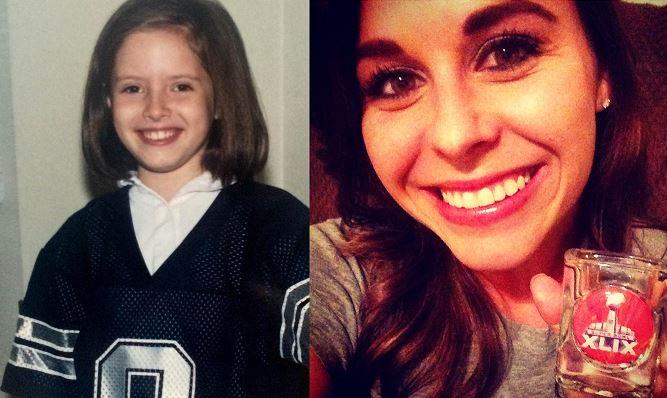 A few weeks ago, I ran across a troubling tweet.
Women: interrupting football games since the 1930s. #PepsiCommercial

— Bill Burr (@billburr) January 10, 2015
(Don't look at the responses if you want your day to remain un-ruined.)
Let's not get into whether this is "offensive" or not—read it how you will. Regardless of what Burr intended, this tweet (and the subsequent responses) tap into a lot of incredibly reductive and stupid stereotypes regarding women and our interest in sports, most of which are completely and totally untrue. Women can't understand sports talk. Women are always trying to drag their men out to go shopping on Sundays. Men watch the Super Bowl for the game, women for the commercials. Men talk stats, women talk about whose butt looks cutest in those tight pants, like OMG.
While some of these statements may be true for some women, female viewers are, in fact, invested in the game, and—shock of shocks!—they know what's going on, too. I cannot believe I am even having to say this in 2015, but let's get this on the record once and for all: Women like, understand, and revere football just as much as the boys.
And they have for decades.
The funny thing is, women who love football are not a small minority—recent estimates posit that about 45% of game-day viewers are female, and Sunday Night Football recently ranked first among women ages 18-49 for the first time ever. Women make up a growing segment of Fantasy Football participants, and there's even—get this—legions of female sportscasters out there (one of which we've interviewed below). Yet, even if people know it's completely false, joking about how "women just don't get football, amirite?" still, for some reason, feels like an "apt" gender observation.
All that being said, Super Bowl Sunday is upon us. And unless you hang with a, shall-we-say, enlightened group of friends, you're more-than-likely to run into some antiquated, eye-roll-inducing, and just plain wrong viewpoints on how women consume sports media.
So in honor of this fallacious football nonsense, allow us to introduce some real-life human women who love the sport—you can offer them up as living proof of how asinine all of this is. These women exist, and they'd really like you to stop re-tweeting dumb jokes about how they hate sports.
Name: Erin Keely
Location: Redwood City, California
Occupation: Musician and music teacher
Team: Dallas Cowboys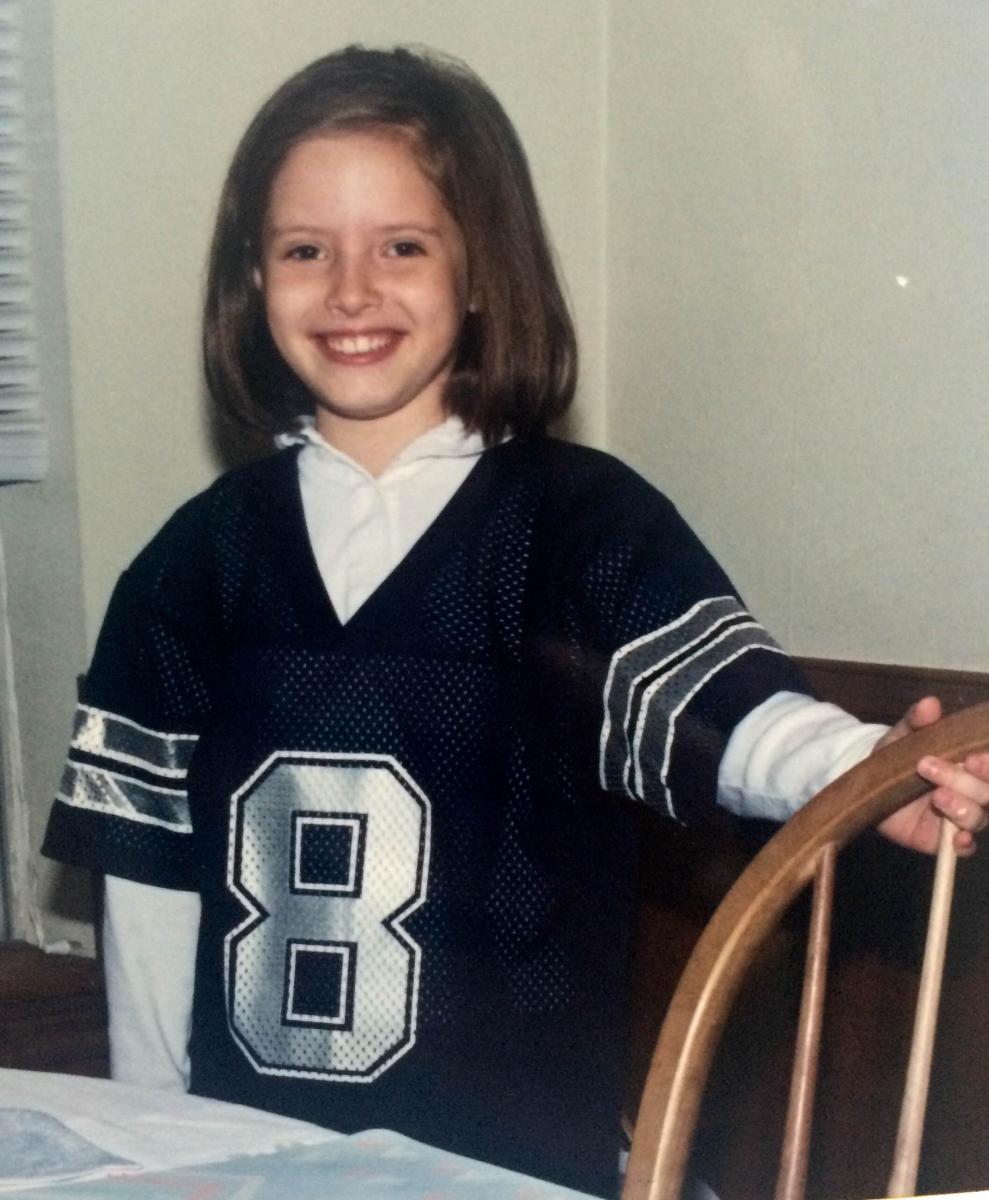 Earliest Football Memory: Touchdown cookies. My father invented a genius way to indoctrinate his daughters into the beauty that is the NFL. When the Cowboys scored a touchdown, we got to have a delicious, home-baked cookie. We carry on the tradition to this day.
Favorite Football Moment: Besides the obvious (Cowboys Super Bowl wins in 1992, 1993, and 1995), there was one game that I will always remember, albeit incredibly hazily, considering I was so young. We were down by at least two touchdowns, and there was less than three minutes remaining in the 4th. My older brother called the house and told my father that he was giving up and going to bed. He missed the rapid-fire, eyeball-popping comeback in the last two or so minutes. That kind of high sticks with you!
Favorite Player: When I was a kid I was obsessed with Troy Aikman. I mean, his number was 8, and that was my age! We had so much in common. Not to mention the man had incredible skill and talent. I was in the Troy Aikman fan club (I still have my official card), and on my 9th birthday I got a Troy Aikman jersey. It still fits me to this day . . . and I'm 30 years old. I guess that is kind of weird.
Team You Hate The Most: Steelers. It's not exactly fair, but I just can't stand Ben Roethlisberger due to the things he has "allegedly" done and gotten away with. Second most-hated would be the Redskins.
What position should your team draft in 2015? We need better protection for Romo. Watching him scramble and not have time in the pocket is infuriating. Okay, I need to go now—a playoff game is starting!
Erin is a veteran of the Bay Area music scene, and currently plays bass in San Jose's Curious Quail.
Name: Claire Deeley
Location: Norwood, Massachusetts
Occupation: Senior Accountant/Business Analyst
Team: New England Patriots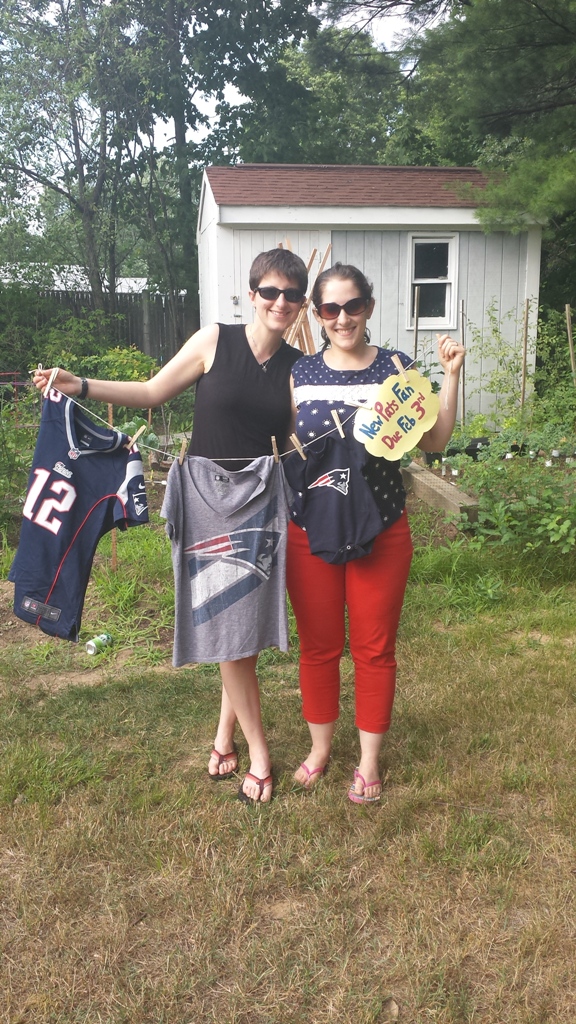 Earliest Football Memory: Watching the Patriots with (my wife) Jamie freshman year of college (this was before we were together). They won their third Super Bowl in four years that year. I don't think I appreciated the full magnitude at the time, but it was my first time experiencing the joy of being a football fan. In the past I had only experienced that with baseball. (Side note: Football has ruined baseball for me. I can't watch it anymore because the games are too slow and each individual game feels meaningless.)
Favorite Football Moment: Every Sunday during football season, hanging around the house watching the Pats. There is something wonderful about spending the day on the couch making your way through all the games of the day. Since I didn't pick up football until college, I had a lot to learn, and just listening to Jamie or the announcers explain all the rules and technicalities was really educational and fun. The more you know and understand, the more fun it is to watch any game.
Favorite Player: Vince Wilfork, Pats Defensive Tackle. One of the most hardworking guys on the team, full of heart, family man, well spoken, a great player and leader. He truly loves the game, the team, and the fans. He is a true sportsman, respects his opponents, and doesn't create drama. I believe he is the only other Patriot on the team who won a Super Bowl with Brady (in 2004, his rookie season). He is one of the anchors of the team. He also started a charitable foundation that supports diabetes research. To top it off, on his way home from the AFC championship game, he stopped and pulled a woman out of a car that had flipped over.
Team You Hate The Most: The Pittsburgh Steelers and Baltimore Ravens.
What position should your team draft in 2015? With the departure of Logan Mankins just before the 2014 season, I would like to see some additional support on the Offensive Line.
Claire is originally from Seattle and is conflicted about this year's game. Here's what she had to say: I also love the Seahawks, which makes this Super Bowl simultaneously wonderful and terrible. One of my teams will lose and the other will win. However . . . I consider the Patriots my home team. They are the first team I watched and loved. Also, I'm pretty sure my wife would divorce me were I to root against the Patriots in the Super Bowl.
Debbie Amable Chunn
Location: San Jose, California
Occupation: Retired educator
Team: San Francisco 49ers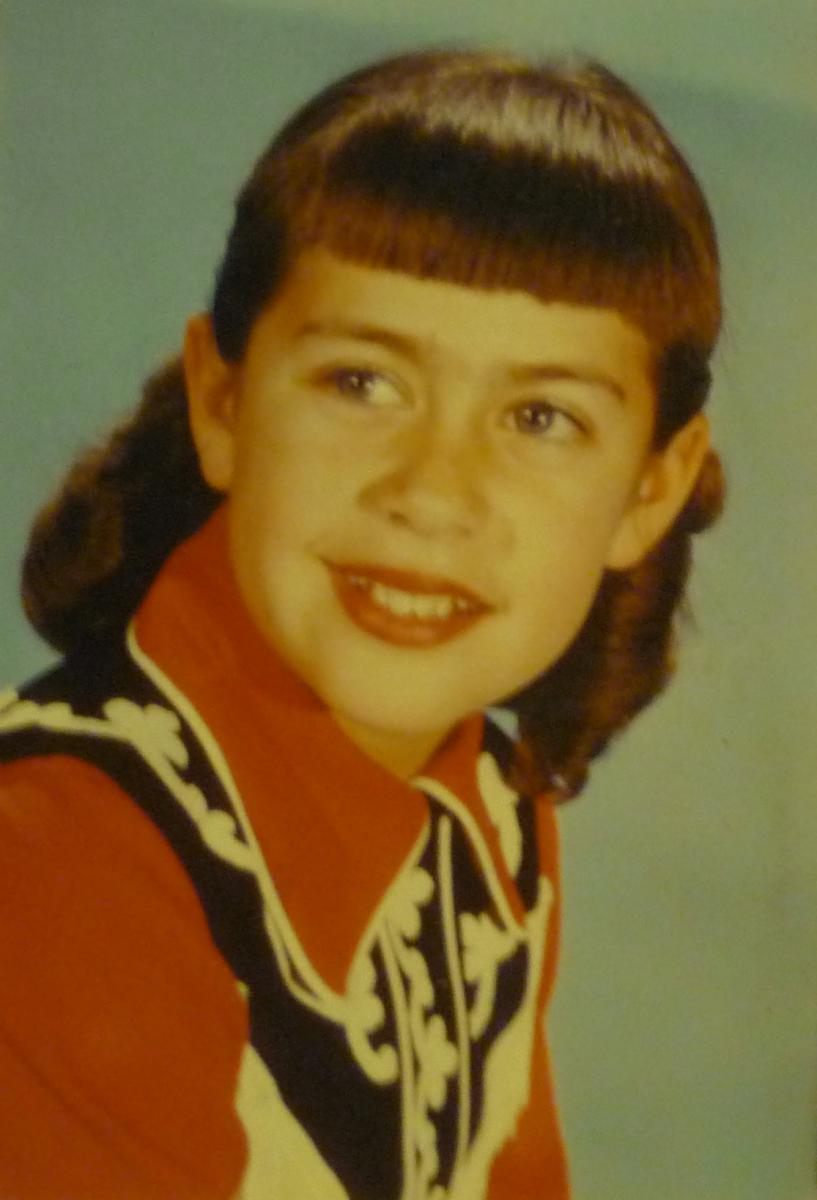 Earliest Football Memory: Standing at the entrance to the tunnel from the locker room to the field at Kezar Stadium, baton held high as the 49ers ran onto the field—I was a 49er Majorette (see photo above), so I was at every home game from 1956 to 1963.
Favorite Football Moment: "The Catch": Niners vs. Cowboys NFL Championship Game, 1982!!!
Favorite Player: Wow, I have so many favorite players that it's hard to pick just one, but my all-time favorite player thus far is Joe Montana. He's a brilliant and intelligent athlete, a classy guy, a NICE guy (I spoke to him in the airport once, and he was very sweet and polite), and he doesn't take himself too seriously. My second favorite is Aaron Rodgers for the same reasons (although I've never spoken to him).
Team You Hate The Most: I don't "hate" any team, but let's just say that I really, really hope the Seahawks lose the Super Bowl!
What position should your team draft in 2015? The Niners need to draft offensive linemen to better protect the quarterback. They also need another back-up quarterback.
Full disclosure: Debbie is the author's aunt. Debbie shared her love of sports with . . . get ready for this . . . her own mom! Her Majorette uniform is now part of the 49ers Museum collection.
Amy Gill
Location: Fresno, California
Occupation: Sports Reporter/Anchor
Team: Indianapolis Colts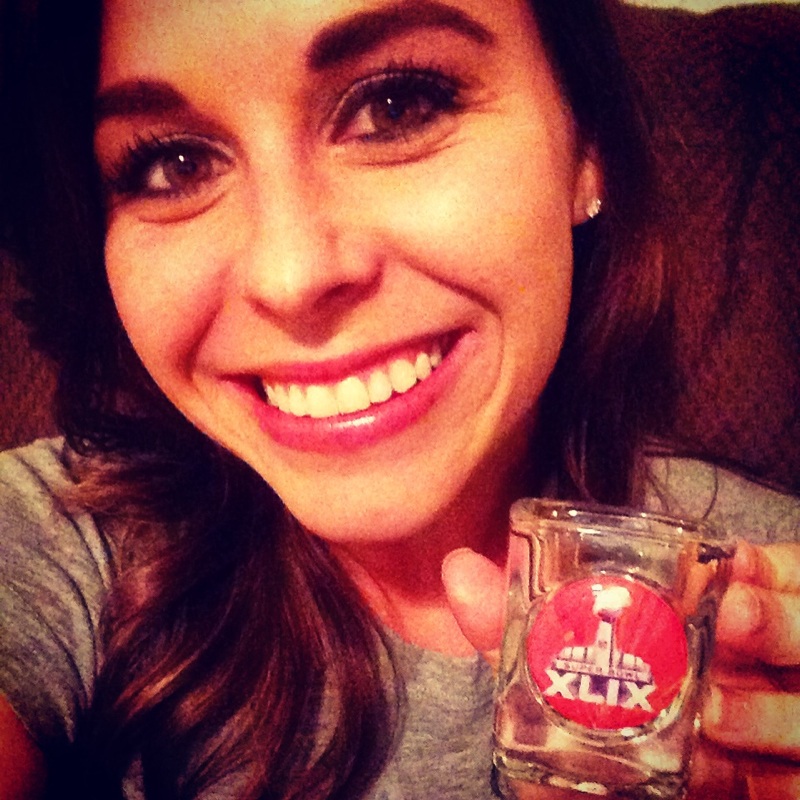 Earliest Football Memory: I distinctly remember the Colts losing to the Steelers in the '95 AFC title game. The announcer said the Colts scored a TD and were headed to the Super Bowl . . . and then they took it away. I was so heartbroken! I know I was a Colts fan earlier than that, because I remember liking the Colts when I lived in Indiana . . . but that's the earlier GAME memory that sticks out to me. (Jim Harbaugh was the Colts QB in that game, BTW.)
Favorite Football Moment: The Colts beating the Chicago Bears in Super Bowl XLI! I was in college at a Super Bowl party (in San Francisco). I was pretty much the only one INTENTLY watching the game since I was the only person there who was actually a fan of one of these teams. I also spent the day having to tell people I was actually a real Colts fan and didn't just pick them over the Bears.
Favorite Player: Well, Peyton Manning will always be the man(ning)! Since he's been the QB most of the time I've been a fan, how could he not have been my favorite? One of my favorite games to ever watch him play in was a MNF game where they came back 21 points down in the 4th quarter to beat Tampa Bay. He was always so dominating and fun to watch. I was always pretty high on Dallas Clark, Marvin Harrison, and Reggie Wayne. Andrew Luck has to be the favorite now . . . he's still really just starting out, so it's exciting to see just how much potential he has and to see his star continue to rise.
Team You Hate The Most: I'll go back to the '95 AFC title game . . . I hated the Steelers for the longest time. Then soon after college I softened on them for some reason. I always thought it was really cool how rabid their fan base was. I also ended up spending two years living in Steelers Country (in Pennsylvania). So they're now actually one of my favorite teams.
So going off rivalries nowadays . . . I'm not a Patriots fan. And ever since Manning left that rivalry hasn't quite been as exciting.
What position should your team draft in 2015? Well they'd benefit from a few defensive positions, based on that performance in the AFC title game. But they also need a running back . . . BIG TIME.
Amy is currently reporting from Super Bowl XLIX. Follow her on Twitter for updates.
Jenna Quilalang
Location: San Francisco, CA
Occupation: Project Manager, Digital Marketing
Team: Oakland Raiders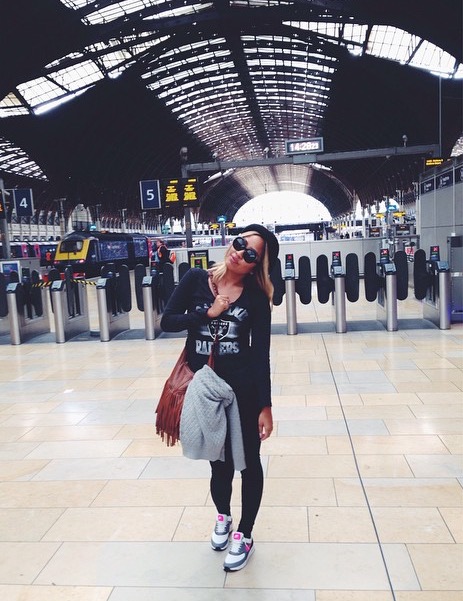 Earliest Football Memory: Non-game related? Al Davis firing Mike White on Christmas Eve. Game-related? Desmond Howard's 99-yard kickoff return in the '97 Super Bowl. I think they were both in the same season.
Favorite Football Moment: Being at the Coliseum for the 2002 AFC Championship game when the Raiders beat the Titans, aka the last time the Raiders were good.
Favorite Player: Charles Woodson. He's the first player I can remember the Raiders drafting. He also played for my two favorite NFL teams and will forever be cemented in Raider lore for causing THAT fumble. (It still IS a fumble!) I guess it's more for sentimental reasons than anything, but he is also one of the greatest of all time, so there's that.
Team You Hate The Most: It's a tie between the Niners and the Patriots. I really can't decide.
What position should your team draft in 2015? I would love to take Amari Cooper to give Derek Carr a legitimate weapon next year, but I would not be disappointed if we go for a defensive lineman, like Leonard Williams or Randy Gregory. Someone to solidify our defense along with Ndamukong Suh, after he joins the team this offseason . . . hopefully!
Jenna runs a fantastic, snarky sports blog, Stick 'Em With the Pointy End. The photo above was taken last year, when she went all the way to London to watch the Raiders play.