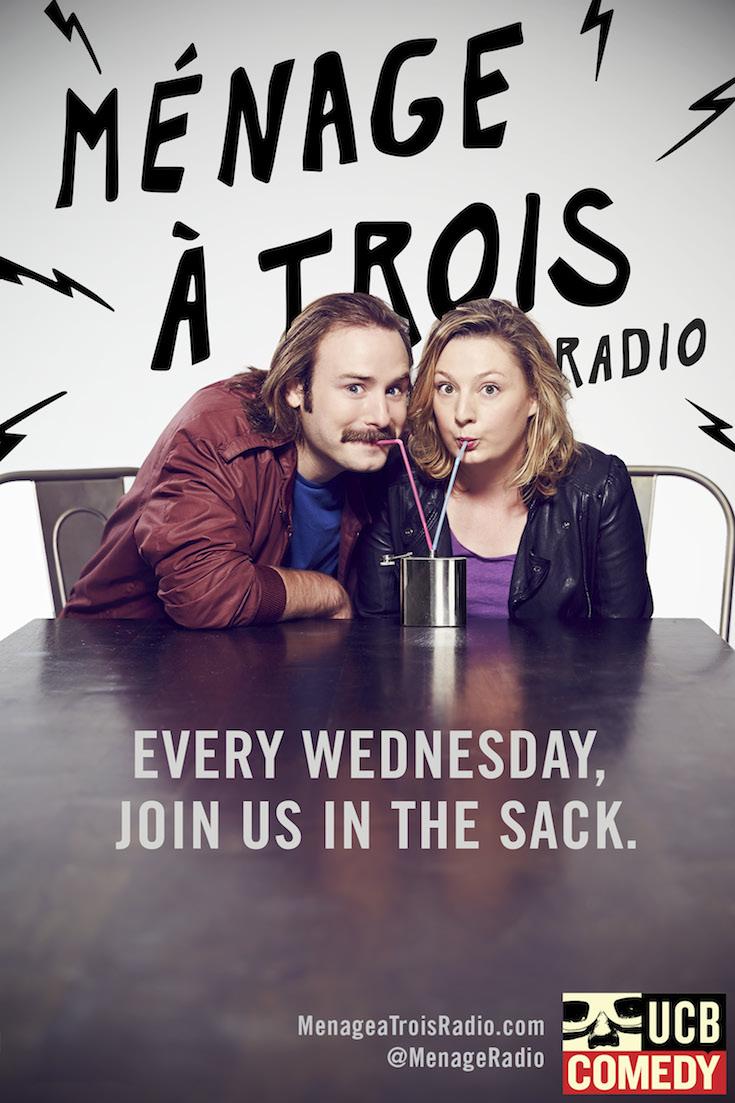 Courtesy of Meyer and Kolsky
When you think of the term power couple, it's not often applied to podcasting, but Murf Meyer and Diana Kolsky of "Ménage à Trois Radio" are that podcasting power couple (try saying that ten times fast) we've been craving. Currently climbing up the iTunes charts, this UCB network show covers all of the NSFW aspects of love, sex, and relationships. It's not extremely dirty, but it's way too funny to be water cooler conversation.
Although both Meyer and Kolsky are both voiceover artists and actors, (Meyer is currently on Fusion's "The Chris Gethard Show"), they rarely muse over the entertainment industry — they broadcast out of Brooklyn and not Burbank, after all. However, they have been getting a roster of noteworthy guests from Amy Poehler and Horatio Sanz to Jake Fogelnest and Mike Birbiglia.
I recently sat down with the couple and was happy to discover they are as fun in real life as they are on their podcast. We chatted about how they got into comedy and improv, their absolutely adorable love story, what we all learn in relationships, as well as how they found a way to build their brand and work together to create something awesome.
Where are you from and how did you get into comedy?
Diana: I'm from Portland, Oregon and I'm a graphic designer and illustrator by trade. I moved to New York about 10 years ago and started taking classes at UCB. My first love was improv, and I slowly decided I love all things comedy and got more into it.
Murf: I'm from Wilkes-Barre, Pennsylvania. It's an old, sad, coal-mining town. There are bars on every corner, so people get drunk and waste away. I was doing the same thing. I always liked comedy, but there's no actual comedy scene there. I moved to Philadelphia and did it there for a little bit. I found my way to New York about five years ago.
What podcasts have inspired you?
D: I listened to Loveline growing up. I feel like Loveline raised me. I fell asleep listening to it every night, before it became a ridiculous TV [show]. [I like] "The Best Show" with Scharpling. It's funny because we do a podcast, but I don't think we're big podcast people.
How did you two meet and fall in love?
D: Murf and I met at a long-form experimental improv class taught by Gethard at UCB called "Parenthesis." We were friends first, and then we would go to the bar and make out after [class]. And then we fell in love . . .
M: We always appreciated each other creatively, so we tried to dive into some projects together and then kept it more at arms length in terms of sex, but then after a while we [said], "why are we fighting this?"
D: For a while, we tried to be friends. We didn't want to be people in the scene who were boning, but then we ended just being those people.
M: And the boning blossomed into love.
How long have you two been together for?
D: We've been married for a little over a year, and we've been together for four years. We moved pretty quickly.
M: We were 30 . . . I think you have some terrible relationships in your younger days. Then you figure some shit out about yourself, and you know when it's solid and the real deal.
How long were you together for before Murf proposed? How did he ask?
M: We were probably together for a year. The proposal happened very quickly and the wedding happened pretty quickly after that. I proposed on "The Chris Gethard Show." "First Times" was the theme of the show. I had never proposed to anyone before, so my first time thing was proposing to Diana.
D: It happened on public access, so I could actually send a YouTube clip to my mom.
You two are adorable, but do you ever feel like you're that annoying couple? You know, those people who are so in love that single people just cringe in your presence?
M: I think we're pretty strong as individuals. We have a sex, love, and dating podcast, but we show all of our warts. It's not like we're this cutesy couple who isn't real with each other, [we're] willing to bust each other's balls. I think most couples always feel like they might be hiding something behind closed doors. Those people who are always so much in love. I think we're also a "power couple" in some ways.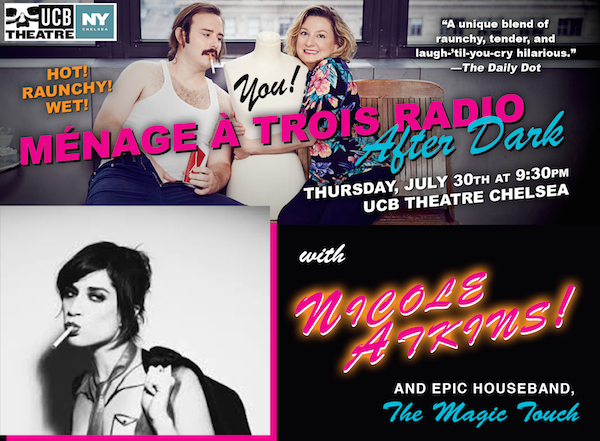 Why did you create "Ménage à Trois Radio"?
D: We wanted an outlet to play ourselves because we both do acting and character work. This just kind of fell into place. [We thought], what if we use the fact that we are real life couple?
M: And we're voiceover artists. 
D: We're honest. I think people try to be really PC and say the right thing. We just try to be ourselves on the show and we try to get really good, diverse guests like comedians and burlesque artists. People all over the map. They end up painting the show with their specific flavor. We get to react as ourselves and share our own love anecdotes. It all just came together.
M: We don't have to give a shit about what we're wearing or hair and makeup, video. This is just fun to show up and be who we are on the mic.
What made you decide to focus on love and relationships as a theme for the podcast?
M: It's something everyone can relate to. Everyone has had shitty relationships, weird fuck stories, and had their own experiences under that general umbrella. I think us being together and sharing pieces of ourselves on the show is what draws people to it. I think that's why we can get guests from a diverse background. They don't necessarily have to be comedians to be able to share something, or expand on something a listener tweeted in or a story we are telling. We talk about all sorts of things on the show that aren't necessarily sex. They are jumping off points to get the conversation started.
Do you have advice for other people who want to start their own podcasts?
D: Just do it! It's so easy now, you can just put yourself out there.
M: Don't worry about the technical stuff too much. It's easy enough to just get going now. Do it with people you like to hang out with. It's also about chemistry. If you're going to sit there and shoot the shit whether it's about movies, relationships, etc., just find people you want to sit there and talk to.
What are you looking forward to in the future?
D: We just started doing a live show. It's been really fun because we, as performers, get to do a little more hands-on stuff, rather than just talk into microphones. We like to do song and dance numbers. We've made really fun, sexy comedy videos that we debut at those shows. We have guests and live music. It's kind of like taking the idea of the podcast and the campiness of the segments and the fun of letting the guests take it wherever they want by putting it more into a live party atmosphere. That evolution has been really enjoyable.