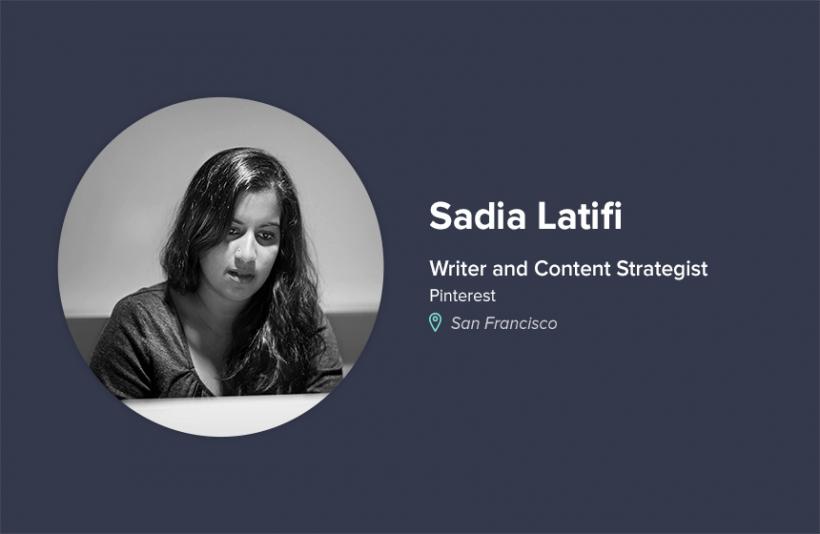 Glassbreakers.co is a safe, supportive and dynamic online community for professional women. Its mission is to empower women to break the glass ceiling, together. A Glassbreaker is anyone who believes in the social, political and economical equality of the sexes. This interview originally appeared on their site in July.
What is your name?
Sadia Latifi
What do you do?
I'm a writer and content strategist at Pinterest where I focus primarily on our business marketing and advertising products.
Before that, I was a content strategist at a digital agency called The Barbarian Group. But my real background is as a journalist. I was a reporter at The News & Observer in Raleigh, N.C. before I decided to sell out and move over to tech.
Why do you love your job?
I get to work with people across disciplines — designers, engineers, product managers, salespeople, you name it. We're not put in a box at Pinterest, we're not just "wordsmiths" who come in after everything else is done. Everyone works across functions and different backgrounds because we truly believe that that will make for a better product for Pinners in the end. 
What is your proudest career moment?
Roasting the entire company during an Open Mic Night — and not getting fired for it!
What advice do you have for other women who want to be in your role in two years?
Your ability to communicate, both in writing and in person, will go a long way. I've always felt a little lame for not having more technical skills, but I've learned how rare and valued thoughtful communication can be.
Writers are in high demand in the tech world right now, and I think it's because we help people tell stories about their products to users in a way that really connects.
Outside of your day job, what else are you passionate about?
I'm a total news and pop culture junkie. I also care a lot about social justice issues.
Have you had any inspiring mentorship moments in your career?
I'm still in touch with my high school journalism teacher who first inspired me to pursue my passions. Even though we don't see each other that frequently, we've evolved from a teacher-student relationship to lifelong friends.
What other women in your industry do you admire?
I'm a total stan for Tiffani Jones Brown, my manager, and Tracy Chou, one of Pinterest's badass engineers. 
What books, blogs, podcasts, networking groups or other resources do you recommend for Glassbreakers interested in your field?
If you're in the Bay Area, I'd highly recommend joining the Bay Area Content Strategy Meetup. There are lots of Meetups for Content Strategy around the country.
To break into the field, I'd read a few books:
Content Strategy for the Web
Content Strategy for Mobile
Letting Go of the Words
Don't Make Me Think
What have you learned from failure? (either yours or a failure that directly impacted you)
You can't have success without failure. They go hand in hand.
And if you truly want to do something big, you also have to imagine it failing. And be okay with that. If not doing something is scarier than doing something, you're on the right track.  
--
Follow Sadia on Twitter @sadialatifi!
Read more on Glassbreakers and connect with other women by signing up here.