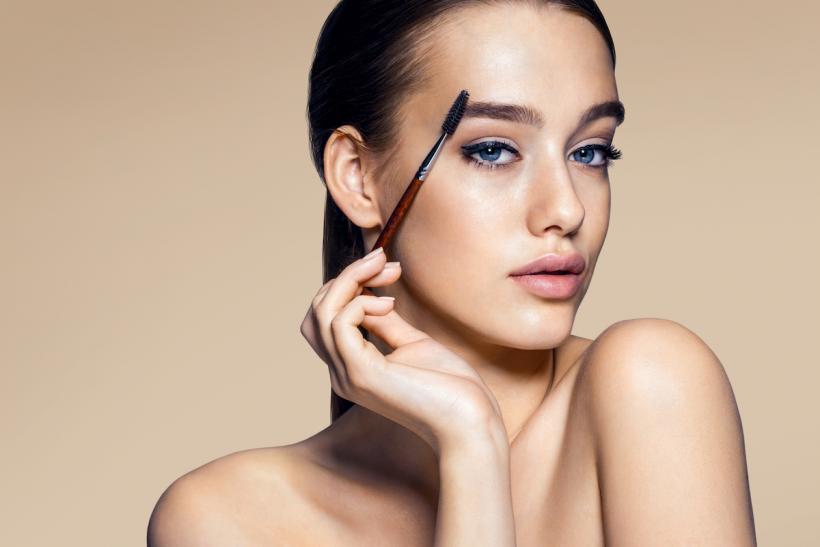 Image: Thinkstock
It's surely well known by now that the age of the heavily drawn on, perfectly angled eyebrow is coming to an end. Certainly, it's still a #glam look for trying to trick people into believing you have your life together, but for every day, I reckon the new cool brow is bushy, hairy, voluminous, and messy. Think bed-head for your fore-head.
I've been a lover of the hairy brow look for a while now. I think it looks youthful and carefree, plus it's quicker and requires much less skill than a meticulously blended ombre-plus-highlighting-concealer-outline. And while spending a bunch of $$$ on makeup is fun to the point of irresistible, for things you go through at a warp speed, it seems a bit of a waste. Brow gel is a utilitarian product, neither fun nor luxurious, plus it gets pretty gross after a few months and needs tossing. Thus, a cheap one is a good one. Here are reviews of all the ones I have tried in my quest for the perfect bushy brow.
Brow Drama Sculpting

Brow Mascara by
Maybelline
The brush on this is completely insane — I've actually heard of people snipping off the unnecessary end-ball. This is a good brow finisher, either for those who have already done a bit of light filling in, or those blessed with naturally enormous eyebrows they just want to brush into place. Not a lot of color payoff, but good hold.
Brow Define Tinted Brow Mascara by MUA
This is only for those with the lightest delicate fairy hands. I got this, quite simply, all over my face. Perhaps better after drying out for a while, or for those with enviably thick natural eyebrows. 2 messy 4 me.
Brow This Way Styling Gel by Rimmel
Again, errs on the side of messy. Less product comes out on the brush than the MUA, but the brush is still too big for my taste. Again, with a careful hand this is probably fine, but who has the time* (*ability) to be careful?
Professional Studio Eyebrow Treat and Tame by ELF
A surprise hit from the $3 contender. This is a drier formula, which makes up for the slightly clunky wand. Also, it's infused with fibers (a close look at the wand reveals its fluffy-as-hell nature) which volumize your eyebrow hairs instead of just coloring them in. Plus, you get a bonus "treating gel" which makes wild claims about vitamins and stimulating hair growth. Even holding on to my natural skepticism about the treat side, the tame side is well worth it.
Ultimate Brow Mascara by Wet 'n' Wild
This gets points for sleek packaging and for finally having a brush which is almost small enough. It also has a great ashy brown color, which would look good on most brunettes (nothing worse than warm eyebrows, that's what Socrates always said). It's lacking in brow-building fibers, but offers good color and flexible hold; gives a subtle yet defined brow.
Make Me Brow by Essence
There are wild claims about this being exactly the same thing as the rightly world famous Gimme Brow byBenefit. It isn't. The wand is great and small, but the effect is far too subtle. It's a good brow gel, make no mistake, but not the one stop eyebrow shop I desire from a product like this.
Brow Artiste Plumper by L'oreal
My first, my last, my everything. After years of searching, this is my ONE. It comes in a giant tube, yet surprises us all with an adorable tiny little brush. The brush is filled with fibers to make eyebrows bushier, yet still looks natural. The dark color is cool-toned and pretty universal (although the light shade does indeed seem to be neon orange, so give that one a miss). After a few months, this one gets a bit sticky and clumpy, but that's fine. A fresh tube is a true joy. Bless you. 
And of course, for the astute or fiscally challenged girls...
Any Old Mascara by Anyone
Yes, you can just put mascara in your eyebrows. The challenge is, of course, that most mascara is black and has an obnoxious giant wand. But if you can bypass these issues, it's pretty much fine. Black eyebrows are super chic and dramatic. Just take off the excess (you can even do this on your own lashes), then brush the dry wand carefully upwards through your brows for color, volume, and hold.