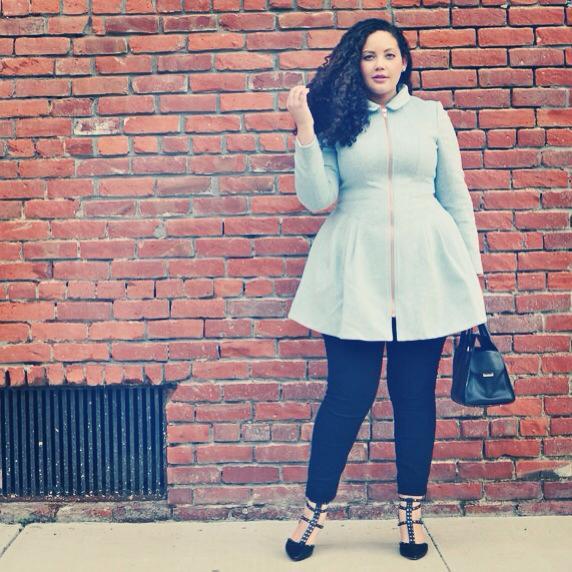 We love a woman who refuses to be one thing. Tanesha Awasthi, the super human behind Girl With Curves, is a fashionista, blogger, designer, mother, wife and advocate for positive body image—not at all in that order. This multi-tasking mama models all of the gorgeous garb on her hugely popular site—she took home a bloggie for Best Fashion or Beauty Weblog in 2013 and 2014—and still found time to answer a few of our most pressing questions. Oh, and did we mention that she just had her first baby?!
What's the motivating force behind Girl With Curves? 
My mission behind the blog is to impact lives through fashion, by showing women and the fashion industry at large that women can look and feel beautiful, regardless of size. 
If you had to pinpoint the biggest challenge faced by fashion savvy curvy women today what would it be? 
I would say gaining the respect of the straight-size fashion community. I think plus size fashion has always been seen as sort of a joke by the mainstream fashion community, since it isn't the same fashionable standard as straight-size and the styles are definitely behind a few seasons.
What article of clothing do you turn to for guaranteed hotness? 
Anything that makes me feel sexy! Curve-hugging pencil skirts, midi skirts paired with crop tops, skinny jeans and a tee.
What's the most pressing thought on your mind these days? 
How on Earth am I going to manage my life every-single-day, with two businesses and a newborn baby?!
What's the coolest thing that's happened to you in 2014? 
I have birth to my son who's now almost 11 weeks old!
Which one comes first: your encouragement of positive body image or your love of fashion?
I think they come hand in hand, I can't have one without the other.
Your outfits are styled so beautifully. How do you choose what to wear each day? 
It depends on my mood, and begins with one piece I want to wear based on how I feel. If I'm tired, I'll opt for jeans and then build my outfit around them.
And how do you take the gorgeous photos on Girl With Curves? 
My husband takes all the images for the blog.
Lucky lady! And has your relationship with your body changed over time? 
It's changed tremendously, and it continues to do so, especially after having a baby. When I was young I despised having hips and curves, and now that I'm older I'm much more comfortable in my skin.
And now for the speed round!
Where . . . 
do you shop most frequently? 
Online! Right now I'm loving Asos.
do you go when you're not at your computer? 
To the kitchen to fix a bottle.
Who's . . .
on your list of can't-be-missed designers? 
Oscar de la Renta. Can't get enough of his amazing gowns.
inspiring you these days?
Rachel Zoe always. She's a mom/ entrepreneur and she does it all with style and grace, with the help of her hubby.