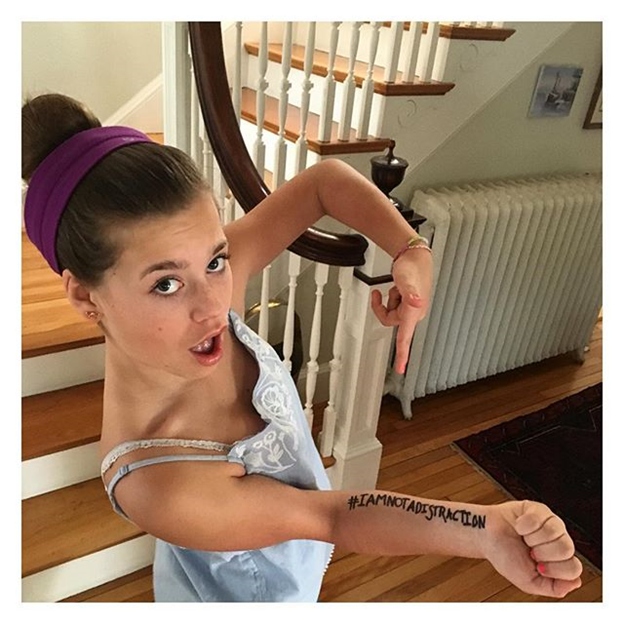 A middle schooler's act of defiance has called into question the purpose of their dress code.
'The Lovers & Fighters of America' is a weekly column here at Ravishly featuring behind-the-scenes stories of inspirational people taking a stance against hate.
A sixth grader at King Middle School in Portland, Maine has been generating a fair amount of media attention these past few weeks. Eleven-year-old Molly Neuner has a goal: to instigate changes to her school's dress code, a battle Molly has chosen after being called-out in front of her peers — and later threatened with detention — for wearing a sleeveless top to school.
In front of other classmates, a teacher asked Molly and another girl to stand up and measure their clothes. Molly was told to lay her fingers across her shirt strap to make sure it was at least two fingers wide. The other girl was asked to put her arms straight down to gauge whether her shorts were above her fingertip length. Molly says the experience left her feeling embarrassed and ashamed. It also led her to question the fairness, and the underlying messages, of the current dress code.
The following day, instead of adhering to the dress code, Molly decided to take a stand against it. She wore another sleeveless top to school and this time she wrote a powerful message on her arm: #IAmNotADistraction. Twenty other girls at the school wore tank tops that day too to show their solidarity.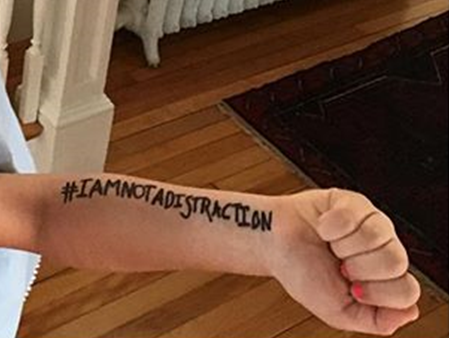 Molly explained to Ravishly why she decided to break the dress code rules. She said: "The thing that motivated me to take a stand against my school's policy was that the policy was unfair and sexist. Because boys aren't going to wear tight shorts that are shorter than their fingertips — it's in style for them to wear long, baggy shorts. It's also unfair that boys can dress however they want but girls have to dress to a certain level that is appropriate when there is no level for boys. It makes us girls feel like we are responsible for the boys' actions."  
The young student made some powerful points by challenging the notion that she and her female classmates were being held responsible for the boys' potential behavior. She said: "One of the things that motivated me the most was that two of my teachers said we had the dress code policy because we were a distraction to boys. And, I mean, I don't want any boys looking at me in an inappropriate way. I mean who does, really?"  
She later added, "It's your body, your choice and no one else has the right to be staring at you inappropriately." 
Molly's act of resistance has opened up the conversation about the outdated dress code at her own school, and has gained the attention of media outlets such as Cosmo, Teen Vogue, Huff Post, Allure and MSN. Her story was also shared on ACLU's Facebook page recently and has brought many new people over to Christina Neuner's Facebook page to share their stories and their respect for Molly's determination. Christina says she has received several personal messages from young girls sharing some of their own feelings and shame inducing experiences. In one post she shared a candid photo of herself and wrote some heartfelt words to those girls. 
King Middle School principal, Caitlin LeClair, has since met with Molly and her parents and has announced the school will be re-evaluating its dress code at the end of the year whereby students' input, including Molly's, will be taken into consideration.
The current dress code is set to remain in place until then. But Molly's mom, Christina Neuner, says her daughter plans to wear what she feels comfortable in whether that meets the current dress code expectations or not. She told Ravishly: "She said she won't be following the dress code. She also plans to write the hashtag on her arm for the rest of the year to make sure that the dress code gets changed."
Portland's district-wide dress policy says schools can prohibit clothes that cause a "material and substantial disruption" at the school but, according to Portland Press Harold, Superintendent Xavier Botana does not feel straps on a shirt or the length of shorts fit into that category. He said: "I don't believe we should be dictating fashion or measuring the length of shorts if it's not a material and substantial distraction," he said. When asked about tank tops, he said: "I would be hard-pressed to understand how the size of a strap makes a substantial and material disruption."
We at Ravishly love to see Molly taking a stand and fighting for change. Her confidence and strong sense of self is evident and we can see where she gets it from.
We are honored to feature Molly Neuner as this week's Lover and Fighter in America and we wish her all the best as she pushes forward to show the world that she will not be distracted from achieving her goal.
If you know an inspirational Lover & Fighter whom you'd like to see featured on Ravishly, send a message to Shannon Day, via Facebook.
Lovers & Fighters say "hell no" to racism, sexism, bigotry, and xenophobia. These men, women, and children are saying "heck yes" to equality, human decency, and love. From bold acts of advocacy to simple moments of goodness, these everyday people remind us of what it truly means to be American.
These lovers and fighters are resistant in the face of intolerance. They are bold in the presence of judgment. They are determined to join forces (or to stand proudly alone) to ensure their message is heard: #LoveTrumpsHate