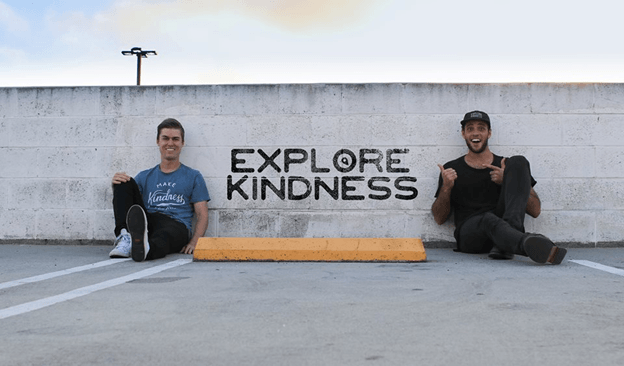 Dalton Lamert and Alex Radelich have been spreading kindness across the U.S. since 2012. (Photo Credit: @ExploreKindness Facebook)
'The Lovers & Fighters of America' is a weekly column here at Ravishly featuring behind-the-scenes stories of inspirational people taking a stance against hate. 
You won't find many to argue against the notion that kindness makes the world a better place. In fact, that is exactly what inspired Alex Radelich and Dalton Lemert, the 23-year-old co-founders of the nonprofit organization
 Explore Kindness
, whose mission is to "make the world a better place, one act of random kindness at a time."
Radelich was first inspired to change the world with kindness back in 2012. He was sitting in his dorm room at Purdue University, having just finished a tiring week of final exams. The movie Evan Almighty, starring Steve Carell and Morgan Freeman, was on T.V. At one point in the film, Carell's character asks Freeman's: "How can we change the world?" Freeman's character replies: "One act of random kindness at a time." 
And so it began…
With the whole of the U.S.A. in their sights, and a minivan (later upgraded to an RV) as their mode of transportation, Radelich and Lamert began their travels across the country, to help others and spread kindness.
Over the years, Radelich and Lamert have put 35,000 miles on their RV, and along with those miles, they've connected with and helped many people. They have completed six national tours so far, and have performed hundreds of kind acts. And always, their aim is to inspire others to join them in their mission.
The group are currently touring the West Coast where, according to their information on Kind Foundation's 
website,
 they'll be partaking in hands-on acts of kindness. Radelich wrote: "During this journey, we will be directly spreading kindness to hundreds of people along the west coast. Our acts of kindness will include purchasing coffee for strangers, handing out flowers on the street, volunteering with homeless outreach programs, hosting events for a Boys and Girls Club, and dozens more. At each stop, we'll be hosting meetups and using our social media followings to bring fans and community members to join us in exploring kindness." 
Last year, while in Florida, Radelich and Lamert reached out to Ronny Ahmed's family; Ahmed was one of the victims of the 2014 
Florida State Shooting
. He was left paralyzed from the waist down and now uses a wheelchair.
By connecting with Ahmed's mother, the men learned that his greatest immediate need was a wheelchair-accessible bathroom. A GoFundMe page was started and, within two days, over $5,000 had been raised. The bathroom was remodeled and Radelich and Lamert got to share the news with Ahmed, in person.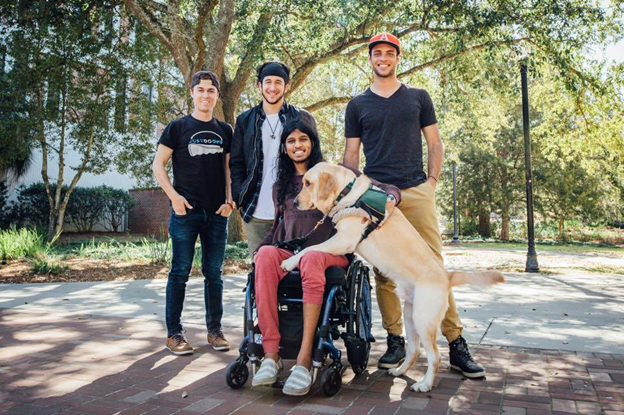 Not only are Alex Radelich and Dalton Lemert taking to the road with their mission to change the world one act of kindness at a time, but they are encouraging others to do the same, and suggest you lead your own 
Explore Kindness Trips
. They also help teens and young people start 
Explore Kindness Chapters
 at their schools.
We are honored to feature Dalton Lamert and Alex Radelich as this week's inspirational Lovers & Fighters, and we wish them well in their upcoming tour. Follow along with their journey, feel their positive energy, and why not follow in their footsteps? 
To get involved or to donate, click 
here
.
***
Lovers & Fighters say "hell no" to racism, sexism, bigotry, and xenophobia. These men, women, and children are saying "heck yes" to equality, human decency, and love. From bold acts of advocacy to simple moments of goodness, these everyday people remind us of what it truly means to be American.
These lovers and fighters are resistant in the face of intolerance. They are bold in the presence of judgment. They are determined to join forces (or to stand proudly alone) to ensure their message is heard: #LoveTrumpsHate