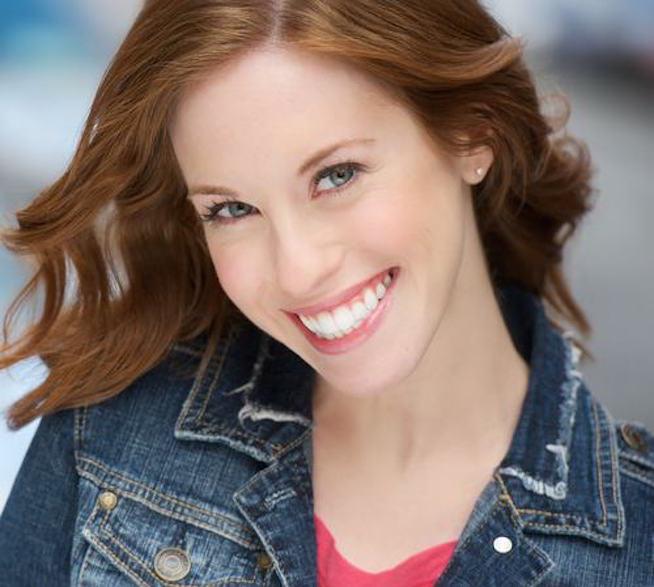 Another great web series run by another amazing lady! Redheads Anonymous is a cheerful and quirky series about a band of carrot-topped misfits trying to find their way in the world. We talked with creator Elisabeth Ness about how the show came to be, and how the web series format has given female content creators an edge in entertainment.
What has it been like working with a bunch of other redheads?
It was a rare and wonderful opportunity — and actually, it was one of the reasons I created the show in the first place! Unfortunately, I rarely get to act alongside other redheads; conventional industry wisdom states that redheads are so rare in real life that having multiple ginger characters in a show can be confusing to an audience.
Kathleen Littlefield (Jessica), Juliet Brett (Amy), Ethan Slater (Sam), and I had fun comparing experiences growing up, navigating the industry, and learning how to do redhead-specific makeup (some of these revelations were subsequently posted on our YouTube channel, if folks are interested in hearing them). It probably doesn't hurt that they're fantastically talented, to boot.
Your work on Redheads Anonymous is both behind and in front of the camera. Which do you prefer?
I unabashedly love both. Whether acting, writing, editing, or producing, you are creating something (be it a living-and-breathing person, or a story and a world) where there once was nothing. So, in a way, they're all different facets of the same goal-oriented creative process.
The other beauty in working as an actor, writer, editor, or producer is that all of those roles are highly collaborative, and I love operating as part of a team. It's thrilling to turn ideas into reality together, and my Redheads Anonymous team is one of the best there is.
What sparked the idea for the web series? Is there really a Redhead Scholarship?
I knew that I wanted to write a comedic role that was something other than the girlfriend, love interest, or hooker with a heart of gold (the conventional industry offerings for female actors, if casting notices are to be believed). There is a groundswell movement of actresses who write their own web series, and I felt inspired to take charge and join their ranks, rather than sit and wait for the lead role of a driven, tenacious female character to come along.
I also wanted to create a show in which I got to work with other redheaded actors, so I researched potential topics that could ostensibly involve a bunch of redheads. I found Tim Minchin's hilarious song "Prejudice" and Catherine Tate's fantastic "Ginger Refuge," both of which showed that, when done well, the redhead experience can create comedy gold while simultaneously allowing for deeper and more complex social commentary, which was important to me.
Last but certainly not least, a lightbulb went off when I discovered the Redhead Scholarship. It does actually exist — gingers, take note! — but in reality, it provides $500 rather than the "two years of tuition, books, and sunscreen" that we claim in Redheads Anonymous. As soon as I saw it, I knew I'd found a winning catalyst for the show!
You have experience with filming documentaries yourself. How did this play into the filming of Molly's interview documentary series on the show?
Write what you know, right? I love interviewing people for my company's mini-docs. It seemed like the perfect fit for Molly's fact-finding mission — we needed a way to drive the main storyline of Molly trying to get the Redhead Scholarship, while also introducing her to other fun, interesting ginger characters…and providing opportunities for great, unexpected jokes.
In both my documentaries and Molly's interviews, it's fascinating what people unknowingly reveal when they're trying to work through thoughts while being filmed, and I was excited to explore that with my co-writers Juliet Brett, Kevin Sebastian, and Justin Liebergen.
On a logistical production level, the fact that both the director of photography (and co-founder of Good Porpoise) Ed Nescot and the director Daniel Seth had worked on documentary-style projects and were likewise accustomed to direct-to-camera set-ups, made those parts of the shoot flow seamlessly.
A lot of the prominent web series being made are led by women. Why do you think the format has lent itself so well to lady content creators?
It really does, doesn't it? It's a twofold matter of access and demand. Since the web lacks red tape and bureaucracy, there's less reliance on the fear-driven attitude of "this worked before, so now we'll greenlight a similar approach with similar stories, characters, and stars," in favor of a greater openness to "this is the Wild West, so let's make something we'd enjoy watching and see if others respond well to it, too." To that end, since the barrier to entry is low, women content creators don't need to prove themselves to anyone — or be someone's uncle's mailman's childhood best friend — before striking out to 'make it' in this world. While creation of any kind is always a risk, of course, web series (and its crowdfunders or other investors) can mitigate that risk with a lower budget than a more established medium often requires, as well.
I also think that all under-served, under-represented populations are hungry to see themselves and their stories onscreen, and the younger half of those populations are perfectly content to get that content (try saying that 10 times fast) from the web rather than from more established media. I hope Hollywood is paying attention, because that talent — and those stories — could give them "binders full of women" if they want to expand their audiences, make more money, and share new stories and perspectives!
Speaking of ladies, what ladies are you loving right now? 
I run a monthly meet-up group for women entrepreneurs in the entertainment industry. We call ourselves "Women Taking Over the (Cultural) World." I adore the women in that gathering, because we're all striving to "be the change we seek in the world." If the role you want to play doesn't exist, you create it; if there's a story you wish people were telling, you tell it (or help someone else tell it). Whether you're Amy Poehler, Tina Fey, Felicia Day, or one of the amazing women in my entrepreneurial group, the risk-taking necessary to create something out of nothing is worthy of applause — and all of our support!