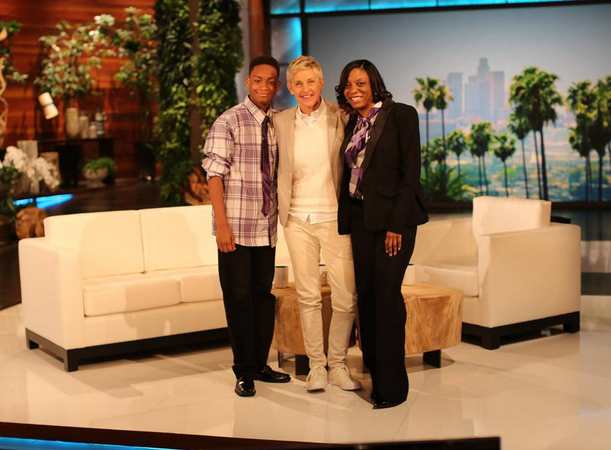 Get those tissues handy, because this story is a heartwarming doozy.

Brandon Stanton—the man behind the wildly popular Humans of New York blog—has embarked on a daring project inspired by a chance encounter with a 13 year-old boy. About two weeks ago, young Vidal Chastanet caught the eye of Stanton in Brownsville, Brooklyn—one of the poorest and most dangerous neighborhoods in the city. In answering Stanton's standard exploratory questions, Chastanet got on the topic of his principal—Nydia Lopez. He claimed that "Ms. Lopez" was his greatest influence: 
"When we get in trouble, she doesn't suspend us. She calls us to her office and explains to us how society was built down around us. And she tells us that each time somebody fails out of school, a new jail cell gets built. And one time she made every student stand up, one at a time, and she told each one of us that we matter."
Stanton was intrigued. He got in contact with Chastanet's school, Mott Hall Bridges Academy. In doing so, he learned that the entire school operates to instill pride and courage in its students. Students are referred to as "scholars." Both the scholars and the staff wear purple, the color of royalty. Lopez likes to connect the scholars with the prestige of their African lineage. Even if they live in a housing project, she stresses, royal blood courses through their veins. Stanton decided that these kids deserved the best, and so began a scholarship fund to send students to Harvard. They hoped to raise $100,000. 
Instead, Stanton launched an Indiegogo campaign for the program, and . . . Mott Hall Bridges Academy has raised $1.2 million, almost 12 times the original goal.
Not only can the school keep the scholarship tradition going for 10 years, but they also have leftover savings for other scholastic projects. People wrote from all over the world, asking to mentor the scholars and meet the staff. Lopez, overcome with emotion, spoke to the school: 
"Before all of this happened for our school, I felt broken. And I think the world felt a little broken too, because a lot of bad things have been happening lately, especially between black people and white people. But all of you gave people a reason to feel a little less broken. And the craziest thing about all of this is that it's happening in Brownsville. Before this, people watched the news and read the newspapers, and some people even thought that all we do here is fight and act crazy. But now there are so many people out there that care about you and want to know more about you. People are even emailing me and asking if they can meet you and mentor you. Not just people from Brownsville, not just people from Brooklyn, not just people in New York, but people all over the world. So I need all of you to work a little harder. Whenever you don't feel like doing your homework, I need you to remember that you're helping tell the story of Brownsville to people all over the world."
In case you're not crying already, we have one more thing to tell you: Guess who gets the first scholarship? Vidal Chastanet, the kid whose words started it all.  

Next time you lose faith in humanity, remember that this happened. 

Image: Vidal Chastanet and Nydia Lopez on the Ellen DeGeneres Show, Credit: Twitter