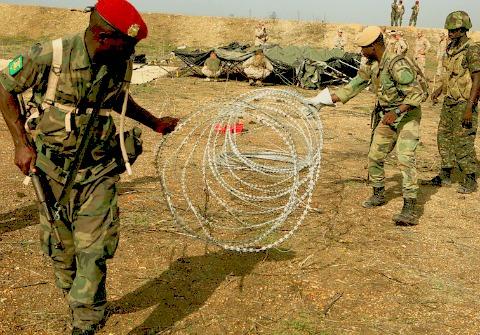 Another day, another deadly disease epidemic in sub-Saharan Africa. The embattled continent continues to experience the worst health indicators in the world due in part to rampant infectious disease and now? Western Africa is grappling with an outbreak of Ebola—a tropical virus which some health publications describe as a "molecular shark."
This strain—dubbed the "Zaire strain" as it was first identified 38 years ago in the Democratic Republic of Congo (then Zaire)—has an impessive 90% death rate overall. Authorities believe the current outbreak began in January and in that three-month period they've experienced 111 suspected infections and 70 deaths. Neighboring countries also have reported cases: Liberia, eight infections and six deaths. Sierra Leone, six cases and five fatalities. You can see the potential for a massive death toll if the strain spreads to larger populations.
Shall we explore the excruciating symptoms of Ebola? You bet!
The virus can lead to fever, muscle pain, dizziness, weakness, vomiting, diarrhea and—in severe cases—organ failure and unstoppable bleeding. This last symptom is especially grisly: molecular damage to the circulatory system causes hemorrhaging, which can occur under the skin, in internal organs, or from body orifices like the mouth, eyes and or ears. Good God, that's terrifying.
Oh, and no treatment or vaccine is available.
Guinea has been racing to contain the epidemic, which has already spread from forests in the south up to its capital city, Conakry. Those infected have been quarantined to prevent further spreading, and aid organizations and foreign countries have sen workers and funds to help the impoverished country combat the outbreak.
The Economic Community of West African States has said it is "deeply concerned" about the epidemic as a "serious threat to the region." Senegal has especially taken proactive measures—including closing its border with Guinea—which affects major trade crossings including a weekly market attended by thousands from multiple countries; this is a nightmarish, one-two punch to the economy.
Like various other deadly viruses, humans contract Ebola through contact with infected animals, after which people can transmit the disease to each other through fluids like blood, feces or sweat, as well as sexual contact and handling contaminated corpses. Sure enough, the spread of the disease in West Africa has been exacerbated by funerals in which mourners touch the bodies of the dead.
So what pesky wild animal did the infection stem from? Tests are ongoing to determine the origin, but authorities believe bats are the culprit—dishes like bat soup and smoked bat are popular delicacies in Guinea. The government recently banned the consumption of bats, and warned against eating rats and monkeys as well.
Shucks. What good is your planned summer vacation to conflict prone, massively corrupt West Africa if you can't even get some good rat and monkey meat, amiright?
Seriously though, we dearly hope health workers can put the kibosh on the epidemic ASAP. Africa has had a rough like 500 years, so come on universe, spare them more health disasters.
Image: commons.wikimedia.org.