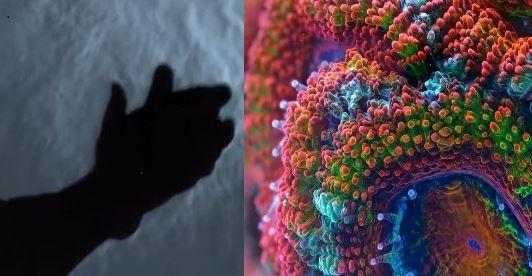 It's almost the freakin' weekend, baby, so say "work shmork" and revel in our choices for the best adorable, happy-making videos of the week:
Shake Your Groove Thang! Sea Coral Time-lapse Video Showcases Other-worldly Beauty
Adorability factor: 5. Our first geek-out video of the week showcases sea coral changing brilliant colors by night. While more cool (or should we say cooooool!) than adorable, there's a certain cuteness to marveling at Earthly delights.
Happy-making factor: 9. Our world is wondrous, everyone! Rejoice! (Add one point—for a perfect 10!—if high while watching.)
Science Is Sweet: Nerd out on these Visual Images of Sound
Adorability factor: Did you really think we'd leave you with just one geeky video? (Hells no!) This NPR production uses the magic of science to reveal the motion of sound and heat. Did we mention the world is wondrous?
Happy-making factor: 9. SCIENCE! HAPPY! (Again, add point if stoned.)
Watch a Bulldog Puppy Cuddle a Baby, Shameless Happiness Guaranteed!
Adorability factor: 9. Bulldog. Puppy. Cuddling. Baby. Must we really say more?
Happy-making factor: 8. We even guarantee your happiness in the headline, folks! And would we really ever lie to you?
The Glory of the Prank: Watch these College Kids Mega-fool their Professor
Adorability factor: 7. The prank itself is cute in a totally hilarious way, but it's really the teacher and his swag reaction that makes this a winner for adorable-ness.
Happy-making factor: 9. Admit it: watching pranks makes your inner-prepubescent-boy giddy.
Watch: Retro Cover of Ellie Goulding's "Burn" is Smokin' Hot
Adorability factor: 6. Three points for the doo-wop (cutest musical genre ever?) and two points for the seriously adorable red skirts . . . plus one bonus point for the fire extinguisher on the piano (ha!).
Happy-making factor: 8. The sizzling harmonies and perfectly in-synch, straight outta Motown choreo are guaranteed to get your toes tappin'. Music's the best! Happy Friday!
Images: YouTube