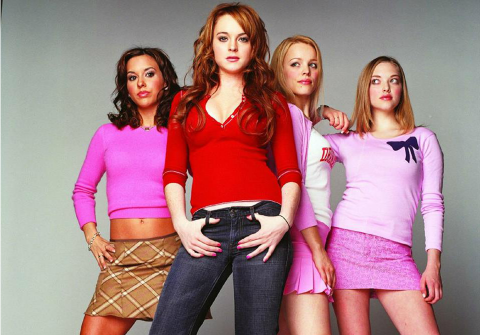 Happy 10th anniversary to the film that defined a generation of cattiness and (hopefully) inspired us to change our ways. Tin Fey managed to capture the zeitgeist of the age while simultaneously nailing every often-miserable stereotype of the girl-world jungle.

The lines are almost better now then when the movie was first released—such gems, Tina!—but beyond the screenwriting, the film is also surprisingly chock-full of fierce ladyship. As Forbes noted, it was the women—not the men—involved with Mean Girls that earned mad career boosts following the film's success. The plot itself celebrates "the rules of feminism" (as our dear Gretchen would say) in its themes as well:
It's a female centric film that operates on the rules of male escapist fantasy. It is an empowering film not because the female lead kills people, is in an arbitrary position of authority or even stands up to men in authority, but because it is a female comedy about women and about issues arguably specific to young women as they grow up in the educational system. It is the very definition of nutritious and delicious. - Forbes
Though the plot still hits home, some have been quick to point out the dated-ness of the fashion and girl universe itself. But rather than diminishing in appeal because the colloquialisms and behaviors were unrealistic (was "fetch" ever a thing guys?), Mean Girls now almost seems like a channel to a fabulous alternative reality. Like the genius Valley Girl lexicon—and plaid power-suits!—from Clueless, Fey crafted a strange but utterly familiar world where it's totally normal for teenage girls to rock a crop top in P.E. or slo-mo strut to Missy Elliot's "Pass that Dutch." And you know what? That actually makes it better.

So go ahead, Mean Girls fans! Revel.


Image: That's right, Cady. You're cold hard plastic! Courtesy of, Facebook