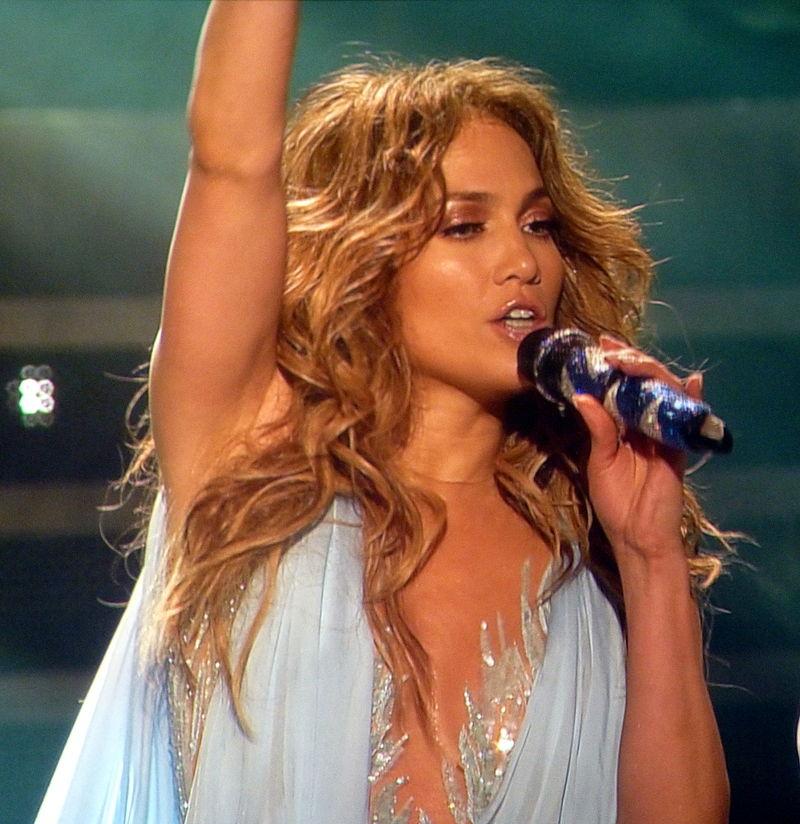 Jennifer Lopez's first big single, "Waiting for Tonight," hit the radio waves in 1999, and she's been enthralling us ever since. Today, the music of J.Lo—as she later dubbed herself, pop diva-style—can be heard everywhere from the grocery store to the karaoke bar. I've heard her hits so often that I know all the lyrics and can sing them without thinking twice.
For years, my vision of J.Lo has been that of a strong, independent woman from the Bronx with a full-figured body and a killer career— the total package. So when I heard she had a new album, A.K.A., set to drop June 17, I decided to write up a tribute. I strapped on my headphones and started poring through old lyrics.
And that's when I realized: Everything I thought about J.Lo is completely wrong.
She isn't a fierce role model for young women; she's an insecurity-riddled stage five clinger. When she's in love, J.Lo is consumed by her man. When she's single, all she cares about is finding a man. Jennifer Lopez has a love obsession that only a teenage girl could understand—except she isn't a teenager.
The idea that women can't be happy without a man is pervasive enough in our culture. The last thing we need is lyrics like these.
"Waiting for Tonight" (1999)
It's perfect, it's passion, it's setting me free
From all of my sadness
The tears that I've cried
I have spent all of my life
Waiting for tonight, oh
When you would be here in my arms
We've all had the pre-date jitters, but this is a bit too much. In fact, this whole song is about feeling validated because she has someone to love.

"You Belong to Me" (2002)
Why'd you tell me this,
were you looking for my reaction,
what do you need to know?,
don't you know I'll always be your girl,
you don't have to prove to me your beautiful to strangers,
I've got lovin' eyes of my own
You belong to me,
tell her, tell her you were foolin',
you belong to me,
you don't even know her,
you belong to me,
tell her that I love you,
you belong to me,
you belong to me,
Newsflash: People don't "belong" to other people. Not to mention that telling someone repeatedly that they belong to you is creepy and potentially damaging to their psyche if they're impressionable enough to believe you.
"Ryde or Die" (2005)
If I had to
I would give up everything just to feel and be with you
If I had to
I would pawn the ring you gave to me just to feed you
If I had to
I would give my very last breath just to help save you
If I had to
I would tell a lie just because I know you are the truth
I ride for you
'Cause you're the truth
I die for you, ooh
'Cause I'm a fool
In love with you
And I'll do anything
That pleases you
I don't think this one needs a break down. It's just not OK. "I'll die for you" and "I would tell a lie because I know you are the truth"? Yeah . . . giving up your life for a relationship isn't something we celebrate.
"Stay Together" (2007)
Boy we done started something serious
'Cause romance is underrated
Stay together
That's the new trend
Through the bumpy roads the others bite the dust
And seems like everyone's giving up when
These days breaking up is so cliche
Hear 'em screaming out, "Baby no please stay"
People wanna always hurry up and wait for
Someone better than the person they won't stay for
They sweat the little things
Wake Up
Stay together
It's the new breakup
Being in a serious relationship is certainly difficult, and talking through differences is an important part of being committed. But if you deserve better than what you're getting, you shouldn't just blindly stay committed or wait for someone better to come along before leaving.
"What is Love" (2011)
But I've wished for so long
For someone to come and show me
Lead by example
'Cause I've been waiting
I've tried every age
I'm so tired of the game
I wanna be somebody's girl
Would you show me the way?
What if I never find and I'm left behind?
Should I keep hoping for love?
What if I'm still the same?
Status doesn't change?
Gotta keep hoping for love
J.Lo pines for love in this song. Instead of feeling confident in herself because she knows she's, you know, Jenny From the Block, Lopez is worried about finding a partner to prove to her that love is real. A little advice: If you're feeling left behind and giving up hope of finding someone to love you, work on loving yourself first.
Now for her new music. I had high hopes that after a divorce and a kid and a revamp of her life, J.Lo would give us something we could celebrate.
Nope.
I'm never satisfied
Not if I even try
It's keeping me up at night
I'm going crazy
For all of your love
I need you all the time
You bring me back to life
I'm going crazy
For all of your love
Seems that nothing has changed (sigh). While we totally understand the ache of being in love, this sounds a tad unhealthy. Feeling like you might go crazy or die if you aren't with your lover 24 hours a day is a problem.
"I Luv You Papi" (2014)
If you wanna kill the body, gotta start with the head
Put it on you, I'm a need about 4-5 beds
Cause I love my papi
J.Lo's new single isn't any different than her earlier love-obsessed mantras. She'll still do anything for love; now it seems she would kill for her "papi," and wants to be ready and waiting for him any time he wants to get down and dirty. Not. OK.
Seriously, What Gives?
Honestly, I feel tricked. Where is the body-positive self love? Where is the fierce independence that says "I don't need a man to be happy"? Nowhere, that's where. As a (former) J.Lo lover, I'll be the first person to tell you that what I'm hearing as an adult is not the same thing I thought I was hearing in my youth. If I could go back in time and talk to myself, I would use these lyrics as a lesson of what not to be in a relationship. So for that, I guess, we can give J.Lo thanks.
Image: Wikipedia Commons