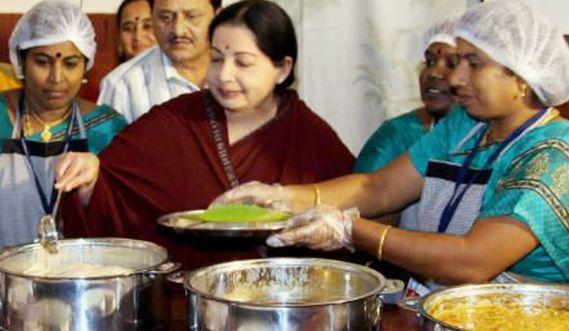 Credit: ammaunavagam.com
The mission behind Amma canteens, a chain of subsidized eateries in the Indian state of Tamil Nadu, is simple: serve food at almost ridiculously cheap rates. Yet with just this goal in mind, the woman-backed initiative is helping to transform the welfare state—and it could go global next.
Amma canteens were launched in Chennai in February 2013, later expanding to the rest of the state. While initially viewed as a political gimmick by Chief Minister J. Jayalalithaa to win votes for her party in the elections, the chain is slowly expanding and steadily winning the hearts of people who are impressed by the price, quality and hygiene of the food served. 
Better yet? The canteens benefit not only the consumers who come to eat the food, but also the women who run it, who belong to SHGs (or self-help groups). These groups are comprised of 10 to 20 local women who are supported by the government, non-governmental agencies and banks to achieve financial independence and economic stability through various micro-finance schemes. Group members are provided low-interest personal loans, guided on how to build their savings, trained in small-scale industries, and encouraged to participate in entrepreneurial activities.
Each of the canteens employs six to 12 women who work in three shifts to provide three meals in a day, earning 9,000 rupees a month by working for a single shift of six to seven hours daily. This is good pay according to Amma canteen employee Usha, who used to work for 3,000 rupees monthly as a domestic worker.
Behind The Canteens
To ensure that the canteens do not prove to be a financial drain, shrewd operational strategies have been carefully implemented. The canteens operate from premises owned by the Corporation of Chennai, so there is no need to pay rent. The main raw material used is rice, and it comes from the Public Distribution System run by the government. Biogas and solar energy are additionally utilized to minimize costs. More recently, the leftovers in the canteens have been used to manufacture the biogas that is needed for cooking. As it is basically a welfare measure, there is no focus on making profits.
Seeing the efficient way in which these Amma canteens are run, officials from various other states—including Hyderabad, Jaipur, Mumbai, Gujarat and New Delhi—are visiting Chennai to study them, so they can potentially implement them in their own state. The popularity of the model has attracted international focus as well. Mohammed Adel Rezek, accreditation director for the ministry of trade and industry in Egypt, commented after visiting the Amma canteen in Chennai:
"I like this very much. It is because it is very much beyond what the West can do. The U.S. uses food stamps for the welfare of the poor but this facility is way better. I'm going to carry out the idea in my country."
It's the first inkling that this model could be implemented on a global scale. And why not? It's not everyday that an initiative comes along to feed the poor and support women while doing it.