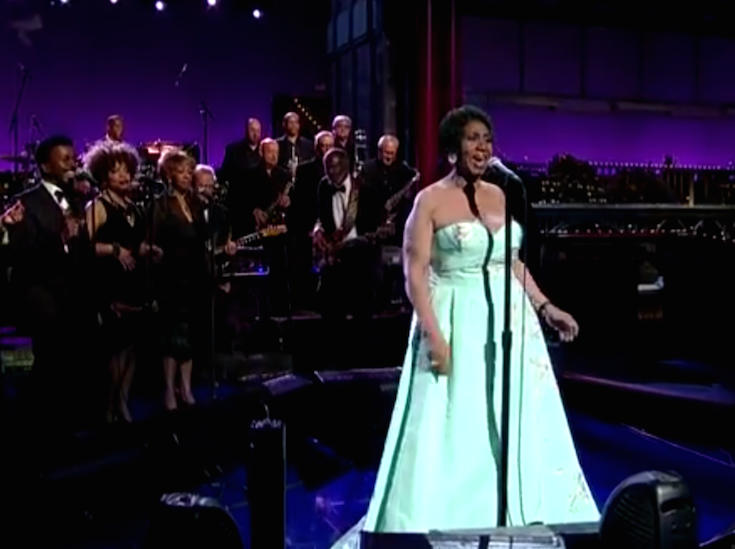 There are delusional shower-singers. Then semi-professional karaokers. Then frontwomen. Then stars. Then there are divas. And then atop the holy heap of warblers is Aretha Franklin. Call it charisma, stage presence, confidence, touched-by-an-angel or whatever the hell you want because it's basically intangible, but holy Aphrodite does Aretha still have it! 

Following critiques that her cover of "Rolling In The Deep" suffered from severe auto-tuning on the record, Aretha recently graced The David Letterman Show with her presence. Naturally, she performed "Rolling In The Deep" mashed up with the infinitely famous "Ain't No Mountain High Enough." The merits of her auto-tuning are debatable (she's 72, for crying out loud!), but Aretha stole the live show for oh-so-many reasons. 

First things first, Aretha's energy is the realest and rawest around. Honestly, I can't muster anything like it and I'm a 25-year-old with a penchant for morning cheeriness. And I've already had three cups of coffee today. 
Secondly? Aretha owned that stage. Her ball gown—a gorgeous pale green—hugged her body like woah, but unlike other starlets, said curves were not the main focus. Instead, Aretha's damn-inducing star power transcended every physical aspect of the set (I think she had backup singers? Was there even a stage or was that bitch levitating?) as she tackled crazy notes up and down the scale. 

I will admit that while Aretha can't dominate some notes the way she used to, her talent eclipses that of which most people could ever dream. Bend a knee Bey, bend a knee.