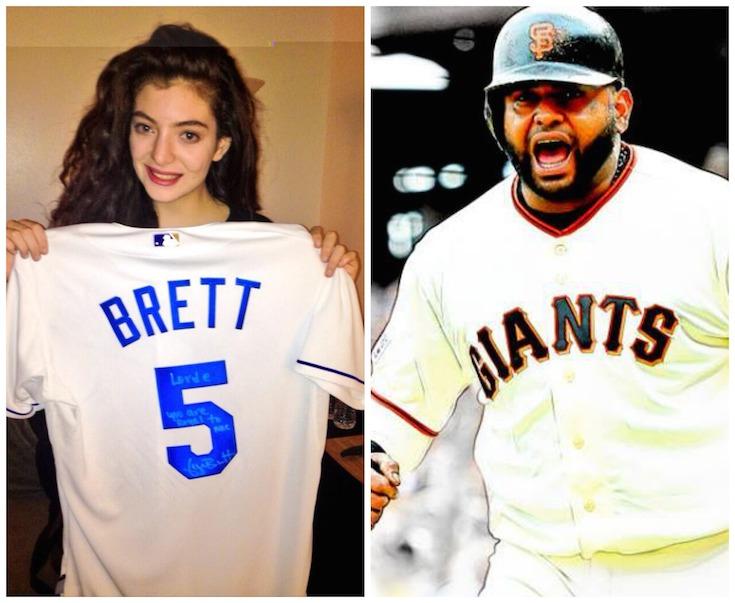 And there you have it. (Credit: Twitter and Facebook)
As you all—hopefully—know, the World Series begins this week, and will feature a battle between the in-every-way-amazing, superior San Francisco Giants and the meh Kansas City Royals.*
To gear up for the Giants' eventual triumph, some San Francisco radio stations are banning the exceedingly popular Lorde jam "Royals." On the flipside, one Kansas City radio station is preparing for its impending loss by playing the breakout hit once every hour all day. 

Interestingly, there's more to this battle than the song's mere inclusion of the word "Royals." Lorde was actually inspired to pen the song after she saw a vintage picture of legendary player George Brett—wearing his Royals jersey—signing autographs in an old National Geographic magazine (she used to collect these, because Lorde is cooler than you).
Upon learning this, Brett actually met Lorde and gave her a special jersey (seen above) and enclosed a note that read: "You are royal to me."

All of which raises an obvious question: How would "Royals" sound if Lorde had come across a vintage pic of, say, Orlando Cepeda in his Giants gear?
And we'll never be giiiiiants, giiiiiiants. 
It don't run in our blood
That kind of luxe just ain't for us 
We crave a different kind of buzz

Is it just me, or did "Royals" just get infinitely better? 
*I live in San Francisco, and Ravishly is based in the Bay Area. But no, that hasn't impeded our journalistic objectivity in the slightest. The Giants are just better.