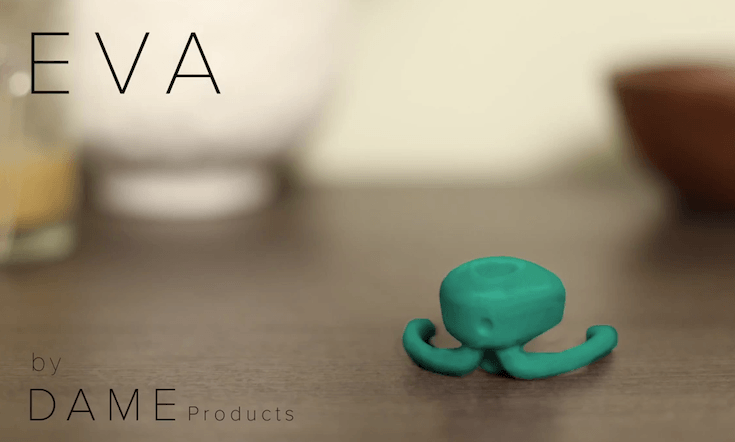 It even looks friendly
We've seen some, uh, creative sex toys floating around the ol' internet recently. Is Eva, the new couples' vibrator, more of the same ho-hum horror? Or a bona fide boon to sex-tech innovation?

Eva was developed by Dame Products, a company founded by Alexandra Fine and Janet Lieberman who are more than sex loving entrepreneurs. Fine earned a Master's in Clinical Psychology (concentrating on human sexuality of course) and Lieberman is a mechanical engineer hailing from MIT—quite the power-duo amiright?

According to the video (check it out below), Eva was developed because of the "pleasure gap." I'm not sure if you're aware of this, ladies, but in heterosexual relationships it's far more likely that the man will climax first. I know, I know, shocking.
Toys can help, but there's both a learning curve involved—want me to hold it? you? wait, um, it's tangled on my arm—as well as the ever-present danger of ruining the moment with the maneuvering of clunky products. And, I don't know, maybe this is just the wildebeests I bring to my own boudoir—but men never seem too keen on cock rings. And because such partnerships (brief as they may be) are all about, ughh, compromises and stuff, it's not fair to sling your partner with discomfort. 

Then, There's Eva
Eva is worn by the woman—hands free!—to give her constant clitoral stimulation while having intercourse. How do you wear it you ask? For starters, Eva is shaped like a bullet with little adjustable wings. The wings fit under your labia majora (or, big lips), and expand for a snug fit. The vibrating bit goes over your clit (so your vaginal cavity is cleverly not blocked).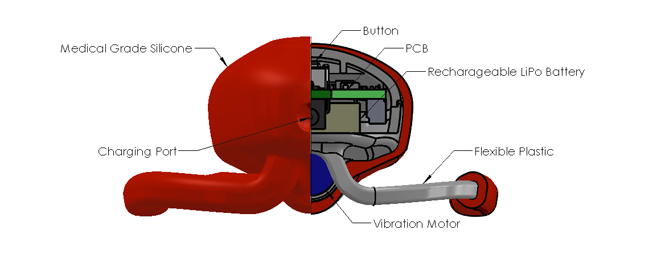 A motor offers three settings to intensify the situation to your liking.
Then, of course, can also enjoy some solo time while smoking a bowl braiding your hair. 

Right now, Eva is an Indiegogo campaign. Though we haven't tried it personally, we'd like to point out a few awesome points about this product. 

1. It was developed by an ideal team: you've got the psych and engineering brains involved. 
2. Eva is made from the beautiful womb-bowels of a 3D printer. I'm sorry, do I still need to continue?
3. The testimonials seem uber honest and genuinely excitd. A few women admit that Eva did move a bit in some positions with could easily be repositioned "using one finger." 
4. It's tiny. It could fit in a jewelry box. 

Back to our original question. I think we've made our point clear, but watch the video for yourself to see if Eva is your thing. Also! Get your Santa-list ready. This is just Dame Products' first invention—what will these minxy mad scientists create next?