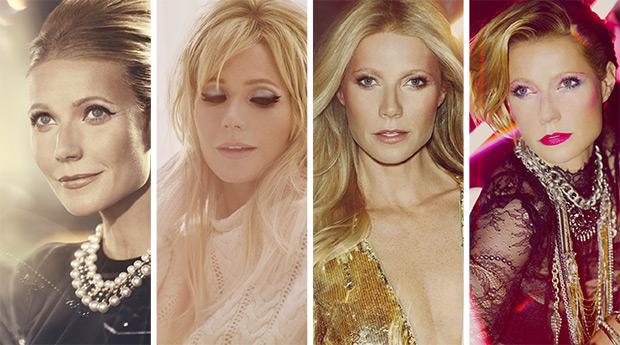 Poor Gwyneth Paltrow. When she'd decided to throw us a bone and star in a series of sexy make-up commercials, Kim Kardashian's butt-gate strikes and overshadows everything. But, as we recover from Kardashian's efforts to "break the Internet," Paltrow's new gig with the cosmetics company Max Factor deserves attention. In a very Charlize-Theron-for-Dior-J'Adore-move, the GOOP frontlady (for a lack of a better descriptor) is taking on different images: classic beauty Audrey Hepburn, bombshell Marilyn Monroe, 70s icon Farrah Fawcett, French nymph Brigitte Bardot and even Madonna, circa the 80s. The commercials are meant to signify the different decades in Max Factor's existence on the market. Shooting began in July, with the stunning commercials just starting to appear now. The festive occasion? The brand's 100th birthday.
"We haven't seen Gwyneth quite like this before," gushes the media . . . but how about: We haven't seen Paltrow on screen in, like, forever? Taking a break after a turbulent 2013, which crowned her both as the Sexiest Woman and Most Hated Celebrity, Paltrow took a step back this year, resigning herself to only occasional jabs into the everyday woman's psyche. We remember her today for "conscious uncoupling" and "Himalayan salt" more than for anything cinema-related. 
Which is really too bad. Before GOOP Gwyneth, there was the Talented Mr. Ripley Gwyneth. These new Max Factor videos remind us of her classy on-screen presence—and more talent than we've, of late, been wanting to acknowledge. Watching her embody iconic actresses of the past (excluding, perhaps, Madonna . . .) makes us wonder what's happening with the newly single, unsuccessfully-attempting-to-be-a-lifestyle-guru Gwyneth's movie career. 
2015, hopefully, will be the year of Actress Gwyneth's comeback. She's starring in the flamboyant comedy Mordecai, alongside Jonny Depp, and in 33 Dias, another take on Pablo Picasso's life, directed by the Spanish visionary Carlos Saura. These roles aren't quite the lead, but it's something. If 2013 was the year of controversy and that sheer dress, and 2014 was the year of redemption and personal meltdowns, it would be lovely to welcome 2015 as the year of True Gwyneth—stylish, humble, actively acting and charming us all over again.