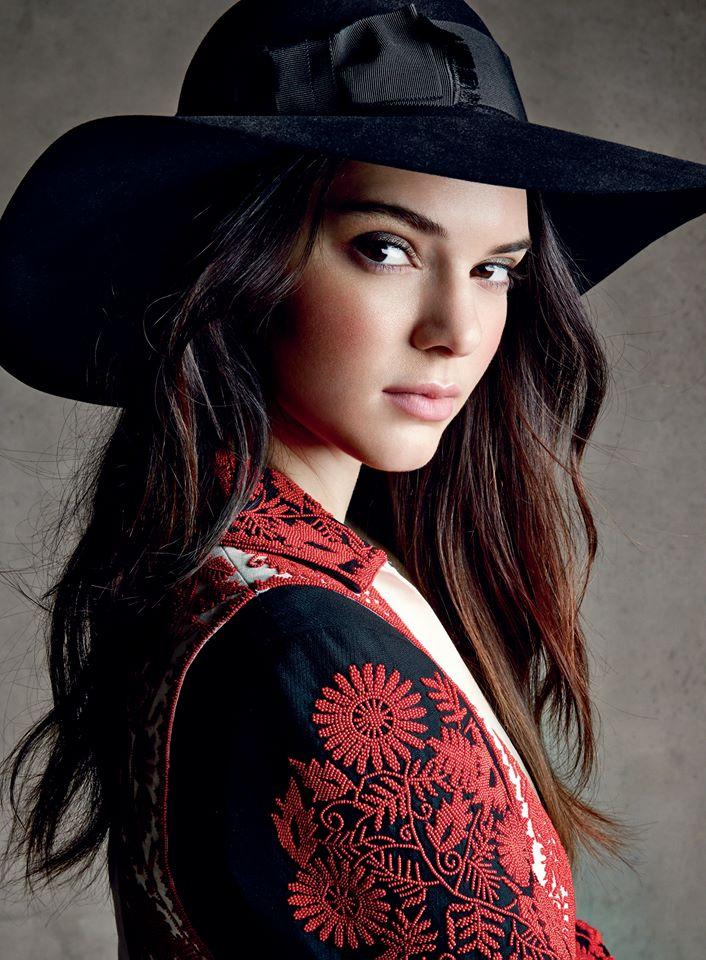 By now, we're used to swallowing every new Kardashian shenanigan with a grain of chalk-tasting cynicism. Publicity, we say. They'll do anything for publicity. That might be very well true, but this attitude also prohibits any legitimate career moves a Kardashian might pursue—or dare we utter the words, pull off.
But despite our admitted incredulity it looks like Kendall Jenner might be doing just that.
That's right, Kendall may be 'pulling it off' as we speak, meaning she is on the cusp of an utterly legitimate, well-respected modeling career—without breaking the internet! Cringe and giggle as much as you like, but the young, lithe, and winsome half-Kardashian acquired quite a few badges of honor during the last few months, and the possibility she's actually being booked for her exotic beauty and not her last name has breached from plausible into probable.
Let's review:
February: Fashion Week Fall/Winter 2014/2015
Surprising everyone (probably even herself) young Jenner walked the catwalks of Givenchy, Chanel and Marc Jacobs—in everything from a pom-pom mini-dress to a come-hither, see-through sweater. And while you could write off these fashion accolades to Kanye's friendship with Ricardo Tisci and Karl Lagerfeld . . . why would you? She looks poised and polished and every bit the part.
June 2014: That Givenchy fall/winter campaign
This was Jenner's first major campaign this year, and the beauty of it is in its proportional modesty—crammed to a corner, Jenner is dutifully playing a supporting role. So un-Kardashian of her.
September 2014: Fashion Weeks around the globe
On her second round of runway domination, Jenner traipsed down more than 10 runways, her performance ranging from pleasant (Fendi) to kind of stunning (Ports 1961). Being called back to the likes of Lagerfield and Chanel means her initial wave of success wasn't just as accidental whiff.
October 2014: campaign news and drama
As more campaign plans were revealed—more Chanel! Estee Lauder!—Jenner started evoking somewhat of a backlash. Rumors of bullying rose, and a previously anonymous model wrote an open letter mocking Jenner's wealth and privilege. Sure, she's no Russian orphan, but can't a rich girl model? When you annoy so many people, you know you're doing something right, especially if Michael Kors defends you.
November 2014: the covers of LOVE and Dazed magazines
The ultimate stamp of approval came this week, in the rectangular shape of a magazine cover announcing her as the American Girl. Inside, steamy photos with and without Cara Delevigne, are very sexually charged, yet remain within those rather elusive boundaries of "good taste." You can say that Kim graced a cover of a fashion magazine a number of times too, but this is LOVE— a highly celebrated high-fashion magazine edited by one of the industry's most respected figures, Katie Grand.  
Oh, and there's this beautiful Dazed Winter 2015 cover as the proverbial cherry on top:
And it seems this is just the beginning. Unlike her trashy (excuse our French) half-sisters, Jenner keeps surprisingly quiet; her dedication to her career is evident, and her minx-y, brooding looks, very in tune with the latest "unconventional" beauty trends, are undeniable. Will she be here long after Kim and Kourtney run out of salacious steam? Hard to say.
Does she deserve to break free of the pampered, fame-whore allure of her famous family and be considered a real, honest-to-God professional model? Most definitely.