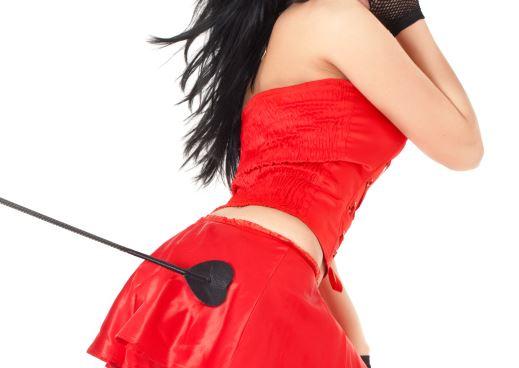 Credit: Thinkstock
Everybody spanks. It is not especially sexually self-aware; "kink" as we've come to know and identify with it is less a series of preferences than it is a genre of physical and emotional interaction.
Kink has been called "the geekiness of sex" and I relate to a degree—modern geekdom and fandom have low barriers to entry. What you're a geek about, or fan of, is of secondary importance to having an enthusiasm for something, anything. My partners and I have at times wildly different preferences and fantasies. What makes our relationships "kinky" are not the specific acts themselves, but rather a desire to create and explore consensual power exchange.
It's also what makes us non-exclusive. I enjoy being fucked in a stranglehold in view of strangers—my honey is mostly submissive, so I don't pressure her to perform this role for me. I have other avenues to have this need met. Her not liking to dominate me does not cessate the demand in me; our relationship has been consciously crafted to afford us the means to meet our needs with emphatic, compassionate support.
Coercion flourishes in a closed circuit.
Considering all this, it's no surprise that the UK is being, well, (nonconsenually) spanked over its decision to ban spanking and nine other acts—including aggressive whipping, fisting and female ejaculation—from porn. What the country's officials fail to understand is that making (consensual) spanking illegal to depict in porn does not arrest the demand for it. Viewers will still want it. A lot of viewers will still want it.
Because everybody spanks. Gay, straight—I've spanked Christian university voice teachers and aspiring YA authors with two children, both of whom would assert they aren't into "freaky stuff".
The ubiquitous appeal of spanking permeates the way we speak about sex: Spanking it and the spank bank have nothing to do with actual spanking—unless you're doing it wrong on purpose because you like to challenge yourself.
People will still want to see spanking—not necessarily because it's a fetish, but rather because of its baseline appeal. Self-professed ultra kinky converts and shy "wait 'til marriage" fair maidens alike love spanking because it allows us to engage the power dynamics of sex in a non-threatening way.
It requires neither accoutrements or lengthy research—even if you've never been swatted at by your parents, you have no doubt seen it on television. We all know, more or less, how it works. And it has an impressive range, from a single slap during PIV to being hogtied and gagged and hit until you bleed. It scales up infinitely but can also be a quick foray into dirtiness that doesn't require an afternoon browsing FetLife for instructions.
The demand for spanking does not decline because you ban it. It only puts pressure on performers and other sex workers to engage in it, at risk of censure, because prohibition inflates the value of goods and services, and when you live day by day and don't know when you'll get work again, it can feel borderline irresponsible to yourself to not take that extra money for a "private video/cam show/performance" that "no one else will see, swearsies!"
Segregating sex acts into "good" and "bad" segregates sex workers into tiers of economically desirable/viable based on their willingness to meet the demands of consumers and producers, irregardless of illegality.
A nonconsensual kiss on the face has done deeper damage than any slap that I have asked for. I have been slapped so hard that I needed to be untied and cry into a stuffed animal. But I knew it came from me asking for it and my partner stayed with me until I dried out and I was fine just minutes later. I still lie awake eight years later and reminisce about that woman at the pride parade who kissed me without me consent, and the pack of wolves I hope she and her splotchy chapstick should have been fed to.
If you wanted to "protect me," you'd take a closer look at the "forceful/surprise kiss that wins over someone that hates you," which serves as the catalyst for many a romantic comedy. I guarantee you that more people are triggered by this than by consensual spanking between two or more adults—when the depiction of that spanking is purposely sought out.
And to reiterate: It will be sought. Any pot farmer, pinball collector or moonshiner will tell you that trying to deprive people of the chance to engage in something free from state coercion only embiggens the risk, to everyone.
A producer trying to coax performers into illegal acts can't be held accountable for disregarding the boundaries or safety of the performers. Fuckbags like him swell in the cracks created by this sort of prohibition. It's akin to a dealer who knowingly sells toxic chemicals to his customers, to people who are hurting and managing their addiction the best they can, who are afraid to seek help for their addiction because a prohibition of the drugs in the first place criminalizes any attempt they make at getting clean.
Trying to police specific sex acts and not the power structures that encase them—because of capitalism and patriarchy—does the marked opposite of "protect" people. It actively endangers them and enables people to take advantage of those in need.
And there is a lot of need. When's the last time you paid for porn?