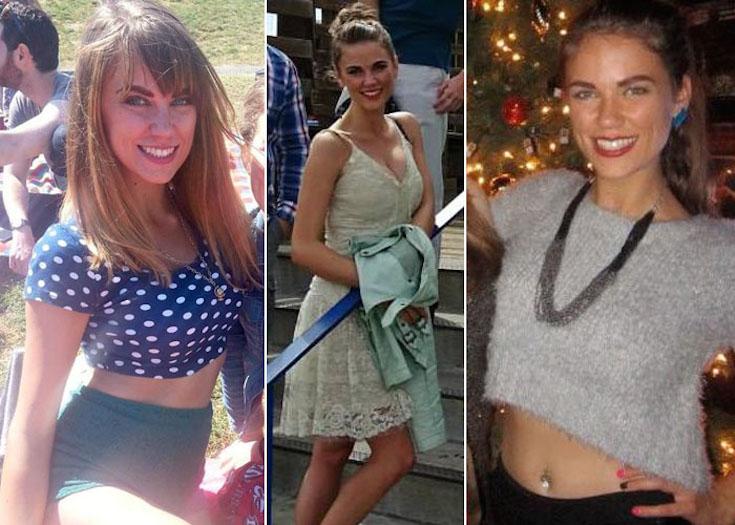 Dear Winona,
I love the goth look on other people, but my personal style is more frilly and girly. How can I incorporate a little bit of goth style into my current wardrobe?
-Giana
Dear Giana,
Oh how I love this question! It gives me the rare opportunity to advise someone to add MORE black to their wardrobe (some of us, like Holly and me, have the opposite problem — a closet stuffed with enough black clothing to outfit an International Meeting of The Craft Fan Club attendees).
Remember when George Costanza decided to do the opposite of all his usual habits, so instead of ordering tuna salad on toast he ordered chicken salad on rye, untoasted? Think of your preference for lighter colors as tuna salad on toast — black, dark gray, and navy blue are your chicken salad on rye. So yes, first order of business is to play around with some darker colors.
However, don't feel like you have to overhaul your entire wardrobe, or even branch out into dramatically different styles of clothing. Keep it simple, and look for your favorite silhouettes (frilly skirts, crop tops, floaty dresses) in darker colors. The next time you're out shopping and find a cute, frilly skirt that's available in either cream or black, opt for black. That white lace dress you love? Look for something similar in black or navy. A perky polka dot tank top? Even better in broody navy blue.
I think a goth-y statement piece or two could be a good investment for you as well. For example, a black leather jacket or a floppy felt hat (in black, natch). Both of these items would look totally cute paired with your existing clothing (obsessed with the combo of a black leather biker jacket over a super girly dress), but they're also undeniably goth and cool. Sheer black tights are a must — wear them with anything and everything, from sundresses to cutoff shorts. Check out thrift shops and army surplus stores for a pair of combat boots to add some edge to pretty skirts and dresses.
Jewelry is another great way to make a bold gothy statement without overhauling your entire wardrobe. Anything sharp and slightly dangerous-looking is a good bet. I can totally see you rocking a witchy gold necklace like this one. Of course we also need to discuss makeup. As an aspiring goth, black liquid eyeliner is your best friend, as is a smoky eye. If we can thank the Kardashians for anything, it's the normalization of a heavy smoky eye for daytime. A berry lip stain looks surprisingly fresh and flattering even in summer (I love this one in Palais Royal). Black nail polish not only brings a goth vibe, it's eternally chic and goes with everything — and again, it works surprisingly well year-round.
And don't underestimate the power of a dark, brooding stare. Once you have that mastered, you'll be able to impart a little goth attitude anytime, anywhere, no matter what you're wearing. Because, my dear Giana, despite your penchant for crop tops and white lace, the goth spirit has been within you all along.