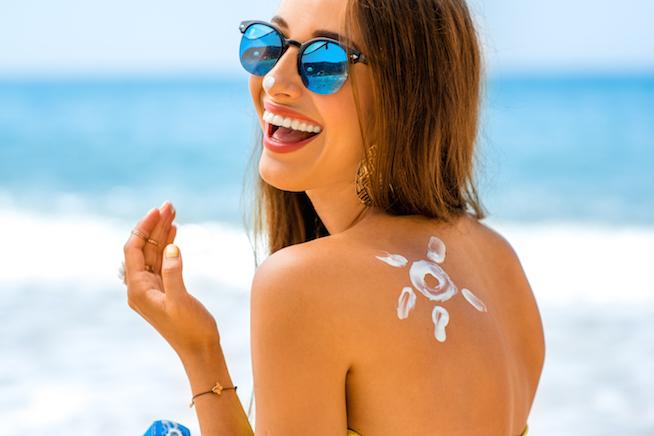 If you're like me (which is to say stark white), you may find yourself looking to warm up your retina-searing paleness before hitting the beach. It's a public service, really. Think of the children!
But because tanning beds are a carcinogenic no-no, and even "safer" options like spray tans have their own health risks, we, the pasty, have to get creative. This summer, determined to look remotely appropriate while seaside, I tested four of the most buzzed-about ways to get a sun-kissed look.
Gradual Tanning Lotion
The idea behind gradual self-tanner is much the same as that behind buildable-color makeup: It's easier to add if you want more noticeable results than it is to take away if you'd globbed on too much.
I imagine that Jergens's chemists had people like me — with my notably orange moments after getting into my mom's old self-tanner in high school — when they formulated Jergens Natural Glow because "gradual" is indeed the key term. It took at least four applications to see results, but the product did indeed produce a pretty, even, golden hue rather than a streaky, pumpkin orange, and my tan wore evenly.
The downfall of the product is what its package calls "great scent." "Great" suggests tropical fruits, flowers, clean laundry — anything but cat urine, which, despite Jergens best efforts, is the primary note in this product's overwhelming wall of odor. Like nearly all semi-permanent self-tanners, Natural Glow contains dihydroxyacetone, a carbohydrate derived from beets or sugar cane, that dyes the upper layer of the skin. And, unfortunately, dihydroxyacetone smells terrible, period.
Tanning Foam
Probably to spare her own nose during my Jergens phase, a friend gave me a sample bottle of Vita Liberata's pHenomenal 2-3 Week Tan, a product formulated with a proprietary ingredient blend it calls "Odour Remove." Vita Liberata claims that Odour Remove neutralizes that awful dihydroxyacetone stench.
The easy-to-apply foam nearly lived up to that claim, leaving behind only a faint smell, and one that wasn't entirely unpleasant. After having stunk like a litter box for days, I was willing to take it.
The day after application, I discovered that the foam, which had gone on so evenly, had developed into a patchy, uneven mottle. I may no longer have smelled like an angry cat, but I now had a look suggestive of a Holstein cow. Mercifully, the tan didn't last for anywhere near the promised two to three weeks.
Bronzing Balm
Since I was striking out on semi-permanent options, I decided to move on to body makeup. Washable bronzers might not be a pool party solution, but I reasoned that I could at least look a little more sunned while sipping a cocktail.
I smeared on Stila's Stay All Day Bronzing Beauty Balm, and boy was I bronze — bronzed as though I were, in fact, made of copper alloy. The metallic particles in the formula screamed "Ibiza," not "iced coffee and a copy of Us Weekly."
On the plus side, the formula has a light fragrance and covers evenly, and I'm certain that, if I stood entirely still and didn't allow fabric to contact my skin, the balm would in fact stay all day. But since I typically wear clothing, move, and even sweat, I was soon wearing more product on my shirt than on my arms.
Cocoa Powder
I'd heard from DIY divas that mixing up my own self-tanner was the only way to go, and that a combination of cocoa powder and cinnamon swirled with moisturizer would have me looking warm and glowy without glitter or stinky dyes. Even PETA suggests making your own cocoa bronzer to avoid animal testing. What could go wrong?
As a wiser person might have intuited before she began this project, the result looked as though I'd been the victim of a baking crime. Just as bad was that as soon as the ingredients warmed against my skin, this concoction began to smell profoundly of pastry. That may not seem like a dealbreaker, but when insects in my garden began to take a heightened interest in me, I knew this would be a no-go.
So here I am in mid-July, tanless, a few dollars poorer, and with several irreparably stained shirts. To my fellow marshmallow-toned women, I say we skip the tan in the can and embrace what nature gave us. We'll at least smell a good deal better, and with the money we save, we can pass out sunglasses to unassuming beachgoers before we bare our pasty selves in the sun. You know, just as a public service.