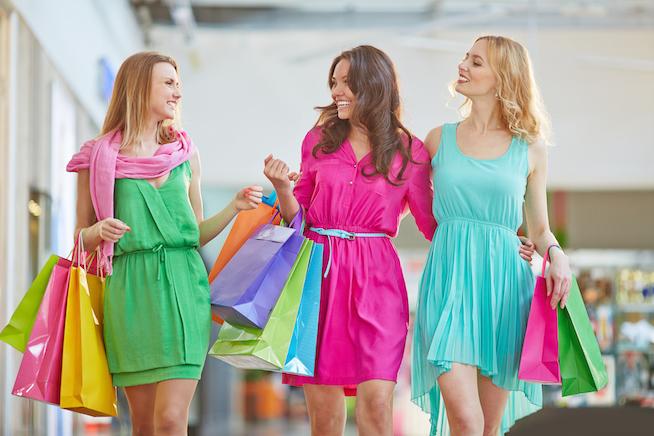 Mall. Need I say more?
I grew up in the country, where the closest mall was 25 miles away. In my early teenage years, I managed to get there once or twice a month, hitching rides with my parents or friends or my shopaholic grandmother. Oh, how I loved the mall. I loved walking around for hours, stocking up on Carson Daly-recommended CDs, sipping Orange Juliuses, admiring the glamour of the Nordstrom window displays, going home with a 20-pound bag of Claire's costume jewelry and reeking of GAP perfume samples and food-court orange chicken. Bliss.
These days, I don't shop at the mall very often, but every once in a while when I find myself at a mall — any — I'm overcome by a wave of nostalgia for my salad days (although perhaps "Sbarro calzone days" would be a more fitting expression here). In many ways, I grew up in these chain stores and pretzel kiosks. And sometimes I feel compelled to write melodramatic poetry about it. So here you go:
A Haiku For The Claire's Sale Section
Buy 10 get 5 free
Sweet! Except...who needs that much
shitty jewelry?
And A Limerick For The Claire's Ear-Piercing Station
She pulled a needle gun from the drawer,
whispered, "never done this before."
She said she was ready
but her hands weren't that steady —
and later my ears were still sore.
A Free Verse Poem For Nordstrom
When I think of Nordstrom I think of
my grandmother,
her deeply wrinkled face contrasting with
her smooth velour track suit.
We sit upstairs
in the Nordstrom Cafe, where the waiters
wore ties and I thought,
"This must be the fanciest restaurant in the whole world."
Fancier, even, than the Olive Garden.
My grandmother and I,
we share a club sandwich,
two lemonades,
and a black and white cookie.
Then we visit her favorite departments:
Athletic (for the track suits)
Makeup (for the mauve Clinique lipstick)
Menswear (for the flamboyant suit salesman she got a kick out of).
We are at a mall in the suburbs but people here
wore heels and lipstick and I thought,
"This must be the fanciest store in the whole world."
Loading up her trunk, late in the afternoon,
she'd fish the receipts out of the bags,
crumple them up,
and whisper the same four words, always:
"Don't tell your grandfather."
An Acrostic Poem For Abercrombie & Fitch
Did Abercrombie want me in their store?
Of course not.
Unless you were very pretty and very thin, you weren't wanted there.
Chubby and awkward, I was not the ideal customer.
However, I went there anyway, and spent every cent of my saved allowance on a T-shirt.
Earnestly believing it was the key to coolness and popularity.
Yet, when I wore it the next day, I was still chubby and awkward. And also broke.
A Shakespearean Ode To Sam Goody
O record store attached to the food court,
a shining sea of plastic-wrapped CDs,
a place where music lovers came for sport,
the smell of chow mein wafting on the breeze.
The boy who worked the counter wore all black
he gazed on me with obvious disdain
when I asked him to please check in the back
to see if any Britney discs remain.
'Twas here I chose the sounds that I would favor
the bands that stirred my passions with their noise.
And to this day I still would never waver:
NSYNC's got nothin' on the Backstreet Boys.