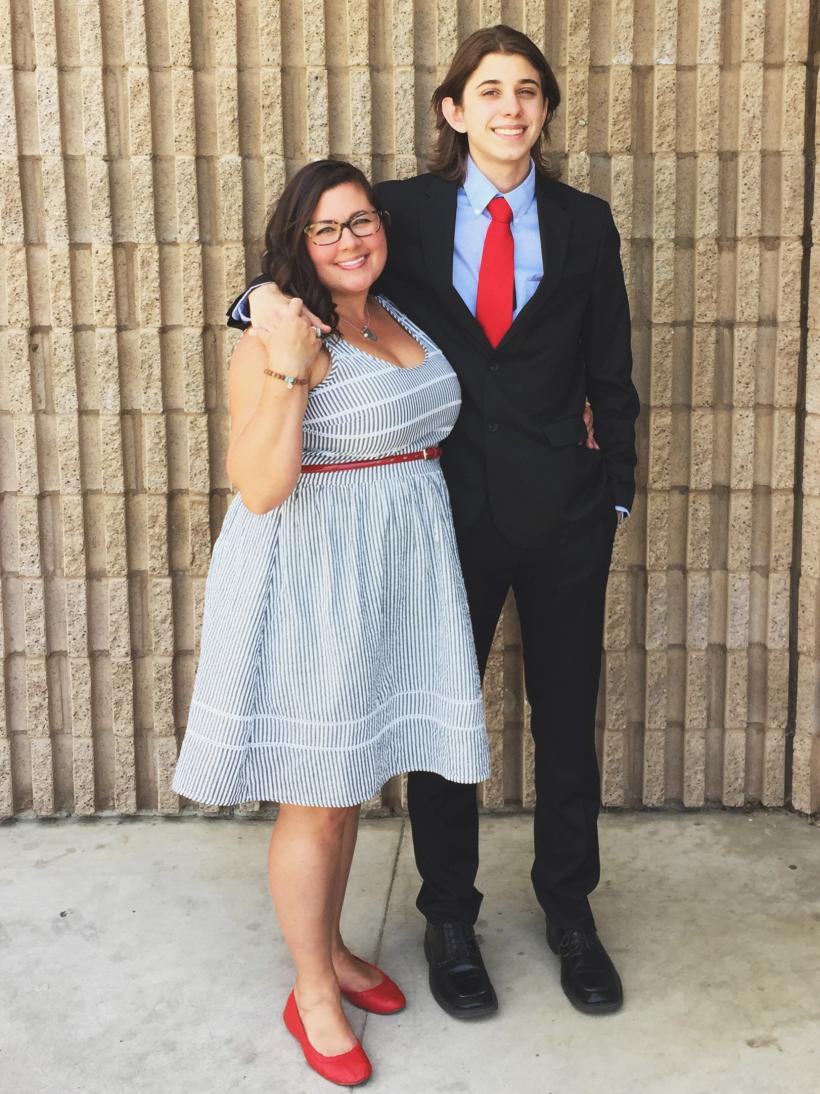 fit and flare is always a win (that's my son, not my boyfriend)
Dear Winona,
Where do I find cute, decent quality big girl clothes? I'm officially "plus size" now, but not plus-sized enough for many dedicated big girl stores. I'm either an XXL in "normal"-sized clothes or a 1X in "plus," depending on the cut. Size 18 pants. I'm not happy about my weight gain, but I'm tired of feeling frumpy and waiting to lose weight before buying clothes. I just need your help to figure out where to find cute things that fit!
Signed,
Not Sure Where To Start
Dear Not Sure,
First of all, let me give you a standing ovation for deciding to shop for the body you have now (I'm totally standing up at my desk right now, clapping with fervor!), because that can be a hard decision to make, but it is absolutely the right decision. Delaying happiness in any form — cute clothes, cool life experiences, dating, going for that big promotion — until you hit a certain size is unfair and unhelpful. You deserve to be happy just as you are, and that extends to the clothes you put on in the morning. I'm so glad you've decided to buy some clothes that fit and make you feel fabulous and stylish. Even if it's just a few new pieces, it's going to make such a difference in the way you look and feel.
Below is a list of some awesome options for plus-size (and almost plus-size) clothing. I would love to add more to this list — Ravishly readers, feel free to comment with your favorite brands and stores!
Massive British retailer ASOS does a few things really well when it comes to their plus-size collection, which includes their in-house label ASOS CURVE as well as other plus-size brands. Most notably, CURVE clothes are just as trendy and stylish and fierce as ASOS's regular size range, with many identical items offered for both size ranges. ASOS rejects the idea that sizes S-L should get all the cute clothes, while XL and up should get nothing but baggy floral tunics. They have tons of fabulous dresses, great basics like blouses and jeans, sexy lingerie, and lots of party-ready pieces.
Upsides of Modcloth: Super cute stuff, wide range of styles/aesthetics, affordable options, many items available in "cusp sizes" like XL and XXL. Downsides: hugely inconsistent in sizing and quality. I have $25 dresses from Modcloth that have lasted years and look amazing, and I've bought $150 dresses from there that had to be returned because they were cheap, ill-fitting, and defective right out of the box. As long as you manage your expectations accordingly, I think it's still worth perusing and taking a chance on ordering something if you really love it.
A quick description of Gwynnie Bee: it's like Netflix for clothes size 10 and up. Basically, you pay a monthly subscription fee, and they send you a selection of clothes every month that you can wear and send back or buy at a discounted rate. It's a great way to discover new brands and experiment with different styles without a huge financial commitment, and it's an even better option for women whose sizes are in flux. Allie of Wardrobe Oxygen has written some really helpful reviews of her experience with Gwynnie Bee, including photos of some of the fabulous pieces she's gotten from her subscription.
Just when you thought you couldn't love Melissa McCarthy more, she goes and designs a truly fabulous line of clothing, including flattering jeans, blouses, kimono jackets, and more. It's available at Nordstrom, which is a great resource for plus-size clothing in general: Their huge selection, free shipping, and dreamy return policy make it an A+ shopping destination.
eShakti is a really cool, unique online boutique where everything is available in size 0 to 36, and you can customize features of your garment to suit you, like sleeve type, hem length, and neckline shape. For a higher price, you can even have garments made exactly to your measurements. The site isn't cheap (for obvious reasons — you're getting one-of-a-kind pieces customized to you! — but they have frequent sales that bring prices into a more budget-friendly range.
An awesome selection of plus-size clothing in styles that range from basic to super trendy to super fancy (need a dress for a wedding? This site is for you). I feel like Kiyonna knows what's up when it comes to figure flattery — their clothing hits the perfect balance of playing up your curves without showing a ton of skin or being super-tight.
An oldie but a goodie — Lane Bryant has undergone a pretty massive style overhaul in the past few years and is no longer just The Store Where Your Mom Bought Pantsuits (not that there's anything wrong with being that store). They've got a great mix of trendy, youthful pieces and flattering work clothes. Definitely worth checking out, or re-checking out if you haven't popped in for awhile.
Alright Ravishly readers, now I'm opening the floor to you: any other plus-size brands you love? Favorite stores? Recent purchases you want to write a love letter to? Give them a shoutout in the comments!