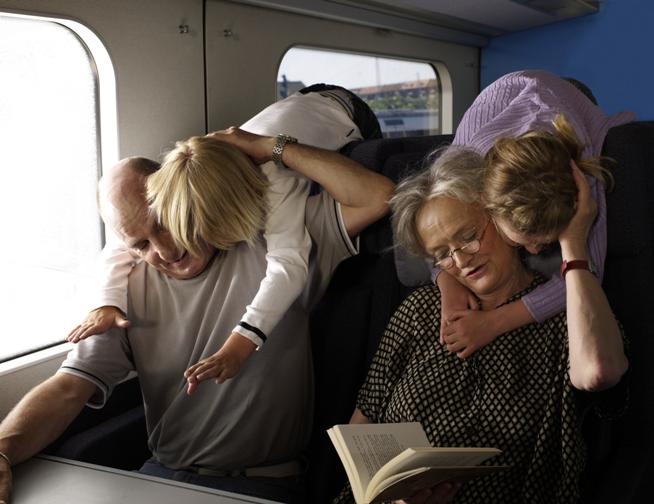 OMG. CHILL.
You have two choices once miniature humans join your family: stay home, or go out.
Staying home seems easier, especially if you've ever been party to a poop emergency as you're on your way to meet friends. The supplies alone needed to avert potential disaster are enough reason to give up and resign yourself to a more confined universe.
But it doesn't have to be that way. You can do anything with kids in tow and live to tell about it. I promise. I've done it and you can, too. Don't listen to horror stories about airplane tantrums. Listen to me while I let you in on the secret perks of seeing the world with kids in tow.
Front-Of-The-Line Pass: Coming into Costa Rica with my 6-month-old, 3-year-old, and husband, we got stuck at the end of the customs line...until baby started to fuss. The Costa Rican government employees immediately took us aside, bypassing over 100 people, and put us at the front. Perfect.
Slowing Down: My husband is the type who wants to be worn out at the end of a vacation. This is horrible and immoral. Having kids has helped us meet somewhere in between on trip activity: Busy mornings means casual afternoons. None of this up-at-dawn, falling-into-bed-around-midnight stuff.  He can ignore my pleas for rest after too many city blocks, but the kids simply won't walk any further.
Daily Life: My kids are much friendlier than I. I'm not much into chit-chat and could go a week without speaking to anyone outside our family, but my little boys seem to invite conversation with strangers (in a good way).  Sitting at a park in Ajijic, Mexico, I get to see a whole other side of the culture. Kids play together, even when they don't speak the same language. And every mom wants to talk about their children. My perspective grows when I meet another mother, and we discuss best places to eat, schools, and other mundane details.
Get-Out-Of-Jail-Free Card: Tired of a lame museum or extended family dinner? Blame the kids. I wouldn't advise pinching them to make them cry and expedite your exit, but that's a solid strategy to keep in your back pocket. Kids basically make it so you can ignore the rules of polite society just a little more.
Acting Like A Kid: All the historical stuff in Philadelphia is great, but on a visit with our first son, we stopped and spent some perfect hours next to the river. No rush, no checking locations off a list. Just chilling in the sunshine. It is one of my favorite memories of our trip and definitely something we never would have done with just adults.
Above all else, remember that practice makes perfect. I've been dragging my kids around the world since they were months old, and they have turned into great little travelers. We can now do a 10-hour stretch in the car without breaking out electronic devices, but it definitely didn't happen overnight. So jump in, be brave, and explore!