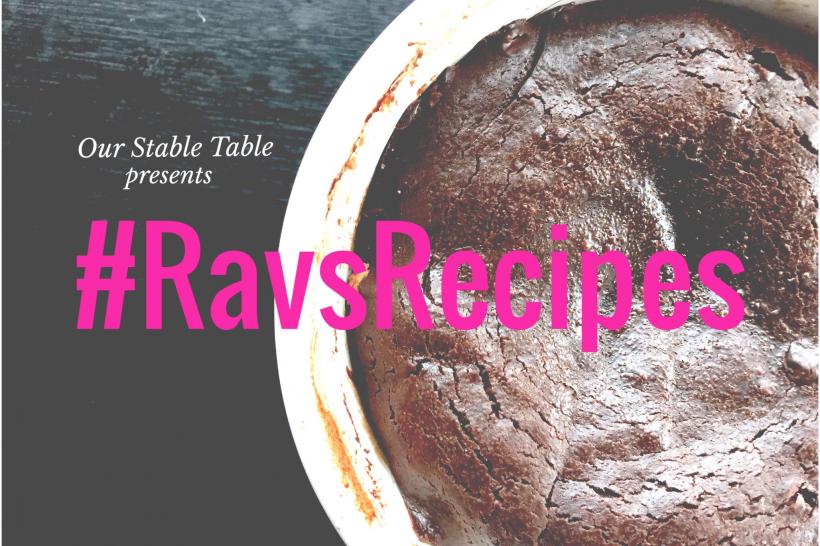 #RavsRecipe: Chocolate Molten Lava Cake WIth Cramy Almond Butter. God Bless America.
Recipe Notice: These are tricky. I made them THREE TIMES before I posted the recipe, and the first two times, these came out beautifully. The last time, the time that it counts, when I have my camera ready and toddler is sleeping and ingredients are laid out like an episode of 30 Minute Meals, they all fell. I don't know what to tell you.
Did I use too much chocolate? Did I open my oven at the exact wrong moment? Did I whisk when I should have stirred instead? It's a mystery and I'm okay letting it be that way.
So, why would I share these with you, even though one out of three batches are destined to fail according to my statistics?
Because even if they don't turn out beautifully or perfect, they are delicious chocolatey gooey mouthfuls of heaven and you won't be sad you made them or ate them. And whoever you share them with won't be sad either.
Ingredients:
3/4 cup butter
6 oz bittersweet chocolate, chopped
3 eggs
3 egg yolks
4 tbsp sugar
1 tsp vanilla extract
2 tbsp cocoa powder
2 tbsp almond butter
Instructions:
Step One: Don't be afraid to f8ck them up.
Step Two: Watch the tutorial video.
Step Three: Whatever. Read below.
First, melt your butter and chocolate in a makeshift double boiler, or in 15-second increments in the microwave, stirring between intervals. 
Next, get your eggs ready. You can whip the egg whites if you want to, but that's an extra step and I get too annoyed with egg whites to mess with that ish. Put your three whole eggs and three additional egg yolks in a medium mixing bowl. Add vanilla extract, sugar, and whisk until creamy and a little fluffy. 
Allow your chocolate to cool slightly. It should be warm, but not so warm that it removes the flesh from your fingers when you dip one in. While your chocolate cools, prepare ramekins by greasing them up with butter and coating the butter with a little cocoa powder. Don't skip this step, okay? Okay.
While whisking your egg mixture, slowly pour the chocolate into the eggs, making sure to GO SLOWLY and don't stop moving the whisk under any circumstances. 
Next, divide 3/4 of your batter between the ramekins, reserving a quarter of it. Be sure to leave indentations in your batter for the next step. Next, scoop almond butter into the center of the ramekins where you made your indentations. Cover almond butter with remaining batter.
Bake at 350 degrees for 10 minutes, and no more than 12 minutes. Don't open the door. Trust chemistry. Trust me. 
Remove from the oven and allow to cool for about 5-10 minutes. They will continue cooking a bit, so this step is important. 
Eat straight from the dish, or flip and serve with ice cream, or caramel sauce, or nothing at all. Try not to eat all of them at once all on your own.