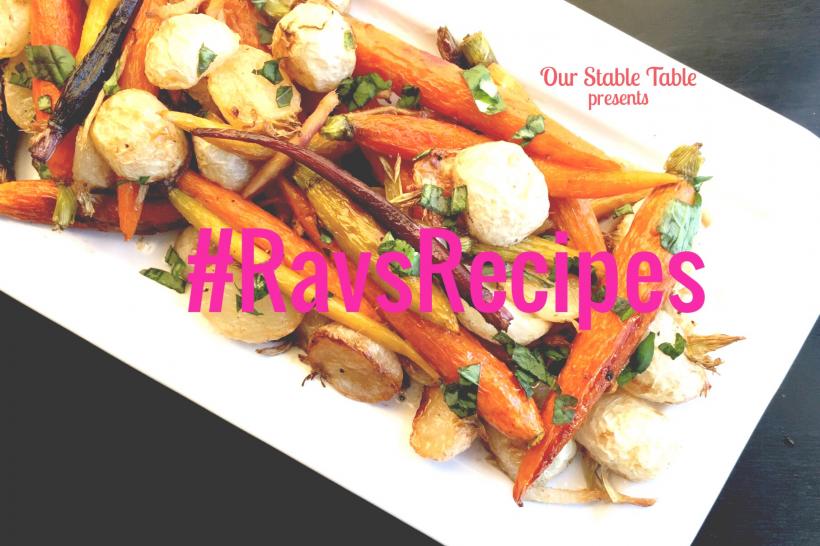 #RavsRecipes: Roasted Baby Turnips With Carrots And Ginger
Friends. I have discovered something magical. It's been under my nose for years, and yet I had no idea the powers of earth and whimsy and veggie.
What are these magical mouthfuls, you ask? 
Teeny, tiny baby turnips.
Tender, succulent, ready-to-eat, these are a treat I never knew existed. You can slice them thin and eat them raw. You can sauté or roast. Add to salads or potato mash. Either way, these sweet little beauties are a perfect side for your holiday table. 
Ingredients: 
1 lb baby turnips (seriously, so cute)
1 lb petite carrots, peeled
1/3 cup fresh ginger, julienned 
2 Tbsp olive oil or ghee
Salt and Pepper
Directions:
Behold your tiny turnips and say over and over to yourself how cute they are. Because really, they are. Trim the little root off the bottoms and cut them in half. Place in a bowl with the petite carrots, fresh ginger, and toss with olive oil, salt, and pepper.
Space evenly on a rimmed baking sheet, making sure to turn the turnips flat-side down.  This is how you get the super caramelized, roasty goodness that you always want roasted veggies to have. 
Now, toss them in the oven at 425 degrees for about 30 minutes and do something else. You can serve this warm or at room temp, and you can serve with a tangy dijon vinegarette or with a squeeze of fresh citrus before serving. 
Enjoy your magic turnip moment!