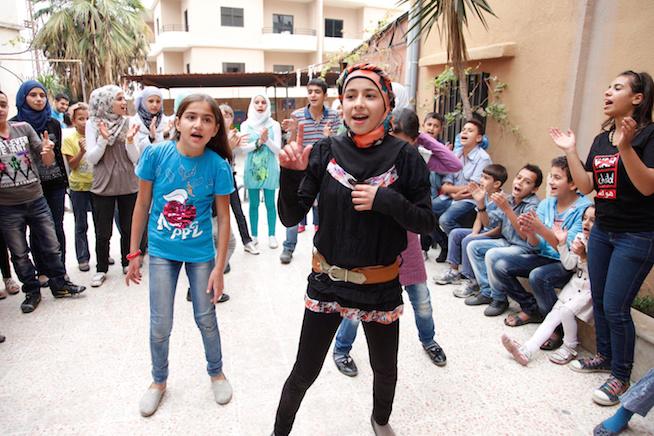 Image: Wikipedia
Focusing on "basic needs and rights for refugees — like shelter, water, food, safety and protection from harm," this is a big charity with big impact, and a branch of the UN.
"We are facing a refugee crisis of a magnitude not seen since the Second World War. This presents us with great challenges and many hard decisions."
Those are the words of Pope Francis, addressing the United States Conference last September. Though several months old, his speech could not be more relevant today: The United Nations Office for the Coordination of Human Affairs reports that the Syrian conflict and resulting migrant crisis, currently in its fifth year, is now "the largest displacement crisis in the world." The world looks on, bewildered, as the crisis and its consequences worsen. Europe struggles to balance justice and mercy for asylum-seekers in the wake of the terrible sexual attacks on women in Cologne and other European cities over New Year's Eve, with the news emerging that the attacks in Sweden are not the first to involve suspected refugee attackers — and it becomes more and more clear that the refugee crisis affects not just the Middle East, but quiet neighborhoods in Western cities. It gets closer and closer to home, and more and more thorny.
And it's not going away.
If you've been watching from the sidelines and feeling helplessness or rage as the news surrounding Syrian refugees continues to complicate, consider taking action. While politicians and citizens debate deporting or banning asylum seekers, the crucial humanitarian needs of many refugees continue to go unmet. In the ugliness of the Cologne attacks and the resulting political fallout, the bigger picture of the refugee crisis must not be forgotten. Citizens do not have to wait on their governments to take action.
By supporting vetted and crucial charities, even people on the sidelines, far away, can help tip the scale back towards justice. The following list represents a few amazing organizations in four key areas of need: women's health, general medical care, shelter, and food/essentials — but they are by no means the only ones doing valuable work. A few quick Internet searches might help you uncover a group even more in tune with your particular values or focuses in bringing aid to those in dire straits. (And a bonus if you're in Canada: The Canadian government will match charity contributions to registered Canadian charities until February 29th!) The new year is a wonderful opportunity to activate your resolution to help others, and these organizations can help you do just that.
Women's Health: Loving Humanity
What could be worse than being a refugee? Being a female refugee on her period. That thought inspired this charity's founder, Amy Peake, to create an organization that not only helps bring sanitary products for women into refugee camps, but also helps women in those camps earn income by starting their own small businesses producing said product. A simple, portable machine invented for a similar purpose in India was the key to making this vision a reality. Read more of this charity's unique story here. It's fantastic that a charity exists specifically to meet this unavoidable, unmet monthly medical need for women refugees.
Medical Care: Doctors Without Borders
Speaking of medical needs, let's not forget that there are still Syrian refugees in Syria, many of them displaced from their homes but unable to leave the war-torn country. As this disturbing trending video of an emaciated child shows, there is a serious need for aid and medical attention within the borders of Syria as well as in refugee camps and asylum-seeker communities in other countries. Doctors Without Borders is a tried-and-true independent charity that, because of its reliance on unrestricted private funds, is able to go almost anywhere and respond with greater speed than most charities. Despite the chaos and hardships presented by the current violence, they are on the ground in Syria and Europe right now.
Shelter: Refugees Welcome
Those who have fled Syria are also facing immense humanitarian crises abroad. While governments debate how best to limit and handle their influx of refugees, survival essentials — like a place to sleep — are sometimes difficult to come by. That very need is the focus of this charity, which aims to trim down the complexity and suspense for refugees waiting for a place to stay by linking them with local people who have spare rooms or flats, a sort of "Airbnb for refugees." This model is especially unique and can help foster a spirit of community and connection between refugees and their new neighbors. And even if you don't have a spare room to offer a refugee, you can donate to help pay their rent.
Food/Essentials: UNHCR (The UN Refugee Agency)
Focusing on "basic needs and rights for refugees — like shelter, water, food, safety and protection from harm," this is a big charity with big impact, and a branch of the UN. They support Syrian refugees both within the borders of Syria and in Europe and the West by deploying emergency teams and setting up response centers in key locations on the ground. They have also been huge advocates and activists in the effort to rescue refugees lost in the Mediterranean, an endeavor even more important in the cold winter months.
Want more ideas and inspiration for how to help? This story from Public Radio International lists smaller charities you may not have heard of, but which they have vetted and recommend.
Of course, it is important to protect yourself and research any organization before giving money. Nonprofits like Charity Watch and Charity Navigator can help; they investigate and rate charities on criteria such as transparency, financial responsibility, and effectiveness. Some of their top scorers were UNICEF, the American Refugee Committee, MercyCorps, Oxfam America, and Catholic Relief Services. The call for help is urgent, but do take the time to research and discern the type of work in which you'd most like to participate.
Don't be overwhelmed or allow the complexity and magnitude of the refugee crisis to rob you of taking part in actively supporting justice. To conclude in the words of Pope Francis from his same speech to Congress, "We must not be taken aback by their numbers, but rather view them as persons, seeing their faces and listening to their stories, trying to respond as best we can to their situation. To respond in a way which is always humane, just and fraternal. We need to avoid a common temptation nowadays: to discard whatever proves troublesome. Let us remember the Golden Rule: 'Do unto others as you would have them do unto you' (Mt 7:12)."