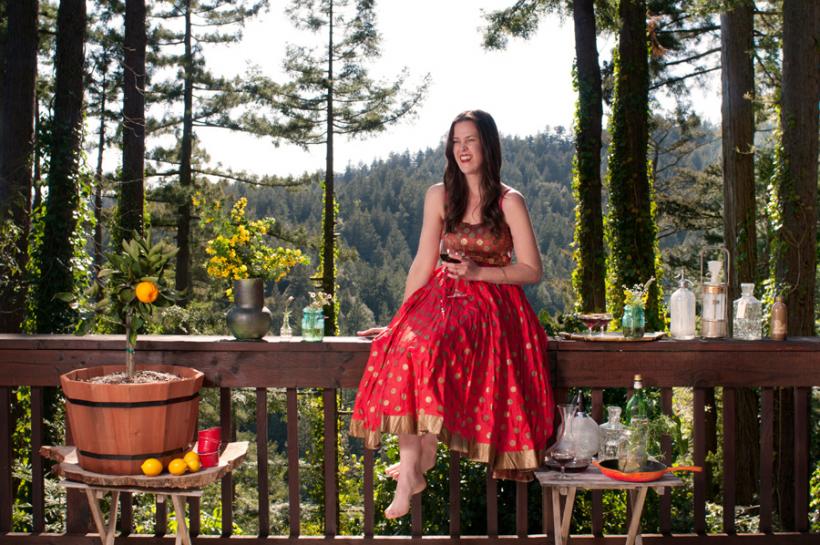 In my family, I'm notorious for reading cookbooks. I'll shamelessly turn the pages, knowing fully and completely that I will not be attempting Saltimbocca Romana or Chicken with 40 Cloves of Garlic—not tonight. Not ever. Reading cookbooks is a delicious guilty pleasure of mine—and apt torture for my hungry crew who witness me pouring over the pages of Mastering the Art of French Cooking or How to Cook Everything even as I continue to rotate the same four dishes week after week. 
Until The Forest Feast. I am hopelessly enamored with this book, which is as much a cookbook as it is a piece of art. Erin Gleeson, the chef and artist behind this unique collection of recipes, is an ex food photographer—and New Yorker—who transformed a move to Northern California and the contents of her weekly CSA box into inspiration for a wildly successful blog and my new cookbook obsession (I even love the tagline: Simple Vegetarian Recipes from My Cabin in the Woods). These recipes are a joy to look at—Gleeson's own looping, romantic handwriting details each one and the book also includes her charming watercolors and photos from said "cabin in the woods." And the dishes are shockingly simple to make. So simple, in fact, that even I was inspired to take the cookbook from the couch to the stove. Many dishes contain just three or four ingredients and Erin's instructions are clear and casual, like an old friend rattling off her favorite beet salad recipe while chatting over coffee. And though they're painless to prepare, they're impressive on the plate. Erin seems to genuinely want you throw a sweet and sexy dinner party with not a drop of hostess stress. How could you fail with vibrant (and easy! easy! easy!) dishes like Watermelon Salad and Guacamole Deviled Eggs?
Erin recently took some time out of her cross-country book tour to talk art vs. food, satisfying hungry carnivores and tips for those of us who'd rather read a recipe than make it. 
What is the most surprisingly wonderful thing about living in California? What do you miss about NYC? 
Although I was in NYC for about nine years, I grew up in Sonoma County, CA, out in an apple orchard, so the transition west was somewhat familiar. Even though I love cities (and especially New York), I also really love being in a bucolic setting. I think the amount of time I've been able to spend outdoors here in California has surprisingly affected my work­. There's something about spending so much time in nature that calmed and refocused me to come up with this new idea. I do of course miss the city, though! I miss walking everywhere, seeing great street style, and getting any type of food imaginable delivered at any hour. My husband is from New York, so I think most of all we miss friends and family.
What comes first, your love of food or your passion for art? Why?  
I think I definitely feel like a photographer first. My background is in art and photography, and although I grew up in a family that loves to garden, cook and eat, my approach is at first visual. I like to think I picked up a thing or two shooting with so many chefs over the years, but I am a home cook. I have not been to culinary school, so my recipes are very simple­—most have fewer than five ingredients. Throughout art school, food was often my subject and when doing my masters in photography, I shot a cookbook for my thesis. I began freelancing as a food photographer in New York as soon as I got out of school. 
 
What is your favorite dish in the book? Which one is the easiest to make?  
 
I think my favorite is the Watermelon Salad. I use a big circular slab of watermelon (rind removed) as the base for the salad and build on top of it by piling mozzarella, walnuts, almonds, basil and mint. The presentation is simple, but fun and bit different. I studied sculpture in school and often come at a dish with that in mind. The easiest dish to make is the French Radishes­—an old classic. It's really more of an idea than a recipe: just put a dab of butter and a sprinkle of salt on a radish and enjoy! 
I'm often intimidated in the kitchen, so easy is key. Any tips for those of us who break out in a cold sweat when we think about cooking for a group?  
Making your house look presentable in addition to cooking a feast when a crowd is coming over is
 a lot to think about
! (I am always scrambling before guests arrive, hoping that they'll be a few minutes late!) I think the key is to try and choose dishes that can be made ahead and served at room temperature, of which there are a lot in the book. I always try to get an appetizer platter and a bar area set up early so that guests can help themselves when they arrive, giving me a few more minutes to put finishing touches on dishes.  
What about those that are vegetarian-curious, but who think that a meal isn't a meal unless it contains meat. What dishes/tips would you recommend to satisfy their voracious appetites? 
You can easily use the recipes in my book as sides. They work wonderfully to accompany a meat entree. I am actually not vegetarian (even though I grew up vegetarian and eat mostly that way) so I often use them as sides as well when entertaining. However, there are some very filling vegetarian entrees in the book that will satisfy any omnivore, like the Polenta Stuffed Portabellos or the Carrot­ Zucchini Ribbon Pasta.  
What outside influences inspire how you cook?  
Whatever comes in my weekly local CSA farm box is usually the inspiration for a dish, so I am very much inspired by the seasons. California has the most incredible produce, year­ round. I am also always drawn to color, so I'll often choose the most colorful item in the box and start there. Having studied art I think I am drawn to thinking about the dishes as little sculptures, and try to be creative in how I cut things and the colors I pair together on the plate. I also love looking at fashion and interior design magazines to gather inspiration on color, pattern and the way fonts mix with imagery. 
How would you describe your personal style in three words or less?  

Colorful, bohemian, fun. I am constantly overdressed which blends in more in New York than California, but I've gotten over it and wear what I want. My friends joke that whatever the occasion, I'll show up in a prom dress. I can't help it! It's just more fun. My love for vintage and eclectic pieces shows up in our home too, and certainly in my photos. I am always looking for colorful, antique plates at flea markets.