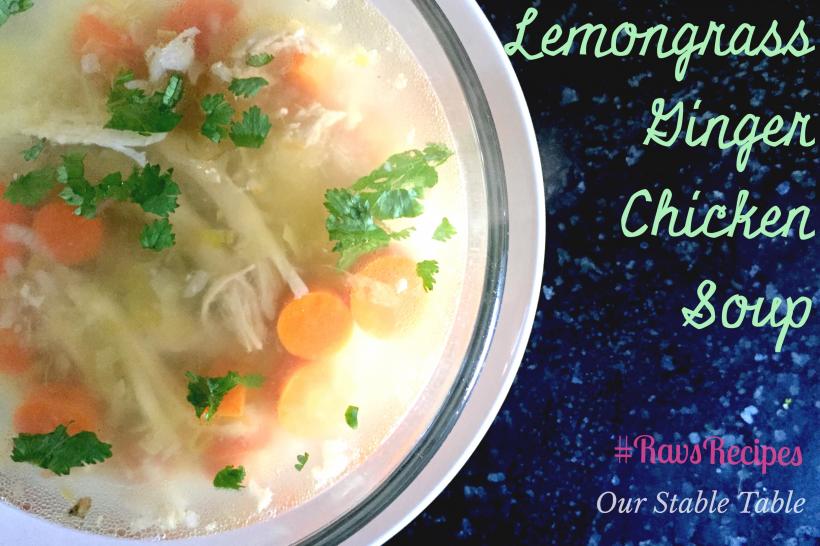 #RavsRecipes: Lemongrass Ginger Chicken Soup​
Some of my earliest memories revolve around soup. My mom mastered three food categories when I was a kid. Lasagna, grilled meat, and chicken soup. Even though I'm edging 40, I still want my mom's chicken soup when I'm sick. I also still want her grilled tri-tip every Labor Day, but that's another recipe. 
It's no surprise that we have been making my mom's chicken soup pretty much weekly since school started to keep ourselves healthy. Chicken soup is loaded with nourishing goodness. And even though I love my mama's chicken soup recipe, I also love to change things up just a bit. Because food is fun and chicken soup is hard to mess up. Truly. You throw a chicken in a pot with some veggies and herbs and cover it with water. The rest is easy. 
My current chicken soup favorite is lemongrass and ginger. Last year, I went to visit a friend in Seattle who was close to her estimated due date, and the plan was to help her get the final nesting things done so she could start to slow down and prepare mentally for labor. As it happens, she went into labor while I was on my way. I was on call to help her during her birth process, which meant lots of shuffling between her house and the hospital. 
I made this chicken soup for this strong mama friend, inspired by my own strong mama, for her journey into motherhood. A light broth that somehow becomes grounding and refreshing, a loving cup of mother's medicine to fuel her for her trek. 
Ingredients:
1 whole chicken, uncooked
1lb carrots, quartered and chopped
3 leeks, quartered and sliced thin
2 heads garlic
1 hand-sized bunch of ginger, peeled and divided
3 long stalks lemongrass, sliced lengthwise 
2-3 large shallots, chopped
Whole peppercorns
Cilantro
Directions:
Get that whole chicken and put it in the biggest pot you can find. I use an 8 quart stock pot. I would suggest using the same. Throw in 1-2 carrots, cut in half. Add all of the lemon grass, half of the ginger, the top green parts of the leeks, and one head of garlic with the top sliced off. If you have whole peppercorns, you can add those as well. Cover with water and add a fair amount of sea salt. Bring to a boil, then reduce heat to low and cover with a lid. 
Now, I know what you're wondering. Why did you just put a bunch of random things in a pot? Because you definitely won't be eating anything that comes out of that water except for the chicken. These veggies help develop the flavor of the broth as well as the chicken.  This process takes about an hour, give or take depending on the size of your chicken. 
Once the chicken is thoroughly cooked, carefully remove it from the pot. It's going to fall apart on you, so be prepared with tongs and a slotted spoon. Transfer chicken to a plate and allow to cool.
Strain out all of the vegetables and peppercorns if you used them. If you want a very clear and refined broth, use some cheese cloth. If you don't care much, just use a mesh strainer or a slotted spoon. 
Return broth to stove and add your chopped carrots, leeks, and shallots. While your veggies are cooking, carefully debone the chicken now. You want to make sure that it is cool enough to handle because you can easily burn your fingertips.
ASK ME HOW I KNOW. 
Return shredded chicken to broth. Grate your remaining ginger and crush your remaining garlic cloves, and add them to the broth. If you want to add noodles, this is the time to do it, but I prefer to add rice because I'm crazy like that. 
Salt and pepper to taste and enjoy! This keeps in the refrigerator for about a week before getting weird and kind of gross.
---
Related: