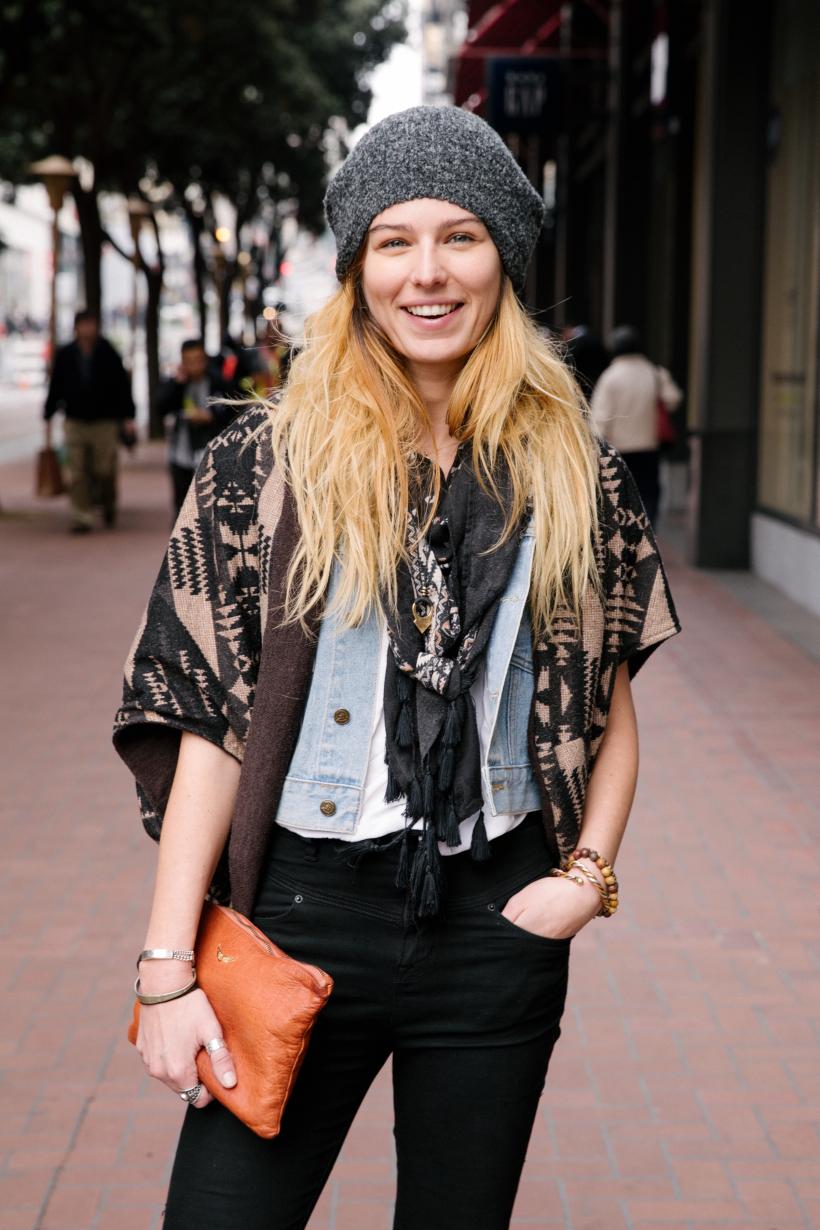 Spotted: Powell St, SF 
Occupation: Bar Worker, Yoga Instructor
What are you up to today?
Running errands until I work later on.

What is your occupation?
I work in a bar.

What drew you to that?
Finding something that can work with my yoga schedule—I also teach yoga. I love dancing, I love moving my body—so they go hand in hand. There's a nightclub above where I work and it's a fun group of people. It's not so much about dancing, it's more about moving my body and expressing feelings through my body. I can't do the sitting-at-a-desk thing.

Have you tried that already?
Barely! I already know—I know myself too well. I just need to move.

What do you do in the area when you're not working?
Have brunch with friends, hang out. I have a couple of creative friends that are getting together and building stuff or painting things, hikes.

What's something that's been on your mind lately?
I'm moving out, moving to the Mission soon. I've been living downtown. I love it here actually, it's a lot of fun, but it'll be a change. Moving in the city takes up a lot of head space. I also have some projects in terms of teaching and holistic training I'm thinking about. My work is more play.
What part of holistic training have you been drawn to?
I went to school for holistic nutrition, and am going into training for bio-decoding. It's a form of holistic somatic therapy, kind of getting into applied kinesiology. It's basically working with ancestral healing. So working with emotions that reside in your DNA and in your cells—they're problems that you're not necessarily aware of, and the therapy kind of gets into the karmic stuff, rather than the day-to-day. I work in a bar to pick up clients—just kidding! [laughs] That's what I tell everybody! I work with people with emotional trauma or even acute injuries, so working in a bar I just latch onto that!

Have you been out exploring your new neighborhood?
Not yet. I'm waiting until I go there. I've been telling my downtown friends, ok let's go hard on the Tendernob before I leave! We'll just go to every spot that we usually go to and explore new places and take advantage of what this neighborhood has to offer before I make my way to never leaving the Mission. I tend to stay very local to the neighborhood I'm in.
How would you describe your personal style?
I don't know if I can describe my personal style. I keep in mind that even when I go to teach a yoga class, I still style it up in a way where you can't tell. I don't wear workout clothes, in fact I don't even wear a pair of workout shoes! In yoga, you wear no shoes anyway, so it's not like I need to be wearing workout shoes on my way to go teach or practice. So I just pull it off with leggings, socks, boots and just play around.

Where do you get your style inspiration?
I don't know, the streets? I'm half French, and I'm originally from Los Angeles and my mom is very much into style . . . I'm not sure, I just always had an eye for it I guess.

So tell me about what you're wearing today!
This poncho is some nice brand. The jean jacket is thrift, these boots too!

The mixed metal bracelets are nice!
I definitely like these pieces of jewelry. One of these bracelets is a gift from a friend—it was a piece that was passed down to him. This silver bracelet is M. Cohen. He's based out of Los Angeles. This mixed metal bracelet is from the Self-Realization Fellowship, so this is more of a spiritual piece, with copper gold and silver. The other bracelets are just some fun yogic pieces. The bag is Zadig & Voltaire. I think they just opened a store in New York. The beanie is a brand called American Vintage, but it's actually a French brand. They're in Marseille, where my family is from. Usually I'm also wearing one of Monica Squitieri's pieces, but I'm not right now. She's based in Santa Monica, and she does all the metalwork herself. Her stuff definitely fits into my style.