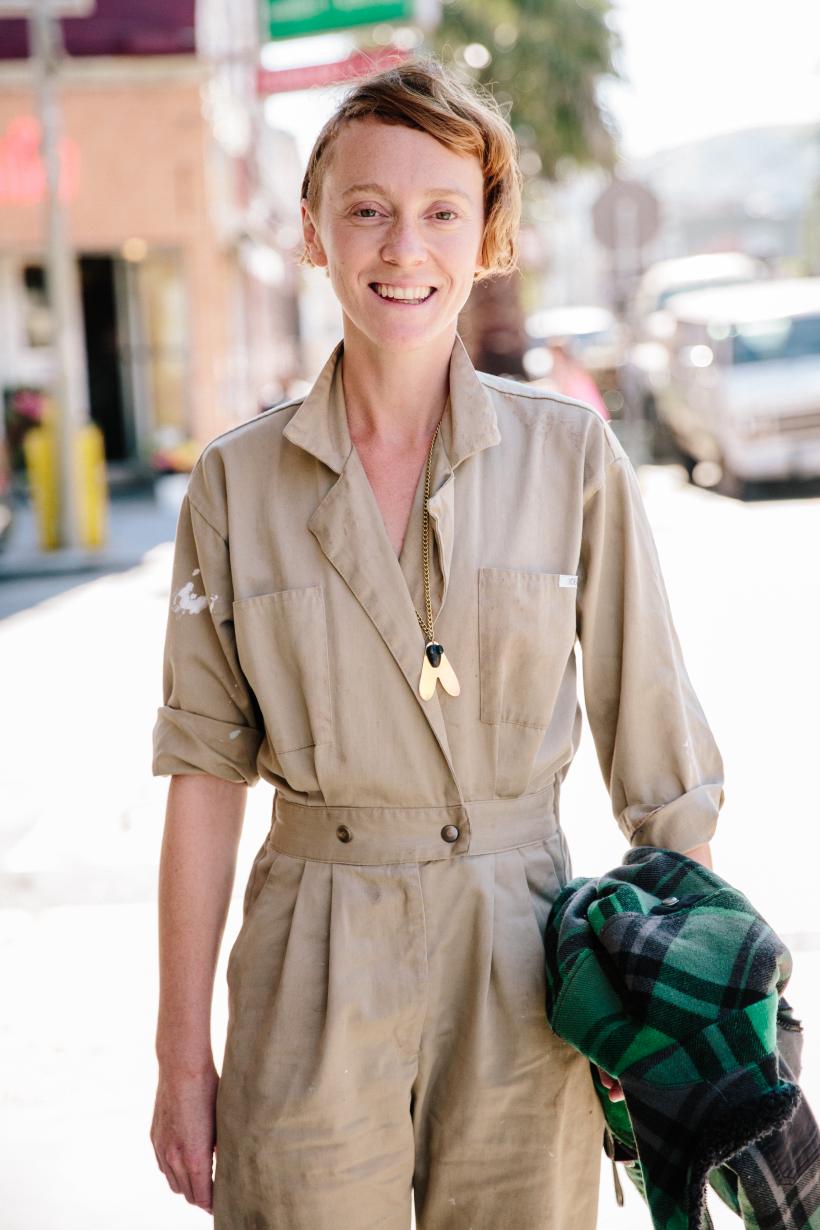 Spotted at: 24th Street Mission, SF
Occupation: Metalworker, Beatmaker
What are you up to today?
Today, I'm walking home from staying over in Oakland. I went over there to see a friend play some music.
What kind of music were they playing?
They were spinning vinyl—old dance hits at a place called the Legionnaire. They were playing some ghettotech, some juke, some 90s house music. It was their regular third Thursday event called Brackish.
Are you a fellow music enthusiast or DJ?
Yeah, I'm actually going to play tomorrow night.
What do you play?
I use samplers and drum machines to make beats. It's kind of like half a song, because really it's for someone to MC over, or it's meant to be mixed. And I'm just fascinated with the fact that it's really flexible, and also that beatmaking has been around for 40-50 years now. But it goes deeper than that in a lot of ways.
In what way?
From what I can tell, electronic beatmaking has been around in modern popular culture since the rise of disco and hip hop, but beatmaking itself taps into a rhythmic language that goes back into roots of human communication all over the world, and even farther still with the heartbeat as our the original baseline rhythm. Play with beats and you're playing with all of these things.
Do you play around the Bay Area?
Yeah, and I've played in Mexico recently, which was the first time that I've ever gotten to play outside of the states—it was amazing.
Where in Mexico did you end up?
Guadalajara. We were out there for about a month—I was part of a bunch of artists who were doing an exchange with artists out there. It's all just sort of friends and family-style. You can find out more info at oaklajara.org.
Who are your major influences?
That's a good question. My earliest influence was going out clubbing in DC as a little kid. But musically, people who have been really influential to me changes a lot. I think the J Dilla Donuts album is something I keep coming back to. Just being blown away by it. Right now, as far as flavor goes, this guy named Mumdance has been blowing my mind. I think it's a really interesting time right now for digital music because there's so much and it's so new and international.
Where are your favorite places to hang out in the area?
That's always changing—as far as venues go, I've had a really good time at the Fox Theatre recently.
What are some recent challenges you've overcome lately?
Learning Spanish. I finally started to speak it a bit conversationally and got over being shy about that. That and just getting back on the wagon with traveling and coming back home and being in the flow with that—being not too scared to take off and know that it will all work out.
Oh I forgot to ask you, what's your occupation?
I'm a small scale metalworker. I make jewelry and wearable stuff.
Do you sell your work in any shops nearby?
I have a website and I'm up at Artillery which is a very, very cool store up the way. It's run by Mission kids who have parents that have stores in the area and they support Mission-based artists and local artists in general. I'm just really blown away—I've been there just a few months now, but it's really cool to see. They're been around for about 5 years.
How did you get started with both music and metalworking?
In terms of metalworking, I came out to California to learn a craft—a skill with my hands. And music, I wasn't getting my rocks off with just metalworking. It was something that I've always wanted to do, and that was just learning from my friends while I was out here. I feel like with both the music and the art, it's more of a complete package. They can really harmonize with each other and help each other develop. The music stuff was very unstructured and all just through friends.
I also wanted to ask you about your personal style and how your outfit came about!
I've been wearing this jumpsuit because I don't have to think. I can just get up, and put my outfit on. There's so much crazy awesome style in the bay, and I've been in the city long enough that I need years of my life back deciding what I'm going to wear! I can work in it, I can get dirty in it, and also I want to replicate like four of these so I really can just wear it every day. I think especially in San Francisco, there's so much office gear, that I just wanted to simplify my life I guess. This jumpsuit was from my friend Allie, this necklace I made, and these shoes I've had for almost 15 years now. I got them at a flea market outside of London. This jacket I got up the road at Buffalo Exchange.