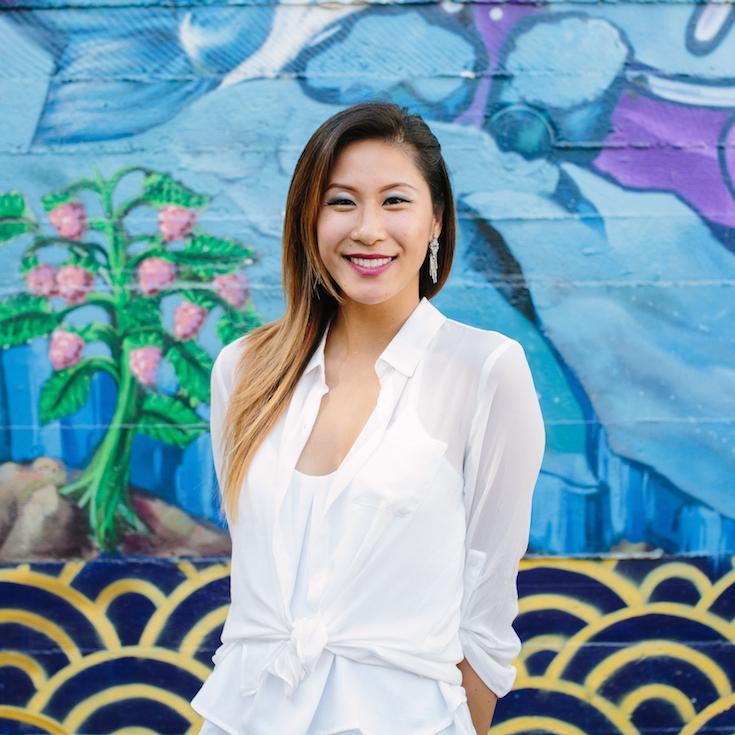 Spotted: Downtown Oakland
What are you up to today?
I'm just getting off work — I work at Pandora here in Oakland. I'm headed home to go work out, and maybe play some golf.
How long have you been golfing?
Not long — I just got started. I live in the peninsula and there's a range close by, so I have no excuse to not play.

What got you interested in playing golf?
It's a really nice mental sport. Although it can be a group sport, you're competing with yourself. That's what I like about it. Whenever you play you're always playing against yourself and how well you can do. And there are days where you can do really well, and then there are days when you can do poorly. It's actually the one sport that I find that I completely zone out into the game. I don't think about anything else but my drive.

That's really cool that you have that flow moment.
Yeah, because when you run, you're often thinking about many different things. But with golf, that's it. It's a nice stress reliever.

Did a friend or family member introduce you to it, or did you just decide one day, "I'm going to play golf!"
You know, back in high school it was one of the many sports we would do. I was approached by my PE teacher and she asked that I join the team — and I regret that I never did. Since then, I've played with friends, boyfriends here and there, picking it up every now and then, but I've never gotten into it by myself. I finally picked up a lesson, and thought, OK, this is something that I can actually do on my own, without the help of a boyfriend or anybody else.

What are some of your favorite things to do in the Bay Area?
Sure, two things. I'll start with the East Bay. I've only really hung around the East Bay because of work. I've been with the company for about four years, so it's nice to see how much change there's been — especially with them building out that new spot on the corner.

Oh, with the whole Sears Building?
Yeah, with them changing out the Sears Building. So it'll be really interesting to see that.
So, that's for the East Bay/Oakland. Before that I didn't really know much about it. But I live in the Peninsula, which is farther south and that's nice, too. It gives me an idea of what it's like to be close to the city, but also to touch a little bit of the South Bay and see all of the Silicon Valley movement. What I like to do in the Bay Area? There's a lot to discover in terms of food, events and things to do. I like going on Johnny Funcheap, there's always something to do — festivals, random bar nights, themed nights with its kind of fun. San Francisco loves to dress up — I like to too! [laughs]

Have you gone to any fun dress-up events lately?
I think the most recent one was Bay To Breakers.

Were you in the running group or the costume group?
I was running with a costume!

Did you have a fun group costume going on?
Yeah, my girlfriend and I did Coffee Meets Bagel (which is a dating app).

What's the general gist of the app?
I don't know how they came up with that name, but essentially you get a bagel a day. They call it a bagel, but you get a person at noon every day. But you don't really chat until you're connected with that person. If both people say yes then you can chat.

How did you guys decide on that costume theme?
Being single in the city! [laughs] And it seemed clever enough, since there's just so many dating apps out there! Last year you saw a ton of Facebook and Tinder costumes. So we did little signs with a check and an X. [laughs]

What's something that's caught your eye recently?
I'm interviewing candidates for a job right now, and one question that I always like to ask somebody is, "If you were to go back to a time period, which era would you choose?" And this interviewee mentioned the roaring twenties. That reminded me of a designer that I liked from that time named Erté. So that made me want to go home and take a look at his stuff all over again. He does these geometric but curly designs, and illustrations of models and dresses. I used to study fashion design — I went to FIDM for a year, and I was studied marketing as well.

What drew you to your current job?
My background was already in marketing and advertising so that was an easy move. And Pandora's just a great website. About five years ago they weren't doing very much advertising and it was just all word of mouth. Just hearing about it from other people was interesting.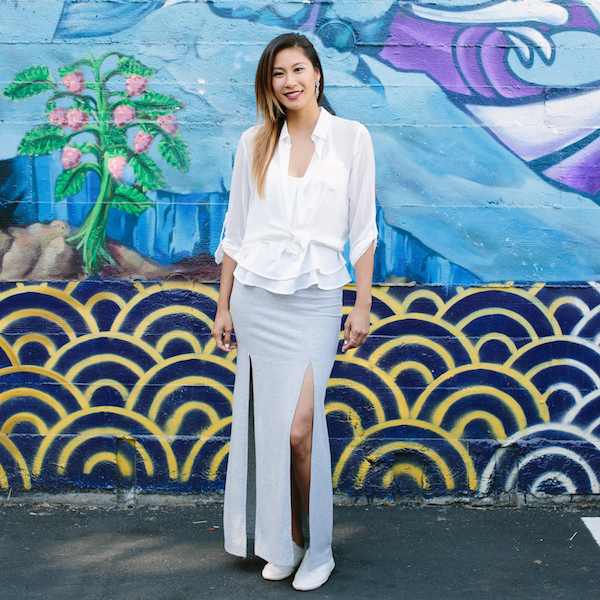 I also wanted to ask you about your personal style! I like the casual skirt combo!
I wear heels to work every now and then and my feet hurt today, so I decided to wear my sneakers. It's comfortable and it's warm out, so I love wearing skirts. Makes it easy. I dress for comfort, and these shoes are probably my most favorite purchase. They match everything and I can dress them up or down.

Where are they from?
They're by Marc Jacobs. They're not very flashy, but they're sharp.