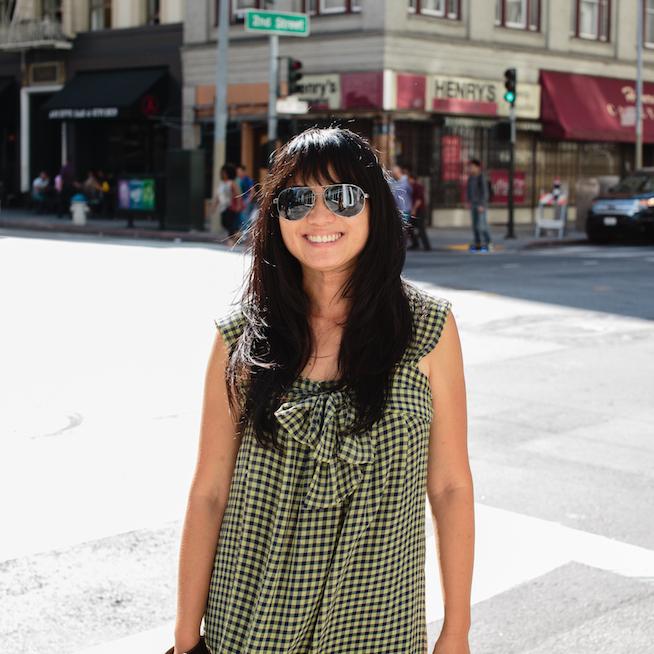 Spotted: Downtown SF
What are you up to today?
I just got out of a meeting for work.

What's your occupation?
I'm a strategy advisor for nonprofit arts organizations. I'm an independent consultant.

How did you start out?
I've been doing nonprofit arts for a decade, starting in New York. I moved to San Francisco about two years ago and I really love the vibrant momentum of the city! So I moved my consulting business here.

What kinds of organizations do you work for — is there a thread to the kinds of projects that you pick up?
Mostly I manage the business side of the creatives, and help them do their best work. The organizations that I work with are mostly performing arts organizations and some visual arts organizations.

Do you work on any creative projects yourself?
Well you know, I used to sing — I was classically trained — but I haven't stretched that muscle for a long time! [laughs]

What kinds of projects that you've seen that have inspired you lately?
Gosh, so much going on in the city! I think a lot of the small organizations really need to hook into the heartbeat of the city. The transbay terminal is really exciting and I know they're building an amphitheater on top, so that's really interesting!

That IS interesting! Is it going to be an all-purpose amphitheater?
Yeah, I believe so. I'm not sure yet, and another thing that's going on right now is The 5M: 5th and Mission project. The developer is creating this project at the intersection of 5th and Mission, so it's going to be a hub, an intersection for arts, technology, and businesses — which is really exciting! There're so many exciting things that are happening just in this neighborhood! And Oakland is fantastic — I love Oakland! I used to live in Oakland, near the Fox Theater. And they're doing something about the Sears building right there. I don't know what they're turning it into.

I think they're turning it into offices for tech businesses.
Oh wow, that's a great idea!

What kinds of things have caught your interest personally?
Right now I'm into public speaking. I'm doing Toastmasters, so that's one of my interests. Because for my business, sometimes I have to facilitate board meetings, and I work with groups of people. And believe it or not, my mother tongue is not English, it's Mandarin. So sometimes I'm at a loss for words when I'm speaking. I'm training myself to be better at public speaking. And I really love the Bay Area weather — it's phenomenal! And I love to drive up north to Marin for the nature. I try to get out as much as I can — get more Vitamin D!
I also wanted to ask you about your personal style because I love this dress!
This is from many years ago. It's from a store in Soho — I don't even remember where, but you don't have to spend a lot of money — this was like under $40!

Oh it's so cute, and it's like the perfect summer dress. The metallic sandals are really pretty too.
These are from Nordstrom Rack in SF.

And you have this ombre blue/gold pedicure — awesome!
I match the dress! [laughs] Girls gotta have fun and love themselves, you know? No matter how tough life is. What I learned from my grandma is that you always have to be kind to yourself so that you can love others. I'm trying to be kind to myself! [laughs]