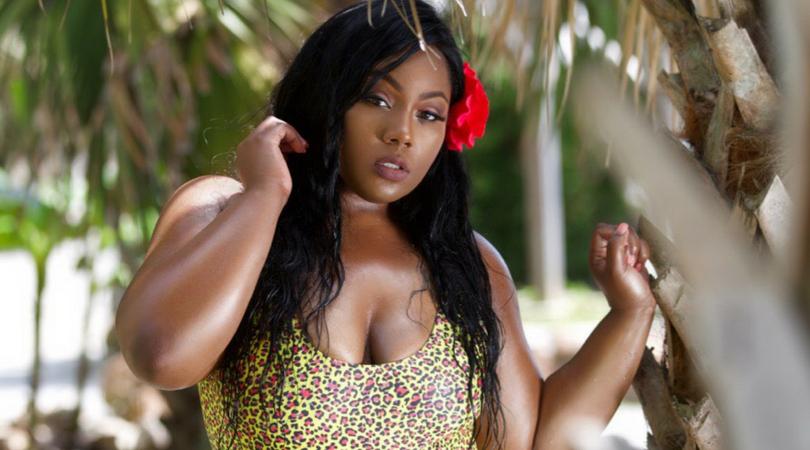 Francie Maupin (@missdivakurves) by Jeffrey K Photography (@jeffreyk_)
In the age of the conflict between too often commercially-driven body-positivity and anti-establishment fat liberation, many of us find ourselves pushing beyond the limits of our personal comforts to prove ourselves to others. Whether it's playing the "good fatty" to those who judge our worth by our health or the "good activist" to those who want us to always show up for the cause, sometimes we are forced outside of our comfort zones. We are pressured to violate our boundaries to perform both activism and health. Often it simply feels like there is no winning. 
You don't have to do anything you don't want to do, but sometimes it feels like being caught in the middle of two choices that don't benefit you in any way. Performing your fat- or body-positive activism at the expense of your mental health does not do anyone any good if it's ultimately hurting one of the people that the movement is supposed to protect.
You don't have to wear a two-piece if it's not your thing, nor do you have to cover up your body to appease anyone else's beauty standards.
Ultimately, those are the two things that you have to remember. 
It's tough! Self-love and healing are not always linear. Some days, you might want to put on a low-rise bikini and say "Fuck fatphobia!" while other days, you might not have the emotional bandwidth to deal with judgemental glances or stares. Internalizing their disdain for your body and bodies shaped like your own can remove you from the moment and living in the now, bogging your body and psyche down with stress and anxiety. 
For those of us who are at peace or in love with our bodies but still like one-pieces, sometimes you just come across a bangin' swimsuit that happens to look really good. No matter what, you don't need to explain yourself to anyone — thin or fat — to justify your choices. 
Whether a one-piece is part of your comfort zone or you are fat and free and wear whatever you damn well please, the swimsuit industry has finally caught on that yes, fat people do like to swim, and yes, we will spend money on quality, stylish pieces. Folks like Gabi Fresh, Jessica Milagros, and Ashley Graham have created their own lines of swimsuits and are killing it out there. Our dollars are showing the industry what we want. 
There is no right or wrong: you don't have to cover up if you don't want to, nor do you have to bare everything. Sometimes a sexy high-cut thigh can be as scintillating as a bit more skin in other places. A little more coverage across the midriff can allow for a deeper V or U-neck without feeling as exposed as a two-piece. One-piece suits can be just as sexy and show as little or as much as you want, just like their two-piece counterparts. 
Need a bit of one-piece swimsuit inspiration? Check out these nine incredible swimsuits and the plus-size Instagrammers wearing them. 
Plus-size model Jessica Milagros in a one-piece from her own line! Talk about goals. 
Travel blogger Tasha sports a gorgeous one-piece during one of her adventures in a tropical cave. Follow her IG for exciting adventures as a badass, empowered, plus-size traveller! 
This anonymous blogger is a brilliant international lawyer and ass-kicker of breast cancer. Her style is dramatic, beautiful, and bold, and her writing deeply vulnerable and powerful. 
Model and influencer Sarah Jane Reign lounges in a beautiful one-piece swimsuit. If you are in the Houston area, you simply must follow Sarah Jane for local body-positive events! 
SheRae never fails to slay. The stylish Virgin Islander is a bastion of warm-weather style — perfect for summer fashion inspiration!
"Traveler, Foodie, and Fashionista" Maricel rocks a tropical floral off-the-shoulder one piece in this poolside photo in Belize. Keep up with Maricel's awesome travels! 
Joycelyn Renee shows off her gorgeous tropical print one piece on her relaxing trip to Cancun. Fearless and fun, Joycelyn plays with shapes and silhouettes in her stylish choices. 
Aspiring plus-size model and travel blogger Vanessa Leo rocks a gorgeous teal suit in Hawaii. Vanessa is a bi-coastal babe with an eye for color and prints, perfect for her tropical travels. 
Miles rocks mermaid casual in this beautiful one-piece.
---
Related: