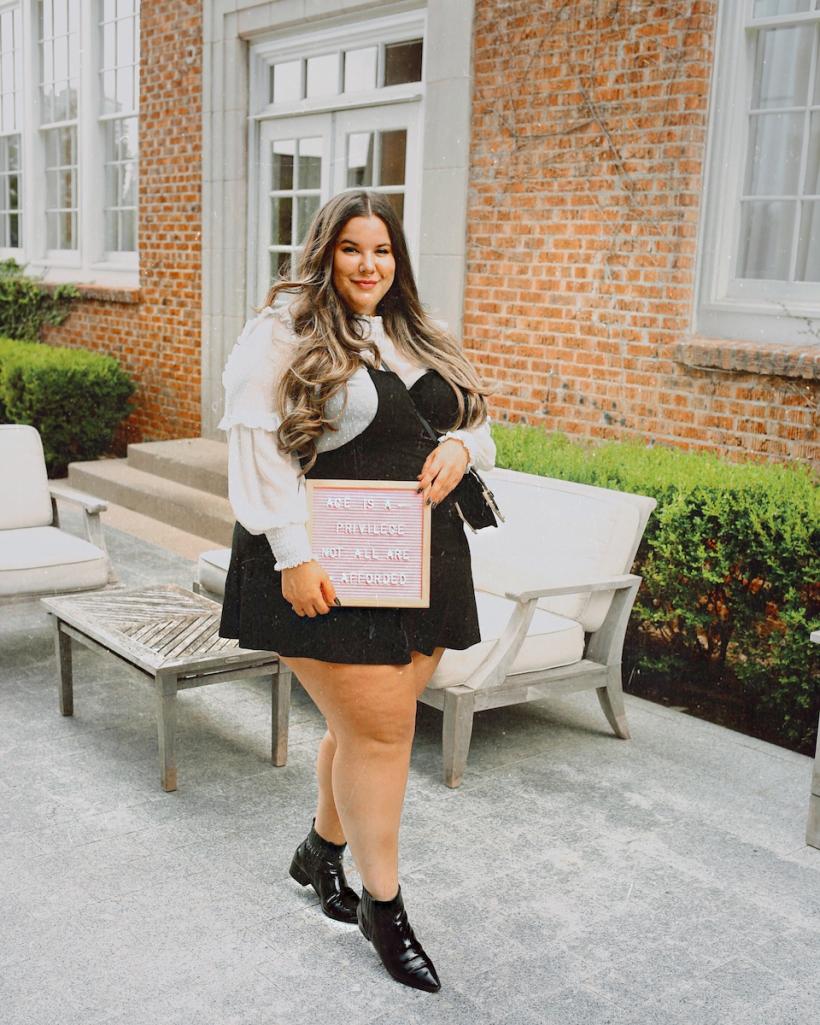 Natalie Hage by Rosey Beeme
One of the most common fashion concerns I hear people talk about is how to make layering look good. Many folks feel as though it isn't something that they can experiment with. Much of the time, they're concerned that layers make them "look fat."
Before we go any further, let's visit this toxic train of thought. We have to let go of the idea of something "making" you "look fat." Let's get real: if you're fat, it's your fat that's making you look fat. And that's OK. If you want to reduce the bulk of your outfit, that can be fixed. Our bodies are not a problem to be fixed, wardrobe problems are. 
It's time to allow yourself to enjoy the pieces within your reach. With many more plus-size clothiers and boutiques, a lot of the time we find ourselves emulating the societal chains which have bound us for so long. 
The outfit might not "do you justice" (which is such problematic and bizarre language in and of itself), but it's clothing on your body getting a job done. A chunky knit sweater might not create any optical illusions, but if you've been coveting one for years, it's time to get over the feeling of "I can't" and admit that it's just something that you haven't let yourself have. 
Buy the damn thing and put it on your body.
"One of the biggest problems that people face when layering is choosing complimentary shapes," Jen Wilder of L.A.'s The Plus Bus tells us. 
A designer, stylist, and plus-size consignment boutique owner, Wilder spins liquid gold from plus-size folks closet castaways and is in the process of launching her own collection. 
"If you've chosen volume for your layer, pare down the foundation."
Not only can layering add intrigue to an outfit, but it's also incredibly important when you're trying to maximize your closet and make use of your warm-weather wardrobe well into the fall and winter months. As the nights cool down, toss on your favorite denim or chambray long sleeve shirt over a sleeveless maxi or tank top. Pack a pair of leggings or tights in your purse or car to slip under your skirt or shorts. Slip a slim-fitting long-sleeve shirt underneath a dress or tank top for added warmth. Keep a denim jacket or cardigan in your backpack or trunk. 
"I always say two pieces are an outfit and three pieces are fashion," Wilder explains. "Vests are a great way to add a layer and still get sleeve (or no sleeve) play. Play with mixing patterns and textures, too!"
1. Jen Wilder (@unitedstatesofla)
"Pants that fit are a great way to start. Or a great pair of shorts because you're already set up for a layer on top and you can make that the focal point. Don't forget about jewelry, too! Necklaces can be layered to create depth and texture in basically any weather," Wilder says.
2. Ashley Morgan (@fromheadtocurve)
Ashley Morgan rocks a jumpsuit that is perfect for the workplace. This jumpsuit is a great example of a super versatile layering piece: bring a sheer mesh top for afterwork drinks, a turtleneck for colder months, a luxe tee to bring it down to a more casual vibe, wear a bralette or bandeau beneath and slap a longline cardigan over it for a brunch with friends, or keep it as is and switch out the color of your button-up to fit with the season and your mood. 
3. Liz Martinez (@liz_martinez1223) 
Boots count as layers! When the season get colder, a tall boot with full calf coverage will always keep you warm. Add texture to a look with tall, chunky knit socks peaking out over the top. 
4. Dani Sauter (@blonde_inthedistrict)
You can still enjoy sleek, slinky pieces by layering wisely throughout the seasons. Enjoying cool nights already? Rock a sexy pair of leather or faux-leather pants. Soften it up and make it more romantic with a flowy layer like this chiffon kimono. 
5. LaTasha (@thetashacode)
Toy with lines by layering pants beneath long-line tunics. Don't have a tunic? Try a shirtdress half buttoned and tied. Choose a monochromatic layered look by wearing it open over your favorite tank and slim-fitting pants of the same color.  
6. Liz (@withwonderandwhimsy)
It's still too hot in most places to commit to a full-weight jacket, so light weight pieces like this with roll-tabs for the sleeves are a great way to get the layered look while also keeping your options open. 
7. MaFe (@plussizecolombian)
Cleverly hide your bra straps with a cute vest. As the season cools down, slip a thin short or long sleeve shirt beneath the dress, or leggings beneath the maxi, for added warmth without having to retire your boho staples. 
8. Jewelz M (@jewelzjourney)
Holy layering! Jewelz M absolutely perfects the look of layering with this adorable look from this spring. Revisit that perfect golden tone as we move into fall. If you've got a pair of shortalls, a pinafore, or just a pair of shorts or skirt that you love, this is solid formula for a great outfit. 
9. Abby Hoy (@thepennydarling)
Scarves add interesting detail to necklines and create a new layer and shape. Draw attention to your face with a scarf tied around the neck or create long, linear lines with one simple hanging down. Chiffon scarves (not pictured) can do double-time as hair accessories or cut details for your bag.
---
Related: