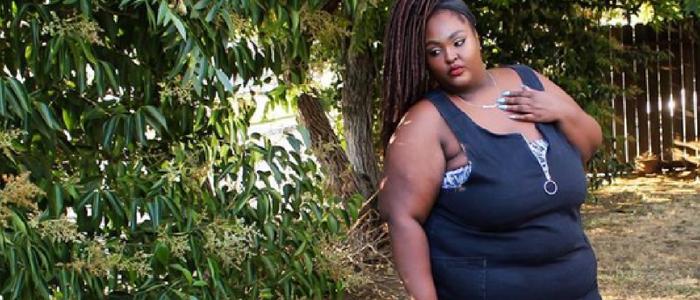 Saucye West
How many times have you put on something that you love, only to take it off minutes later because you were too self-conscious about the way it hugged your stomach? How many beloved pieces of clothing are just hanging there or folded and have not been touched because of this fear? How many items of clothing have we given to someone "braver," smaller, or differently proportioned because we didn't feel good enough to put a piece of fabric on the bodies that carry us through this world?
That's a lot of clothing going to waste and a lot of bullshit to endure. 
When we break down our fears and biases, it feels silly. This little (or big) piece of fabric is no longer "just" a dress, or top, or pants or whatever… in that instance, it reminds us of the "failures" or "betrayals" that our bodies have supposedly committed against us. 
Our bodies are not failing us. Mainstream media, impossible Eurocentric beauty standards, and the fashion industry are to blame for the constant emotional tug of war that many of us experience each time we try to slip on a pair of jeans or a dress. 
Let's celebrate our bodies — the curves, the rolls, the jiggle, the sheer strength of the skeletal scaffolding that it takes to hold these works of art as they walk or roll down the sidewalk. 
These fatshionistas rock their VBO (visible belly outline) with pride in a variety of awesome looks. 
1. Naomi Chaput (@na0__)
Canadian-based model Naomi Chaput shows off her VBO in amazing style with this bold checker-print look and neon hair. 
2. Saucye West (@saucyewest)
Resident #FatAndFree queen Saucye West conquers fatphobia one stylish outfit at a time. 
3. Angelique (@frenchfriesandfairytales)
Blogger, author, and general badass fashionista Angelique conquers her fear of overalls being "off-limits" and talks about the experience on her blog. 
4. Ash (@fatlippodcast)
Beautiful badass Ash of the Fat Lip Podcast discusses tough to talk about topics like self-care for larger bodies, as well as fun things like personal style. She calls this look "couch goth." 
5. Iliza Hartley (@ilizahartley)
Badass queer mama and chronic pain survivor Iliza Hartley proudly rocks her vbo in this outfit styled (quite well) by her five-year-old kid. Perhaps a mini stylist in the making?
6. Lauren Maggie (@laurenmaggie)
Learn to love your body — and this awesome look! Blogger Lauren Maggie kicks it in a casual but work-friendly look with this pencil skirt and cute button up top. 
7. Hannah Schnabel (@hannielynn1)
Seattle-based Belle Ampleur designer and producer Hannah Schnabel embraces her body and helps others do the same with events like Curves In Bloom. 
8. Tigress Osborn (@iofthetigress)
Fat activist, organizer, and dancer Tigress Osborn's body-positivity is contagious and an integral part of the California fat-positive movement. Phoenix will be receiving one incredible person when she relocates, bringing her incredible progressive mind and warm, community-building heart with her. 
9. Princess Squishy (@princesssquishyfatandawesome)
Instagrammer Princess Squishy rocks her vbo and proudly displays her arms — because fat arms deserve to be free, too. 
10. Alicia Gilby (@funnyfacebeautyplus)
Alicia talks about how she has spent the majority of her life trying to hide her "tire" and has finally come to embrace her body.
---
Related: