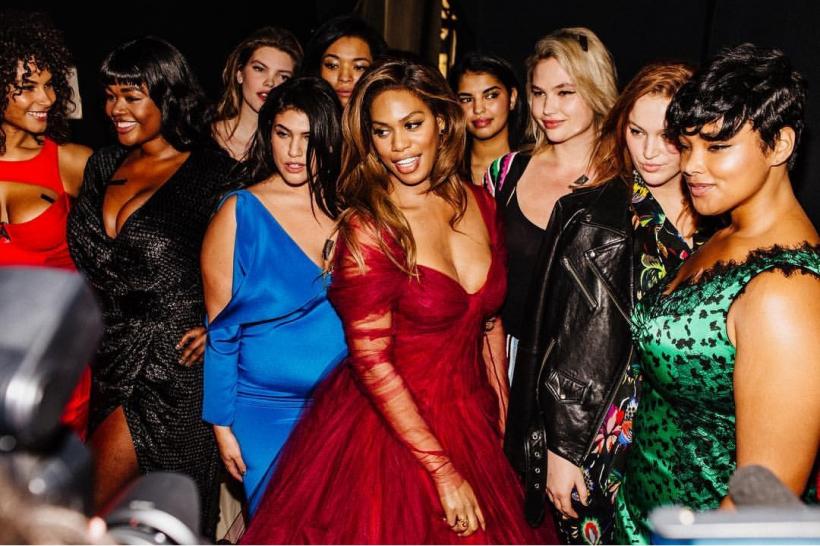 image credit 11 Honore
Each morning in New York started with a fresh plain bagel, toasted, then cut in half and filled with about ¾ of an inch of lox and scallion cream cheese. No, not cream cheese with lox and scallion flavor; cream cheese with huge chunks of pink smoked fish and freshly cut herby greens sticking out of it like some kind of delicious aquarium-terrarium. I'd walk (using that brisk pace I only do when I'm in New York lest I mark myself as an outsider, an idea too humiliating to even deal with) the 16 blocks from my hotel on 40th Street to the small bagel spot on 24th. Along the way I'd smell coffee and that charmingly dank mysterious subway odor, listen to construction dudes talk about their night using conjugations of the word "fuck," and watch the sun rise from the east side over the sparkly tall buildings. 
I was there to see the press preview for Lafayette 148's fall collection and for the 11 Honoré show, which opened New York Fashion Week last Wednesday. 
I arrived on Tuesday. My day started the way all of my trips to New York do - doing things that make this sprawling metropolis feel familiar while trying to find things I've never seen before. I took the subway across town to catch the tram that goes to Roosevelt Island, a sliver of land between Queens and Manhattan that feels like a small village. For $2.75 you can fly high above New York for about seven minutes, looking down at the Queensboro bridge and all the tiny yellow cabs crossing it. 
Then I wandered into, I think, every Greek bakery in Astoria, eyeing chocolate-covered tsoureki and honey-saturated filo dough treats. 
I had coffee next to a tiny coffee tree planted in a mug, got earrings at my favorite subterranean jewelry place at Port Authority, and then made it back to my hotel in time to eat lots of cheese at the rooftop bar on the 36th floor.  
On Wednesday morning I headed to the Brooklyn Navy Yard, where Lafayette 148 is located. Lafayette 148 carries all of their clothes in sizes 00 to 24. I took a short elevator ride up and was quickly introduced to a tiny, adorable woman named Nicole who was wearing the highest silver stiletto booties I've ever seen.
She directed me to a table covered in tiny olive oil bundt cakes, bubbly water and crudite. 
Nicole returned later to take me on a tour of their fall collection. She lovingly showed me every piece, running her fingers along delicate stitching, pointing out pocket depth, fabric, texture, and pattern choices. Models with amazing (amazing!) eyebrows walked around in slow motion showcasing the looks. The collection included creamy silk turtlenecks and scarves, purses with fur trim, lush shawls layered over coats, wool slacks with block heel boots.
She showed me the sewing room — with walls of fabric and thread — and an office full of designers working away at new ideas. I left with the sensation of soft wool still on my fingertips, and got a cab to Four and Twenty Blackbirds for a slice of szechuan peppercorn chocolate pie with my new friend Che (we share a love for bright nail polish).   
I got back to my hotel at 4 to get ready for the show at 6. By the time I got downstairs to head to TriBeCa I was in a silky white dress from Flilipino-American designer Monique Lhuiller with mustard kitten heels from Eloquii and a red lip. It had started drizzling, but I got to Spring Studios dry-ish, just in time to take a bunch of pictures of cute fat girls and then take my seat. 
Samhita from Teen Vogue
@Curvily
With Nicole from 11 Honoré (this one is courtesy of 11 Honoré).
Emma Madeiros of Madeiros Fashion PR
@ScarlettHalo
The space went from bustling to silence and then the familiar opening beat to Fleetwood Mac's Dreams came on. The voice of Stevie Nicks — "Now here you go again you say you want your freedom" — ushered the first model onto the runway. I was dying. Ever since my friend/hero Michelle Tea (http://www.michelletea.com/) introduced me to Stevie as her higher power I too listen to her whenever I am having a moment that requires the gentle reminder that I'm a witch. The models wore pieces from Reem Acra, Dima Ayad, Badgley Mischka, Ryan Lo Tome, Cushnie and Azeeza. There's not a whole lot of things that are better than seeing plus-size babes wearing amazing clothes, but my favorite part was seeing the movement of their bodies — that special way that plus-size women walk and look in a garment. 
And then Laverne Cox came out wearing an off-the-shoulder Zac Posen gown and did a languorous balletic strut down the runway. 
When all the models came out during the final walk and it was raining silver confetti I started crying. The show made me feel a swell of joy and redemption I can barely explain. 
As the lights came up servers passed out tall cans of champagne and straws. As I waited outside the venue to get some air I caught the eye of another fat woman nearby. "How did you like it?" she asked. I told her about how I'd begun crying unexpectedly at the end of the show.
As I stood there with her I wondered how the hell I had gotten here. This trip felt like a chapter out of someone else's book. I've been a weirdo, DIY, thrift-loving bohemian for a very long time. Even though I've always loved clothes, my favorite outfits are the kinds of things that get donated to Goodwill after a fat church lady passes away. I'm a maximalist who loves enormous jewelry from the dollar store. I prefer gaudy to sophisticated. Like many fat people, I've had a fraught relationship to fashion. As a child almost nothing cute ever seemed to fit me. Even when I could get something amazing onto my body, I was often too afraid of standing out because that led to abuse and bullying. And then it dawned on me that when it comes to plus-size fashion, we're all outsiders to this world — a world that makes amazing garments in our size and welcomes us with open arms full of bubbly water and tiny cakes. 
"I didn't even know how much it would mean to me until I saw it. I just never thought I'd see anything like that in my lifetime," I said to her. 
"Me too," she said. "I felt the same way."
---
Related: