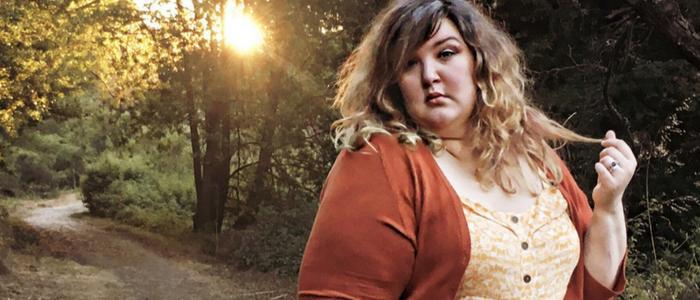 Photo by Suma Jane Dark, edits by Laurel Dickman.
Fall fashion is a gift. 
For those of us who are self-conscious about the amount of skin we have to show to stay cool in the summer, the change of seasons can be an emotional godsend. As leaves begin the transition, our nights get cooler and promises of chilly winds and hot cups of tea whisper with every fallen gold leaf. 
Often, fall has some of the more predictable seasonal trends. Every year, warm, plus fabrics begin to hit the shelves with back-to-school season and the boots come out in classic equestrian and biker silhouettes. Tartans, leopard print, and chunky knits come out of hiding as well as September's "ditsy" florals on boho prairie dresses. Jewel-toned leggings peak out from shelves, begging to be tucked under your favorite dresses and tunics.
A couple of weeks ago, you learned how to layer and transition your summer wardrobe into fall friendly outfits. Now, we get to explore fall trends. Check out the eight plus-size trends you need this fall. 
1. Plaid (@curvily)
One of the most reliable fall trends is a strong plaid. As we shift into cooler seasons, each year we are greeted with some form of this classic. Whichever pieces of clothing you may choose, you can keep the look modern by incorporating trendy elements into the item itself or the overall look.
Sarah of Curvily shows how you can create a new take on an old classic. Make things fresh and modern by playing with scale, silhouette, and texture as seen on this look by ELOQUII.
2. Dark Florals (@glamazondiaries)
The dark floral trend will be remembered as one of this decade's most enduring trends and for excellent reasons. The dark romantic look is accessible, stylish, and versatile with a little less girly whimsy than its traditional counterpart and has a bit of edge and mystery to it. 
Couture fashionista Makeda wears a gorgeous Tadashi Shoji which incorporates lovely sheer detailing between layers of beautiful florals.
3. Statement Pants (@thecurvyhousewife_)
A gorgeous pair of boldly colored, wide leg statement pants in a heavy, season-friendly fabric are just what you need for a modern work wardrobe and great for keeping warm.
Tonih of The Curvy Housewife incorporates the trend in this gorgeous, monochromatic minimalist look great for any occasion. Recreate it with your favorite fall colors for effortless chic. 
4.Teal (@stephaniezwicky)
This season you'll be seeing a lot of this blue-green hue in everything from clothing to hair color to bold lips and liners.
Lyon-based fashionista Stephanie Zwicky shows off a super versatile basic easily built upon or dressed down for a modern minimalist look, as seen here. Pair with a warm pair of boots and layer over leggings or tights for extra warmth as we move through the seasons. Add a bit of intrigue with a strong statement belt. 
5. Animal Print (@garnerstyle)
One of the most enduring fall styles is the sexy yet whimsical animal print. Whether it's leopard, giraffe, or zebra, this playful print can be both sexy and fun. 
Chastity Garner Valentine shows off a sexy classic wrap dress from tennis star Serena Williams' new line which launches into plus-sizes this fall. 
6. Timeless Sweaters (@modachrome)
No matter the era, everyone needs a good black sweater. Whether you choose a chunky knit or a thin, sleek turtleneck, you'll find plenty of use for it spanning across the seasons and decades.
Model and photographer Jessy of Modachrome shows us how to rock a lightweight turtleneck sweater as the season change. Got cold feet? Switch out these sandals for a stylish pair of booties.
7. Statement Jackets (@phat_girl_fresh)
With every fall comes the hunt for the perfect fall-appropriate coat as well as a winter coat. With months to consider the later, look for a statement piece that will work between fall and winter as well as winter to spring. 
Maui's floral bomber incorporates the dark floral trend with the colorful satin trend that we will see a ton of this season. Lean into it with a versatile piece like this featuring a timelessly stylish color combo. 
8. Plush Fabrics (@roseybeeme)
As cooler winter rolls in, we'll be seeing beautiful luxe, plush fabrics like velvets, corduroys, cashmere and other things that beg to be touched and admired.
Blogger and photographer Rosey Beeme incorporates this trend with these super wearable overalls. Layer a casual henley beneath or dress it up a bit more with a fine-gauge sweater, a hat, and loafers. 
---
Related: