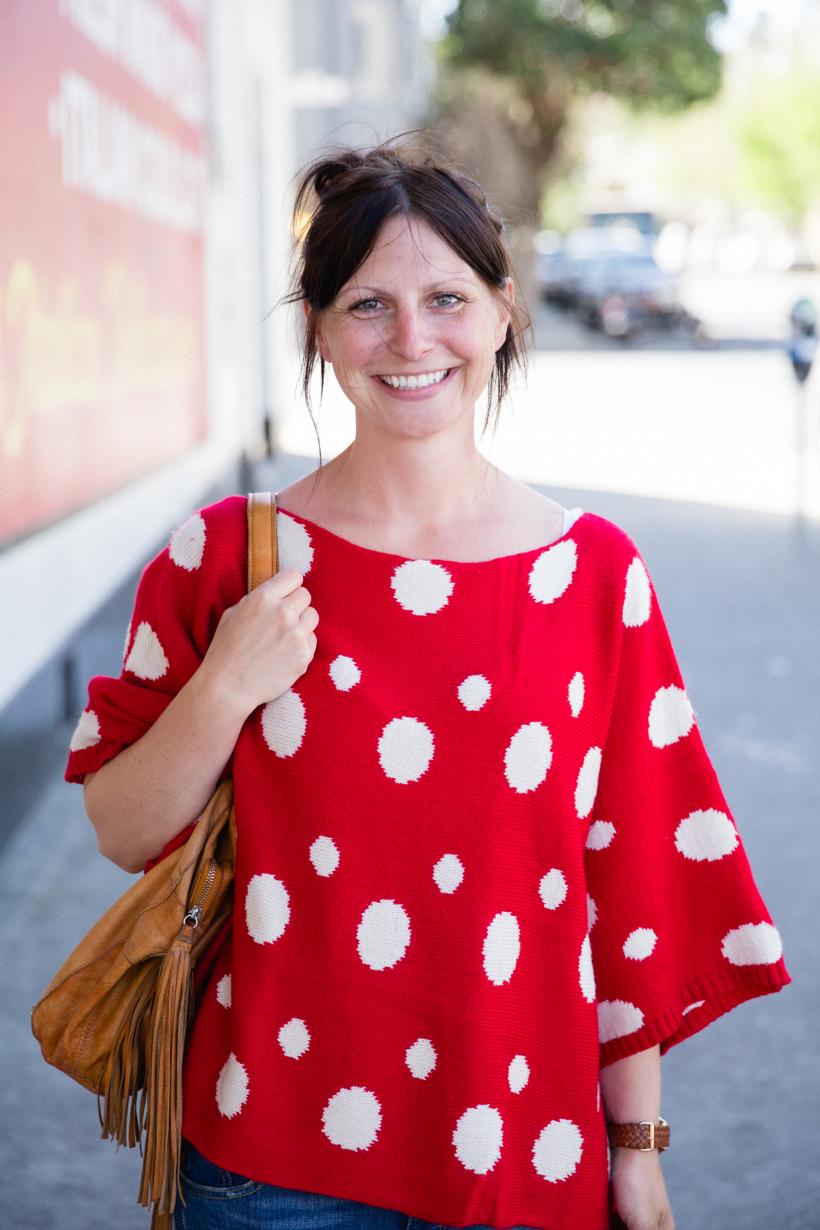 Spotted in: The Mission, SF
Occupation: Social Worker
What are you up to today?
Actually my friend and I are visiting San Francisco—we're heading back to Santa Monica this evening.
How long were you guys in town?
We arrived just yesterday actually.
What brought you to San Francisco?
She's a friend from Germany and she's visiting me, and so we thought, oh let's go to LA and San Francisco just to see the city.
It's a great day to be going around the city—it's so nice and warm! Kind of unusual.
Yeah, yesterday it was cloudy, and today is amazing. It's a little warm in this sweater!
Yeah, I totally dressed wrong today, so I don't know . . .
Me too! [laughs]
What's your occupation?
Actually, I'm from Germany too, and there I was a social worker. I worked with juveniles who were convicted of crimes, and I would help them in court and also talk about their bias—like their family background—so the judge would have a better opinion of them and know what they were dealing with in their childhood.
How did you start doing that?
I studied pedagogics in Germany, I don't know what it is in English.
Oh, I don't know!
It's kind of social work study, but in Germany it's a little different.
Why did you become interested in that field?
Because I love working with juveniles. I also worked at a school before and did social work with them. Then I moved to a different city in Germany and there was this open position working with juveniles and that's just what I wanted to do.
What's something that's sparked your interest lately?
Actually, this is kind of a fresh start for me here. My boyfriend has a position at UCLA so we moved here for one year—that's been the most exciting experience in the last month!
Oh so you just moved to LA!
Yeah, we're just getting to know the city!
What things have you discovered in your neighborhood that you enjoy?
There are some quite good burger shops! [laughs] We were there a couple nights ago.
And here in SF there are so many good second-hand shops. I really love that. In Germany, you don't have so many. They have a lot in LA as well—it's so fun!
I also wanted to ask you about what you're wearing today!
The jeans are from San Francisco actually—a second-hand shop.
The sweater is really fun, too.
Yeah, I love it! It's from Santa Monica. This bag is from Germany and it's a brand called Pieces, I don't know if they have that out here. I got it for my birthday last year.