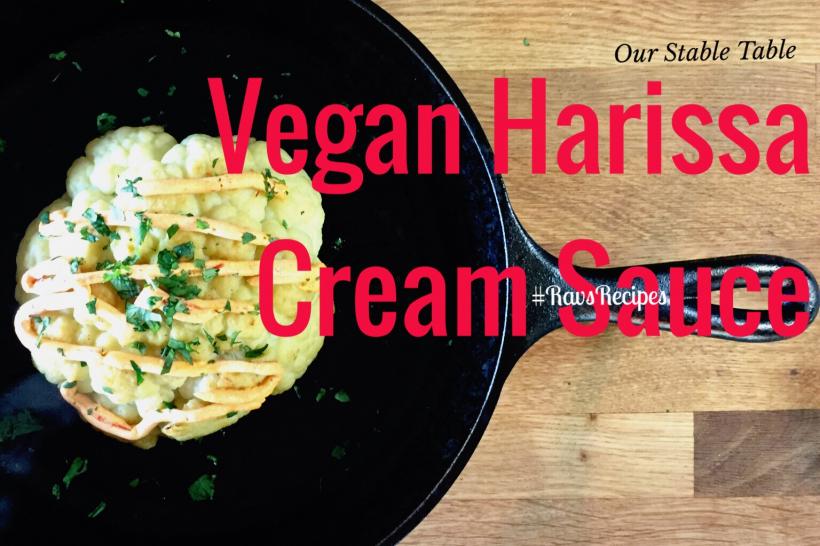 Vegan Harissa Cream Sauce Recipe
Cauliflower. It seems to be everywhere and in everything. Fried, pickled, mashed, stewed, charred, grilled, sautéed, raw, stir-fried, whatever. It's everywhere and there's no escaping it. So you might as well get on the band wagon because this pasty cruciferous veggie isn't going anywhere anytime soon.
Think of it as the Eugene Levy of the vegetable world. It's in everything, it's at least moderately enjoyable, it's versatile, and can be the star or the supporting cast.
I've experimented with cauliflower for years, much like Eugene Levy has experimented with variations of the same character for the last 20 years. I eat it weekly, and have found it to be most enjoyable when I don't try to make it a substitute for potatoes. Like Eugene Levy, cauliflower shines brightest when it is allowed to be fully appreciated on its own and played to its inherent strengths.
I love playing with all of the different flavors and textures that can be made from cauliflower. Even though I'm currently not eating dairy due to my nursing baby's gut issues, I do love dairy paired with cauliflower. It adds a flavorful depth and pairs well with the natural pungency. By the way, I've come to embrace the flavor of cauliflower and use it to add more umami to dishes.
Since dairy is a no-go, I have been using vegan cream cheese and other non-dairy options to fill the milky void. (Promise I'll never use the term "milky void" ever again.) I've also been experimenting with spice and cooking techniques to see how far I can push the envelope.
My current favorite way to prepare cauliflower is this method by the lady genius over at NomNom Paleo. What I love most about this is how little effort goes into preparing it. I've paired it with my own vegan Harissa cream concoction (see recipe below) for added depth of flavor, and enjoyment.
Oh, and a fulfillment of the milky void. (Sorry, I couldn't NOT say it again. It is kind of terrible and terrific.)
Ingredients
8 ounces plain vegan cream cheese spread (I love Kite Hill)
1-2 Tbsp Harissa paste
1 Tbsp olive oil
1-2 Tbsp lemon juice
Chopped fresh parsley or dill
In a small bowl, mix everything together, minus the fresh herbs. Slather, spread, or drizzle over roasted cauliflower head. Sprinkle fresh herbs over cauliflower.
And while we're talking about food allergies, here's a little video for you:
---
Related: