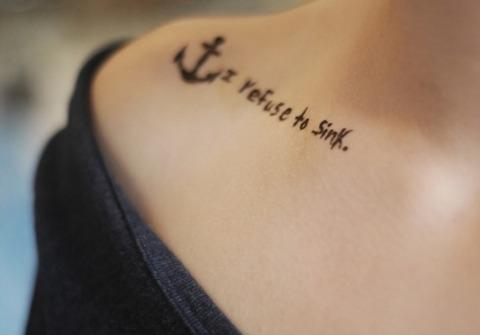 The word "divorce" sends our inner Disney princess trembling in a frenzy of fear, but clearly it's time to get over the fantasy. Roughly 50% of marriages end with the big D. And though half of the human race can't stay married, divorcees still seem to face an overwhelming sense of isolation. So while #DivorceTattoos has some shaking their heads, we kinda dig it. Sure, many of the tats we encountered were a tragic combination of cheesy and unoriginal (think inspirational quotes paired with cutesy designs), but aesthetics aside, this hashtag looks to be a creative way to bring people together during a super painful period of their lives.

Here's why: splitting from the person you "knew" would be by your side forever shakes up your world in a big way. Your life, as you planned and imagined it, will be completely different from here on out. It's no wonder divorcees are at a higher risk for depression and alcohol abuse than singles and marrieds. During this chaotic time in one's life, it would be helpful to reach out and make positive connections wherever possible. But not everyone is fortunate enough to have a wonderful family and How I Met Your Mother-esque friend tribe. And though we love to bash social media, all that techy connectivity facilitates the meeting of like minds—and circumstances. Though it may seem insignificant, #DivorceTattoos creates an internet community—a place to share tattoos, their meanings, your feelings, your experiences with others. I mean, why else are Reddit and Tumblr so popular?

It may seem unwise to get a tattoo during a transitional stage of your life. In this case, however, we predict an outcome different from future embarrassment and regret. Instead, the community created around this hashtag seems to foster positivity amongst the tattoo owners. The hope is that in time, gazing upon the ink won't remind the bearers of sensational sadness, but, rather of strength. And sure, your next squeeze may have some questions, but it's better to come clean and open up about your past pain than to hide it. And you sure aren't hiding that tattoo. 
Yes, there are many ways to form a community based on a common experience—#DivorceTattoos will work for some, but not all. For those who find happiness, it'll be worth the mockery of others.

Image: That's right, you won't sink lady! Courtesy of, Trash the Dress