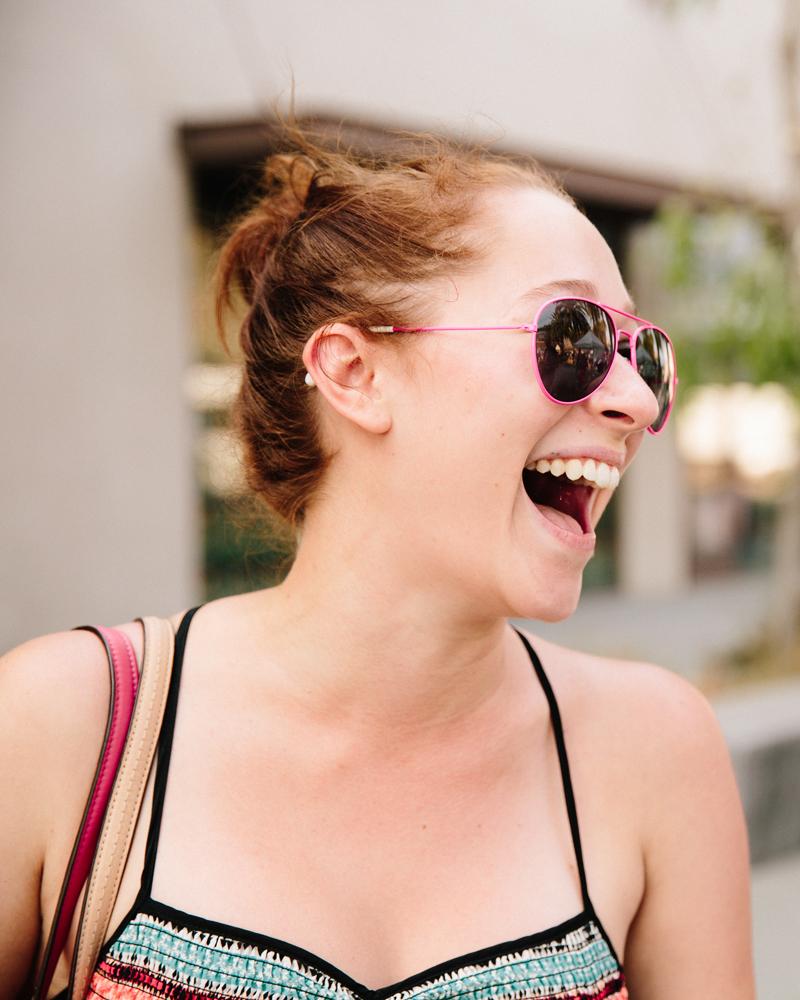 Spotted at: Eat Real Festival, Oakland, CA
Occupation: Student
Are you originally from here?
No, I'm from Texas and I moved here a year ago for school.
How do you like it so far?
I love Oakland it's awesome, super eclectic, and really fun. I'm from the 'burbs of Texas, so it's nice to be somewhere that is again, very eclectic and diverse.
Where in Texas are you from?
I'm from North Houston, and I went to UT Dallas for undergrad.
What do you like doing in Oakland?
Mostly I love museums and the arts and that's kinda why I'm here. Being able to go to places like the Crucible and West Oakland and having art in your backyard—it's great.
Is that what you're currently studying?
Yes—I'm getting my Master's in Museum Studies at University of San Francisco, and I'm focusing on social justice in museums.
You know, I love museums and I think they need to play a bigger role in the community. They're not just repositories for objects and history—communities need to engage with them. Museums should play an active role in the now, in contemporary life. I wanna see that happen.
What's a good example of where you've seen a museum do that sort of thing?
Well I currently work at the Aquarium of the Bay in San Francisco and we do a lot of work on trying to reduce plastic marine debris. It's an environmental issue, but it's also a social justice issue because marine plastics affect everyone—they affect our ecosystem. That's something that we're addressing, not just by displaying fish and talking about endangered species, but by actually going into the community and trying to clean it up and promote awareness for something that a lot of people don't think about.

What do you like most about your job?
I love the people that I work with. They're super passionate about the environment and their local community and making a difference. When you work for a nonprofit, you don't get paid a whole lot, so you have to love what you do and be passionate about it.
Is there anything you miss from your hometown?
I don't miss anything besides my family and friends, I love them. I moved from Texas to Seattle, and from Seattle I moved here for school and I really miss Seattle.
What do you miss about Seattle?
It's a smaller city, I feel more comfortable there. Sometimes San Francisco can be a bit much, but it's nice to have stuff like this in your back yard.
So tell me about you outfit!
It's so embarrassing [laughs]! 
Where'd you get these neon sunglasses?
So, these are from a QuikTrip gas station. I was with friends in Kansas City for a wedding and I got really drunk and I lost my sunglasses at the wedding. We were going to look at the Ozarks so I needed some gas station sunglasses. This is what they had! 
I like how you have the neon theme going on with your nails and the dress!
The dress is Targét. In Kansas, they had a Coach outlet, so I just got a vibrant bag. You know, something different—I'm all about black and white clothing so this is kind of a different thing for me. 
And you got your nice comfy shoes on?
Ah, yes my Rocket Dogs—keepin' it classy, bringing it together. Oakland chic right here.