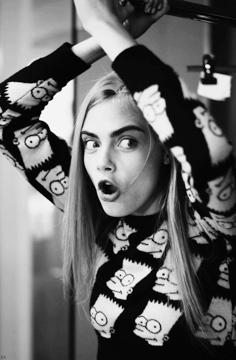 The 2014 Stella McCartney show featured international superstar Cara Delevingne along with Joan Smalls prancing down the catwalk with bubbly smiles and carefree dance moves. Perhaps the design house had this presentation in mind all along, but we can't help but wonder if Delevingne's standout personality and off-runway stardom played a role in inspiring the fun and fancy-free finale. 
What is it about Delevingne that has the world in a trance? 
The latest headlines center around the model's romance with longtime bad girl, actress Michelle Rodriguez. The two recently made their first public comments on being lovebirds, and the universe let out a collective moan in ecstasy — finally providing us with a same-sex version of the genetically-perfect coupling that is Brangelina. 
Delevingne's open flair for the females is far from her defining characteristic; rather it's but another example of her ability to keep her identity intact, despite the added scrutiny her love life attracts (when the model forgot her panties on a boat while on a trip with Rodriguez,  her assistant waved her down on the dock to retrieve them while paparazzi gorged themselves on the image).
Consistently cool under pressure, Delevingne isn't just a pretty face with fun energy. The 21-year old also has valid points to make when it comes to women in the public eye — she recently thanked Lupita Nyong'o, Cate Blanchett and the other female Oscar nominees for "being so strong and inspirational" and "creating more opportunities for strong female parts in Hollywood" (the model has started to make the transition to film through roles in Anna Karenina and The Face of an Angel).
She's been compared to Kate Moss, but unlike the waif-ish superstar, Delevingne is more open, less mysterious and arguably more entrancing.
Another key difference between Moss and Delevingne lies in their background — Delevingne was raised in high society in London, while Moss was born in the arts-soaked community of Croydon, South London. Despite fancy gowns and afternoon teas, Delevingne grew into a strong and willful personality, alongside sisters Chloe and Poppy. 
Need any more reasons? Her Instagram might be the most entertaining on the internet, she runs with Rihanna, she talks to the Queen in her underwear and her selfies and often self-deprecating. 
In other words, we'd be willing to sell a soul or two to join that party.